By Tiffany Aguilar, Julie Baran and Team MarketCast
As the weeks turned into months, and kids adapted to virtual classrooms and socially distanced playdates, a number of trends have emerged as parents invented creative ways to keep their young ones educated and engaged, while maintaining their own sanity.
Over the last few months, MarketCast Kids has tracked the latest trends for families with kids under age 13. Through analysis of millions of social media conversations, as well as direct surveys conducted with families, we've been able to spot several month-over-month themes that have popped during the pandemic?
After some of the April panic subsided, online conversations in May shifted to adapting to life at home and figuring out a routine. Alongside spikes in at-home fitness routines and sourdough starters, we saw a rise in chatter among kids around protecting the planet, with Apple's adaptation of Here We Are trending with young streamers. Getting back to nature is something that every family can do during quarantine, but there was also buzz about how the stay-at-home order was giving the earth time to "heal" with reductions in things like commuting and trash production at restaurants.
As we moved into June, parents grappled with seismic shifts to kids' scheduling. Typically, June is the first month of summer and a transition period between the school year and summer activities, including day and sleep-away camps. As many parents cautiously emerged from home isolation, they were confronted with yet another dilemma: How to keep their kids busy during a not-so-typical summer vacation.
1) Couch camping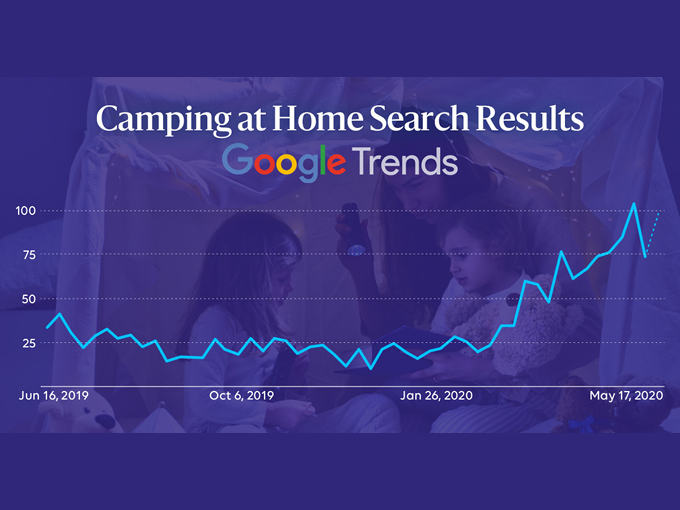 With in-person summer camps cancelled or limited, parents started looking for ways to recreate the camp experience at home. Whether it was camping in the backyard, making s'mores over the stove or creating their own backyard theaters, parents got creative to give their kids a summer to remember.
In fact, in late May, the topic of "camp at home" spiked in interest across social media platforms and Google search results. This was aided by a number of organizations offering camp-from-home options, including The Bronx Zoo, The Museum of Contemporary Art North Miami and The National Academy of Athletics, with virtual counselors leading kids through traditional camping activities.
Despite necessitating more screen time for kids, these virtual summer camps are giving them the opportunity to experience a wider variety of activities than they typically could because of location or price point. Even when the lockdown is over, we believe kids will likely seek out other virtual opportunities that offer the ability to explore and learn more about their interests.
2) The science of TikTok
Across social platforms like TikTok and Pinterest, parents and educators are sharing STEM experiments using everyday household items, bringing the magic of science to their homes.
Quick and easy science experiments have sparked the interest of both parents and kids to ease the boredom at home. For instance, on TikTok, #magicmilk has 3.5 million views, and #scienceforkids more than 20 million. And YouTube personality and influencer David Dobrik has uploaded a number of science experiment videos, with his elephant toothpaste behind-the-scenes video garnering 18.2 million views since May 10. As experiments continue to go viral on TikTok and other platforms, kids clearly want to try for themselves.
As kids show continued interest in learning, even though their school year is complete, STEM and education-based brands have the opportunity to increase awareness by curating content on TikTok, creating YouTube channels, or partnering with influencers to spread the love of learning.
3) Showing up for racial justice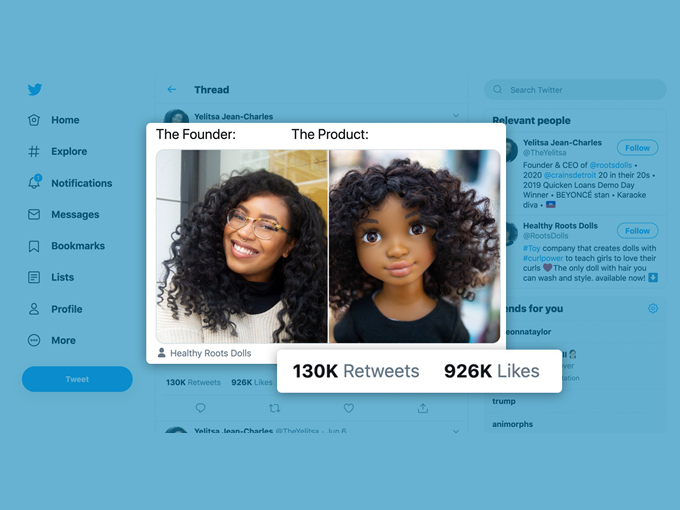 With the Black Lives Matter movement gaining traction in the wake of the deaths of George Floyd, Breonna Taylor and other Black Americans at the hands of law enforcement, parents and educators alike looked for resources to teach kids about racism and inequality, and to figure out how to explain to them the often shocking daily news headlines.
The movement is also spurring conversations about what it means to build a society free of racism, with major brands and government organizations making changes in response, including NASCAR and the Marine Corps banning the display of the confederate battle flag, states removing confederate statues, and consumer brands modifying product names.
For parents, this cultural shift means a renewed interest in more inclusive kid resources and toys. According to MarketCast research, Black parents in particular are increasingly searching for toys/dolls that look like their kids. Across social media platforms, many parents reflected on the lack of toys that represented them growing up, hoping this would not be the case for their own children.
Healthy Roots Dolls has gained significant exposure since a tweet from its founder, Yelitsa Jean-Charles, went viral. Black parents were thrilled that the doll looked like their kids, and some even shared that they wanted to buy it themselves to make up for the lack of inclusive toys when they were growing up. Parents were even more excited that the doll's hair had "curl power" that allows it to be washed and styled in any way a child can think of. Since the tweet went viral on June 8, the Healthy Roots Dolls Instagram saw a significant uptick in followers, with hundreds new doll orders coming in.
With calls for reform and representation still going strong, brands have a chance to take a stand for Black lives through their missions, money, time and organizational composition. They also have the opportunity to create toys and other items that are more representative of the world kids live in today, showcasing all races and ethnicities to normalize who they are and how they look. Brands have a voice, and kids want it to be used to make the world a better place.
Moving forward
With such a tumultuous half-year behind us already, it's hard to say what will come next. Before we know it, the virtual and physical campfires will go out, and kids will return to their physical schools with a deeper appreciation for the institution, as well as the role of their teachers. We believe kids will be eager to socialize with their friends even at a distance, show off their personalized masks, and find inventive ways to play together again. We also predict this new normal will reveal a generation of kids who are wiser to the world—both the good and the bad, and the inequalities that exist. As they grow, they will be even more mindful and respectful of all the people who live on this planet, and will ideally help to create change that brings equality for all.
Media will always serve as a form of entertainment and escapism for kids, but it is important for content creators to reflect the truths they have come to expect from their favorite franchises and characters. This includes diversity in any and every which way, resilient characters, strong relationships that endure drama and dilemmas, challenges to overcome and problems to solve, as well as endless adventures with many twists and turns.
Kids now have a high bar for media content and for themselves (as little humans), and we are excited to see what the future holds for this generation, and how brands, entertainment and media can help serve them on their journey to adulthood.
MarketCast Kids (formerly Insight Kids) is a team of business strategists and developmental experts who spend their waking hours pondering and communicating timeless truths and timely trends relating to youth and families. Find them at MarketCast.com
Top photo courtesy of by Bambi Corro on Unsplash