At the 17th annual and first-ever digital edition of the Children's Media Conference (CMC), BBC Children's head of content Cheryl Taylor announced that the UK pubcaster is launching a mini-round of funding for diverse, quick-turnaround kids content.
Though Taylor didn't disclose the amount of funding available, it was freed up from existing funding and is seperate from the BBC's US$125-million (£100-million) diversity budget that was put in play last month.
At the end of this month, the pubcaster will begin accepting pitches from people of different cultures and Black, Asian and minority ethnic (BAME) writers for five-minute documentaries and dramas that celebrate diversity and could run on CBeebies and CBBC.
The productions should be shows that can easily be made in today's ongoing COVID-19 environment, and they won't overlap with the pubcaster's recent 25 lockdown kids commissions, she said.
Taylor also revealed that BBC Children's will not be ordering any additional new content this year as its currently postponed productions will be pushed back into next year, meaning all content for 2021 is already commissioned.
BBC Children's latest diversity push follows the CMC's Black Lives Matter opening keynote. The conference kicked off Monday on a thunderous note when nine-year-old online drumming sensation and CMC Changemaker Nandi Bushell (pictured) offered a message of hope that everyone should be treated equally no matter their skin color.
It was a fitting lead-in for CMC's first-ever multi-speaker keynote, which featured George Mason University Professor and children's media consultant Kevin Clarke; BBC head of creative diversity Miranda Wayland; BAME TV Task Force co-founder Jacqueline Baker; National Union of Students president and social activist Larissa Kennedy; Azoomee/Da Vinci Media director of product Adam Campbell; and moderator Sonita Alleyne, who founded production company Somethin' Else and is the current Master of Jesus College, Cambridge.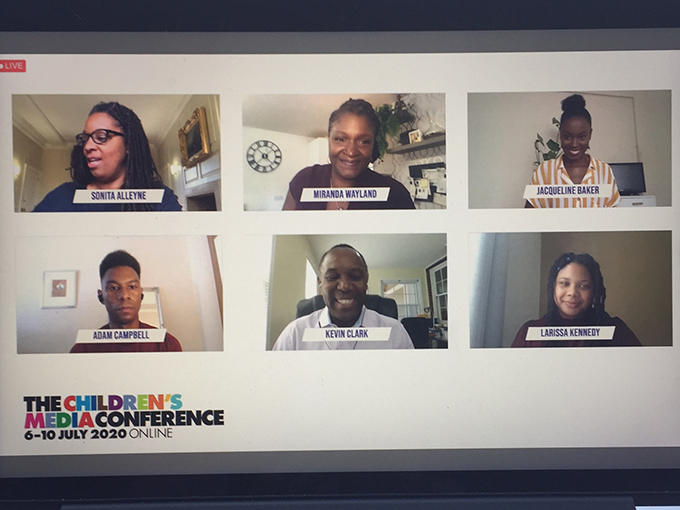 With the goal of unpacking how the ongoing Black Lives Matter movement is affecting both the kids media industry and its audience, the panelists discussed a range of topics including diversity in gatekeeping and gaming, the adultification of Black children in kids media—especially Black girls—and the importance of  recognizing Black stories as more than niche content.
The panelists agreed that gatekeepers (editorial teams and buyers) and people who are creating content at different levels, whether on- or off-screen, need to reflect all the different communities in the UK.
"Having that authentic voice is definitely one of the key things that has sprung up from the Black Lives Matter movement," said Baker.
She also spoke about the need for children's media to move past the strong Black woman trope to show the full range of vulnerability and emotion any racial group would have.
"It's allowing little girls to just be vulnerable," she said. "We aren't all this strong Black girl or Black woman type. We also want to be vulnerable, and sometimes we want to cry."
Campbell, meanwhile, talked about how he's seeing more diverse portrayals of children's TV characters, such as Black scientists or princesses in fairytale adventures; but in terms of video games, the industry continues to lag. "I don't remember the last time I saw a Black child portrayed in a video game," said Campbell.
Speaking to the advantages of creating more inclusive media, Clarke said the more the industry can deal with and present the intersectionality of people, the more understanding and education will come out of that.
"I also think the next step is having our own network and creating our own distribution and commissioning, so that Black people can drive the creation of children's content to allow Black children and children of other colors to actually have other choices," said Clarke.