Take a chill pill. Chris Byrne, president of New York-based Byrne Communications, breaks down the popularity and opportunities behind mindfulness products and the toys that help kids relax during these stressful times.
Mattel
COVID-19 has disrupted kids' lives and caused some serious stress. But even before the pandemic, toymakers were releasing products inspired by the self-care trend. The Barbie Wellness range, for example, lets kids play out calming routines such as spa treatments (think bubble baths and face masks) or through exercise with yoga mats and weights.
Breathe with Me Barbie (pictured, above), meanwhile, focuses on mindfulness (kids can even follow her in a guided meditation with the press of a button).
"I think it's the right time for people to be looking at how we deal with a big change," says Byrne. "Kids' lives have gone from being very structured and scheduled to being a lot simpler and more open-ended. One of the ways kids process much of the stress they're feeling is through narrative-based play. If Barbie is going through some kind of traumatic experience, it's one way kids can begin to process things."
Canal Toys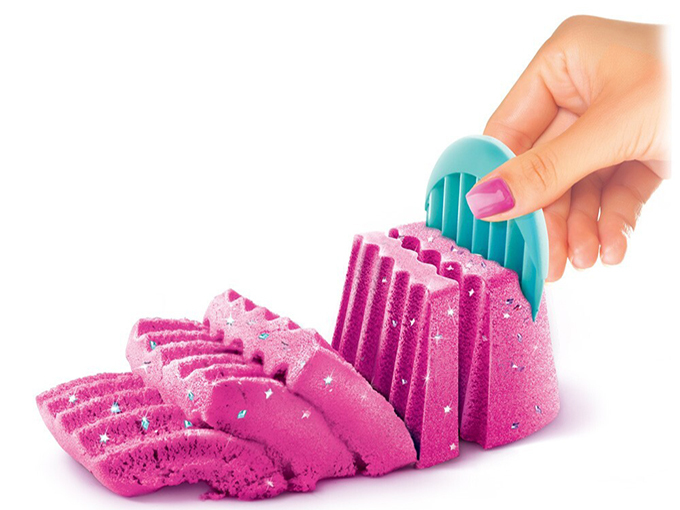 The So Sand DIY kit (pictured, above) from Canal Toys is tackling self-care by focusing on sound. Aimed at kids ages six and up, it includes all the ingredients and tools needed to mix glittery sand. The point is to create autonomous sensory meridian response (ASMR). This is the stimulation of the senses by soft, repetitive sounds—think hair brushing or, you guessed it, sand running through fingers. Children can mold, squish and crush the sand to relieve stress.
Byrne says toycos would be well-served to start off with some reflection on whether self-care is a good fit for their brands. "It's the ultimate irony that an entire industry has been built around the idea of self-care and unplugging. But I do think parents will lighten up on children, and people will realize kids don't actually need to be a star in soccer, an expert violinist or a Rhodes Scholar."
Ravensburger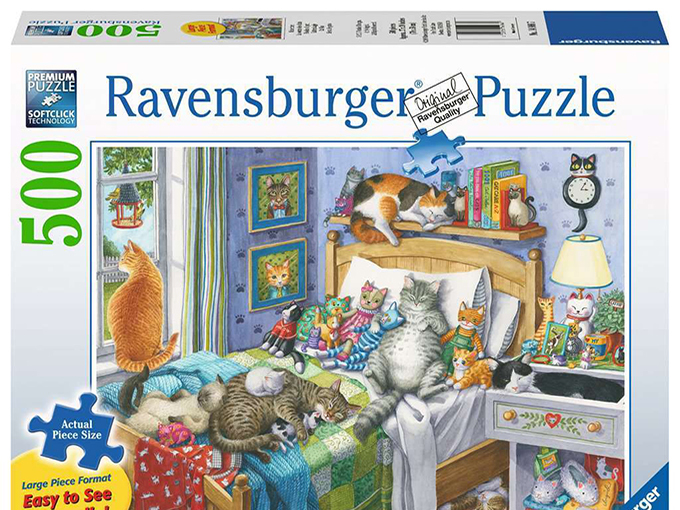 If puzzles were hot before the pandemic, they're on fire in the time of quarantine. Germany's Ravensburger recorded a 35% compounded annual growth rate in sales since 2015, with revenue for its toy, puzzles and games categories jumping 45% in 2019. In just one week at the end of March 2020, meanwhile, The NPD Group reported US sales of all games and puzzles jumped 228%. According to Ravensburger, families are favoring puzzles with calming images like cats napping on a quilt (pictured, above).
"I would love to see the puzzle trend continue. They're very relaxing," Byrne says. "It's not competitive like a board game, and there's no screen. The idea is that you don't need all of this stuff to be entertained. And I know that's at odds with what we do—this is an industry designed to promote new toys. But I think this situation will allow people to be a little more discerning."