Ben Drury, co-founder and CEO of Yoto Player, saw an opportunity in the marketplace. Smart speakers like Amazon Echo and Google Home were becoming more popular in family homes, and seemed to be silencing the critics of screen time.
"There's a new story every week on BBC or CNN saying screens aren't great, especially for kids when they're still developing" says Drury. With smart speakers, kids could engage with technology without the associated sleep disruption or behavioral changes (which studies have linked to over-use of smartphones). But with built-in microphones that appeared to always be listening, there were new privacy concerns, not to mention issues of unfettered access to an uncensored internet.
To tackle these problems, Drury unveiled a new device with a retro feel. The Yoto Player, which costs US$99 (not including a US$12 starter pack of cards), looks like a bedside clock radio from the future. Kids load cards into the device (floppy disk-style) to play audiobooks from the likes of Julia Donaldson and Roald Dahl.
Unlike Alexa or Google Home, the device was designed with kids in mind first.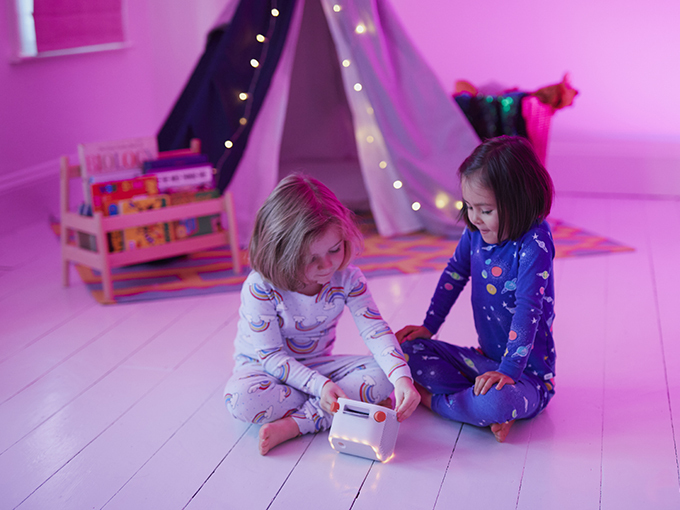 Drury wanted to ensure Yoto wasn't just a modern CD player, baking interactivity into the walled-off experience. Beyond several publishing partnerships, activities like language learning classes can be downloaded and used offline. The company has also released original stories that continually update; blank cards allowing kids and families to record their own tales; and radio and podcast cards that refresh over WiFi. Bluetooth connectivity lets parents stream content directly to the device or play content from the device on their phones. Parental controls and a closed circuit limit kids' access to the wider internet, creating a curated digital experience for the audience. The stream of new activities is designed to keep kids engaged, removing the sometimes slippery slope of seeking out new content.
"Alexa or Google Home are just gateways to the entire internet, unfiltered and unvetted, and I don't think that's suitable for children," Drury says. Importantly, Yoto has no way of listening in on families—a primary concern with adult-designed devices. "There's no microphone at all in a Yoto Player, and there never will be," adds Drury. "There's no camera. It's not about spying on children."
Originally launched on Kickstarter in 2017, a more up-to-date and improved version of Yoto launched earlier this year on the brand's website. The pre-pandemic launch might be fortuitous as smart speaker usage, already increasing, has grown even more during lockdown. According to NPR and Edison Research, seven in 10 smart speaker owners who have children say they are thinking about buying another device just to entertain their kids, up from 47% the year prior.
"We're seeing an average listening time of 12 hours per week or more, so they're really engaging with it," says Drury.