When an inflection point like the COVID-19 lockdown comes along, researchers look at how people respond to disruption. Does it reinforce existing habits, inspire experimentation, or prompt reversion to past, comforting favorites?
When it comes to media, the US and the UK are remarkably similar in many ways. Both are highly fortunate, developed environments in which the majority of children live in homes with a full array of devices and broadband access bringing in a variety of platforms and services. Children enjoy (and sometimes are paralyzed by) almost unlimited content choice.
So, one might expect comparable media behaviors among US and UK children to appear in lockdown. Indeed, in Dubit Trends' April 2020 survey of 3,500 kids in the US and the UK, there are similarities in year-over-year changes since spring 2019.
We looked particularly at educational media use, and information-seeking about the coronavirus. That we found more time spent with learning media is unsurprising, but the likely drivers are fascinating because, when it comes to children, the US and UK are (to paraphrase G.B. Shaw) "two nations divided by common media." American parents (and, as a result, its industry) have always been far more concerned than their British counterparts that time spent with media be educational.
A historic perspective
The roots of this divide go way back. In the United Kingdom, public service media came first with the creation of the British Broadcasting Corporation. Founding Director-General Lord Reith proclaimed fundamental and balanced principles: the BBC's role was to "inform, educate and entertain." Commercial media was only allowed much later.
By contrast, the US began with commercial media and only much later realized it had left a chasm. In 1961,the issue came to a head when former chair of the Federal Communication asked of the National Association of Broadcasters, "Is there no room on television to teach, to inform, to uplift, to stretch, to enlarge the capacities of our children?"
Beyond historical roots—or perhaps because of them—when US parents and activists express angst about "screen time," they focus on boosting educational content. UK parents are generally less concerned that media be instructive and more attuned to active engagement, curiosity and reflecting British culture and values. UK-made and US-made TV have always looked different, since Play School and Sesame Street.
Platforms for learning
Still in our early-pandemic findings, both countries reported elevated media time spent on learning or homework, as part of overall spikes in smartphone, tablet and PC/laptop use.
The 2019 to 2020 overall numbers on these three devices showed an additional two hours, 11 minutes (6%) over a week for two to 15s in Great Britain and just over three-and-a-half hours (8%) in the US. Usually, year-over-year times vary by minutes, not hours.
Use for learning activities went up 31% in the UK YOY, or one hour and nine minutes per week, across two- to 15-year-olds. In the US, the rise was smaller, 31 minutes, but five hours and 44 minutes per week is remarkable for focus on education.
In the UK, older children drove the year-over-year rise in educational content. Eight- to 10-year-olds increased 32%, and 11- to 15-year-olds 41%. By contrast, early primary led the US spike, up 17% among five- to 10-year-olds.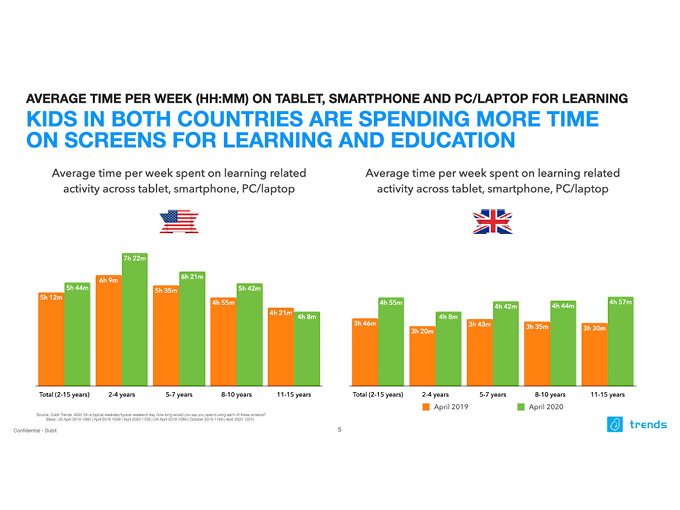 As noted previously, US parents are eager for time spent with media to be "worthy;" preschool and primary-age kids were already more likely to be using educational apps, enrichment programs or other resources. Hence, the post-lockdown rise in learning media was still considerable, but a smaller percentage than in Britain, where parents hold looser reins. Still, when UK schools closed, families were concerned about ongoing progress, particularly in the tween and teen years when testing approaches. The BBC supplemented its Bitesize materials and others stepped up as well, and time-on-task for learning jumped substantially.
The New York Times called the tablet the ideal lockdown learning device—more portable than a laptop, but larger than a phone; simple, flexible, and good for video and teleconferencing. In the UK, use of a tablet for schoolwork or homework was up 19% year-over-year from 2019, and using learning apps up 8%. In the US, tablets rose by 19% while learning apps jumped just 1%.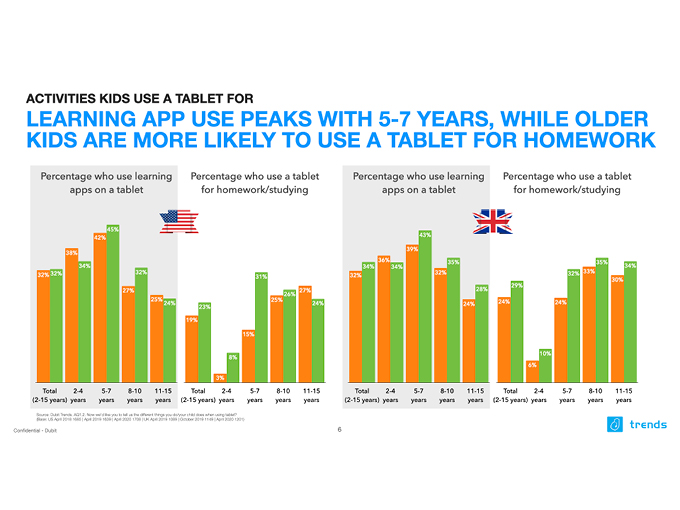 Interestingly, in the past we'd seen tablet use drop off as children emerged from preschool, when the tablet became a "baby" thing. Moreover, mediated learning becomes more self-motivated and driven by passions, not others' curricula, in the tween and teen years.
As at-home school began in earnest, the other device winning in the pandemic was the laptop or PC. Use was up 32% across all ages in the UK, and 68% among ages two-to-sevens. In the US, PC/laptop time rose 13% across the board, and 30% among those same younger children.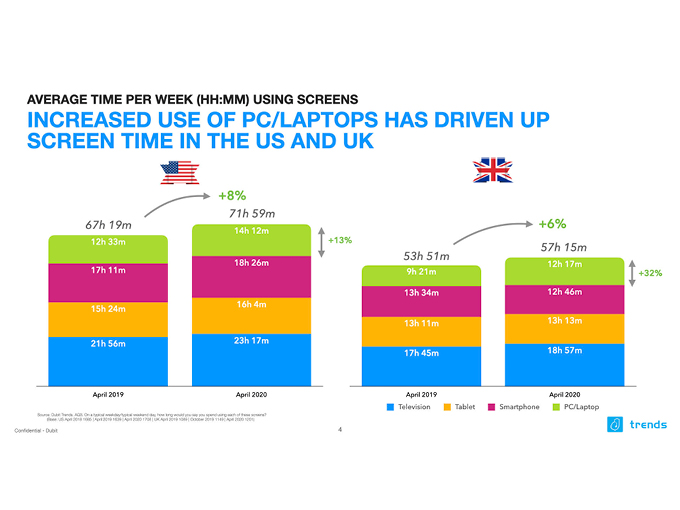 News of the hour
Given the timeliness of our Trends' survey spring wave, we asked whether children were seeking coronavirus information and, if so, from what sources. Here again, there were US/UK differences.
The UK has long cultivated a habit of news awareness and literacy, with the daily Newsround on the BBC for nearly 50 years. The US has never had everyday kids news, just interstitials, specials and limited series.
So, it was surprising to find, in comparing whether young people had investigated COVID-19, that UK children began earlier (five- to seven-year-olds, primarily asking parents) but by eight to 10s substantially more American than British children did so (70% versus 48% among boys; 60% versus 50% among girls). By teen age, more than half of all children sought information, and in an extended UK survey of 16- to 18-year-olds, the figure topped three-quarters.
At some level, this may be a difference of "seek" versus "see." If children's news is a longstanding practice in the UK, young people may not feel they have to take action to be informed.
Our results came from early in the lockdown. Whether they stand or whether device, platform and content patterns change again depends on how long kids are under restrictions. We know that some families are isolating this as a unique moment, with the promise of returning to "normal" as soon as is possible. As weeks pass, though, families, schools and the media industry may discover that some of the adaptations are positive.
New production models may lower cost and speed time to air. New and interactive ways of teaching, adopted by necessity, may better motivate children as self-guided learners. Parents may discover that "screen time" is not an important measure compared to content choices in context and how they engage the particular child. These are the questions Dubit will be watching in the coming months and future Trends waves.