We've all been sharing with each other what it's like for adults during this crisis. We are scared. We are frustrated. We are discombobulated. We are angry. We're emotionally supporting each other, and we're sharing our resources to help kids continue to learn and thrive. But how are kids doing so far?
I took a sweep of kids within my networks, which admittedly come mostly from US-based, middle-class or upper middle-class families. So, I'll start with a huge disclaimer that we still need much more input from lower income kids—the ones who are most at risk right now. And of course, we need similar dispatches and suggestions from our colleagues around the globe.
But in terms of what I've learned so far, our kids are going through a unified experience right now, one that fully disrupts their routines and leaves them with parents who are more stressed than normal. That said, they seem to be faring better emotionally than the adults in their lives, at least right now, at the start of the disruption. Some themes that emerge:
Extended weekends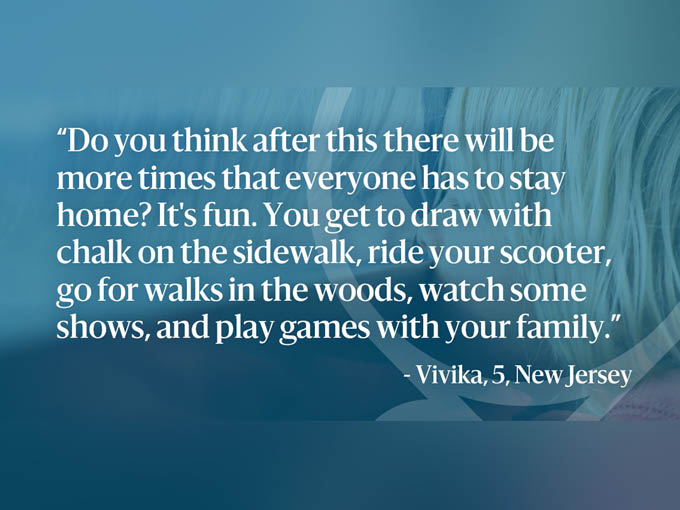 Little ones, up to around age seven, are very family-centric, so having their parents at home more feels exciting. While many of these kids have learned the new rules of hand-washing and social distancing, they're not very stressed by the virus itself. As one parent of a preschooler from New York put it, "This crisis is a kid's dream. No school, and 24/7 time with parents. She is in heaven."
Emotional shifts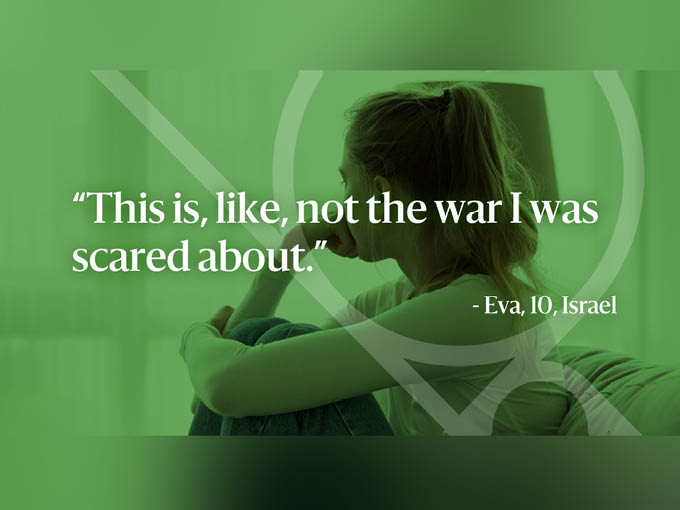 Older kids seem to be changing their moods rapidly, from being excited about the new online learning model to extremely worried and scared. Their lives are still family focused, but they've become more social beings, and are also adept at surfing the web for information. They know a lot about what's going on, making this experience an emotional rollercoaster for them. A mom from New York shared a story of her eight-year-old son: "When he heard schools would be closed, first he said, 'More time for videos.' Then he went in the other room and started to cry. He said, 'I don't know why I'm sad.'" Another mom from New York shares that her 10-year-old daughter has been fine during the day, but cries nearly every night before bed because of anxiety. Her daughter said, "Mom, I can't believe I am saying this, but I wish you were telling me to do my homework right now so it's back to normal."
Keeping it personal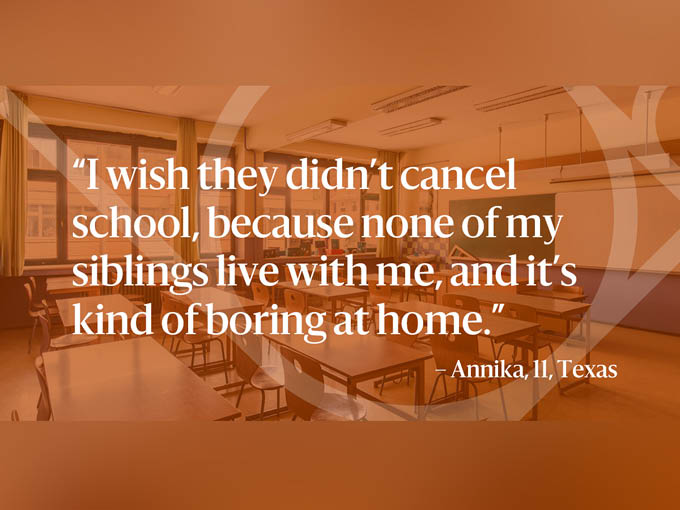 The biggest source of stress for kids at this point is what might happen to them personally. They're not discussing the stock market or lack of hospital beds. They are most concerned about disruption of their routines, not seeing friends, or missing events they were looking forward to, as opposed to genuine fear of being in danger. A nine-year-old from Indiana said, "I'm not worried about getting the virus. I just don't like that we're quarantined because we have to miss a lot of school and all of the fun things that fourth graders get to do at the end of the year." A similar sentiment came from a North Carolina mom who explained that her child "is especially sad because his first middle school track season has been cut short, and he's been looking forward to that for the last year."
While many kids don't feel personally unsafe, older kids are aware of what's going on and have been genuinely concerned for the well-being of loved ones. For example, eleven-year-old Quinn from Indiana asked, "Are grandma and grandpa going to be okay?"
Extra screen time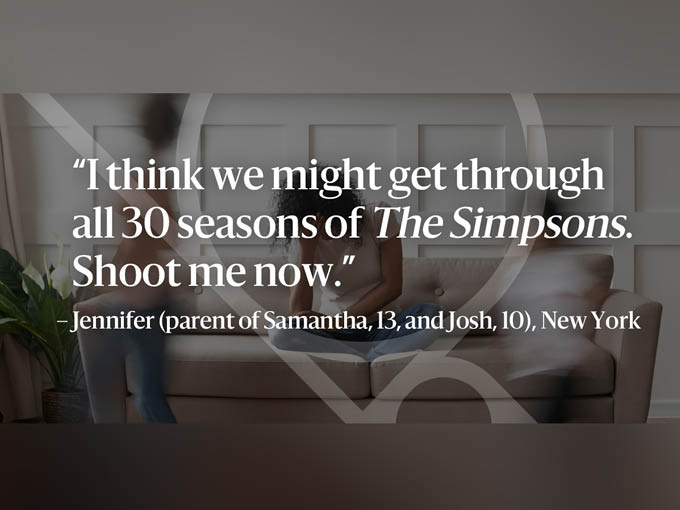 Kids instinctively seem to understand that staying at home right now means permission for more screen time. And parents have not disappointed in that regard. Beyond new learning resources, which abound, kids report being allowed more time for watching shows and movies, playing video games, and texting and video-chatting with their friends. The mom of five-year-old Kendall in Colorado said, "Our screen time rules were very relaxed before, and now they are relaxed, PLUS unsupervised." As one New York parent of a 10-year-old put it, "I don't limit that time because it's social interaction that she desperately needs right now, and a sense of community and normalcy."
Content consumed may also be getting a bit older: Parents admitted they're letting their kids watch plenty of content that they consider to be age-inappropriate. One shared that her eight-year-old has been binge-watching Curb Your Enthusiasm. Another has been turning a blind eye while her tween watches Glee. 
So, what can we do now?
Overall, it looks like these kids are doing okay, considering the circumstances. That said, this is just the beginning, and we are likely in for a long haul. We as a community can continue to help by keeping a pulse on kids' feelings and needs as the situation evolves, particularly relating to the need for down-time versus school time, and dealing with stress, boredom, and social isolation. We also need to dig into the needs of at-risk families, potentially by partnering with organizations who are on the front lines, including international nonprofits like UNICEF, US-national ones like the Boys & Girls Clubs, and local charities like Children's Aid (NYC), LA Food Bank (Los Angeles), Food Lifeline (Seattle), and Glide(San Francisco). And of course, we need to continue to create and make available amazing content that can entertain and teach kids during this difficult time, ensuring the extra screen time is time well spent. Finally we need to start partnering with each other (even competitors), to ensure that kids get everything they need from us right now.
Sarah Chumsky is the VP of MarketCast Kids (formerly Insight Kids), a passionate team of business strategists and developmental experts who spend their waking hours pondering and communicating timeless truths and timely trends. Through innovative qualitative and quantitative market research and consulting, they bring the voice of the child to the creative process, helping their clients create products and experiences that meet kids where they are. Reach them at info@MarketCast.com or via marketcast.com.
Image courtesy of CDC on Unsplash