As the average age of device ownership drops and digital play takes over more of kids' leisure time, the device usage landscape continues to evolve. But the perception of how kids' behavior is shifting may not be what it seems.
TV on Top

Contrary to industry lore that the youngest viewers consume most of their content on mobile, TVs are still the most common way for kids six to 12 to watch their favorite shows. As TVs get smarter and increasingly interactive—and content options for kids and families multiply—bigger screens are as relevant as they've ever been.
Roughly four in five kids watch content on a TV daily, and 59% do so several times throughout the day. While the types of content consumed on TV screens vary, shows (69%) still trump YouTube and other short-form videos (53%) and movies (47%). It's a primary reason why influencers like eight-year-old Ryan Kaji have made the leap from YouTube to television. His millions of Ryan's World subscribers, billions of views, and supposed US$26-million pre-tax income in 2019 led right back to kids TV—more specifically, a show on Nick Jr.
As Disney+ proliferates in the family living room, and Netflix doubles down on kids programming, there's little doubt TVs will continue to be the go-to platform for long-form content.
The mobile entertainment hub
Smartphones have overtaken tablets as the second most commonly used device among kids. They offer the benefit of portability, as well as a wide range of kid-loved activities. Nearly half of six-to-12s use smartphones several times a day (47%), up from 38% in 2016. A majority of kids (53%) have their own smartphone by the time they are 11, as do nearly one in five (19%) eight-year-olds, according to Common Sense Media. And those without are happy to borrow their siblings' and parents' phones to satisfy their gaming and viewing needs.
As smartphone ownership and access increase with age, daily usage also grows as kids become tweens: 52% of six-to-eights use a smartphone on a daily basis, while two-thirds of nine- to 12-year-olds do. Across ages, gaming is the number-one smartphone activity, followed closely by watching videos (and texting among tweens).

A cooling tablet habit
Though nearly half of kids use tablets daily, usage of these devices has been on a steady decline in recent years: 49% in 2019, compared to 55% in 2016. The larger, less portable devices remain more popular with the six-to-eight crowd than with tweens, just 46% of whom now use them each day.
Interestingly, daily tablet usage among younger kids is now on par with their smartphone usage (52%, compared to 48% in 2016)—a sign that smartphones will soon overtake tablets among early elementary kids, too.
By the time kids are six, they no longer need a larger touchscreen for dexterity reasons, and their content is just as accessible and enjoyable on a four-inch smartphone screen.
Game on, tween boys
Gaming consoles follow tablets in the usage ranking, and remain more popular than handhelds: Two-thirds of kids ages six to 12 play on a console at least once a week, compared to just 40% on a handheld. Of note, video game systems are the most gendered of devices, with more boys playing than girls—driven largely by tween boys.
But as gaming becomes more mobile both console and handheld-based systems will face challenges in remaining relevant to kids who expect to have access to all content and leisure anywhere, anytime. Case in point—leveraging portability and convenience, Nintendo's Switch is seeing success. The device is now the 21st most popular brand among kids, up from the 53rd just a year ago.
Typing is out, talking is in
Nearly 30% of kids use laptops each day, and half use one on a weekly basis—primarily for school-related activities.
But the act of typing is starting to feel passé. Using a keyboard to find information, play a song or get help with homework is being replaced by voice-activated devices. Smart speaker household penetration grows daily, and voice assistants have become part of the family. Those without screens are used by 39% of six-to-12s each week, while newer models with screens—like Facebook's Portal and Google's Nest Hub—are not far behind at 34% weekly usage.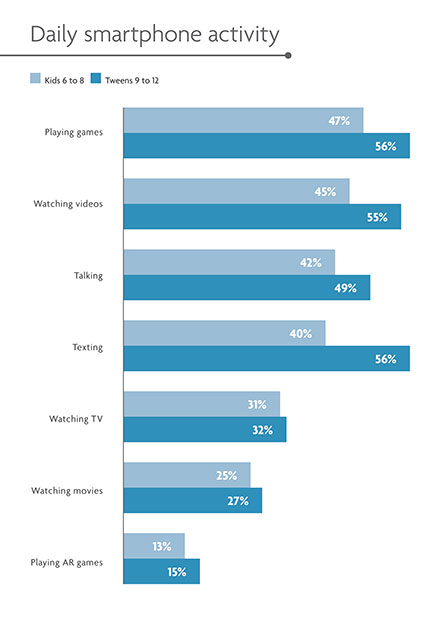 Content is key to device appeal
Engaging content is what drives kid device usage, and those that lack the wow-factor (like smartwatches and wearable trackers) or are prohibitively priced (like virtual reality headsets) remain niche among six-to-12s. Just a quarter of kids in this age range use these devices at all, and very few do so on a regular basis.
As 2020 unfolds, kids device usage is looking decidedly mixed. Omni-platform content and entertainment that can be consumed anywhere, anytime will continue to delight kids (and parents).
But this easy access comes at the cost of tablets and traditional gaming system usage, which tether kids to their homes and will continue to lose traction as more portable alternatives gain momentum.
That's not to say everything needs to be portable. The fiercely competitive—and rapidly expanding—streaming content industry is giving families more reasons to turn on the TV. Despite cable and satellite cord-cutting trends, the TV in the living room (and kitchen, den and bedroom) is as much a family entertainment platform as ever.
Usage data comes from Smarty Pants' Brand Love study. The annual brand equity and kid lifestyle study is conducted online using a representative sample of US households. In spring and summer 2019, 8,183 children and their parents evaluated 350 consumer brands. The study also measures digital device usage and participation in digitally-
based activities, among other behaviors.
Mara Singer serves as insights brainiac at Smarty Pants, a youth and family research and consulting agency. For more information contact Meredith Franck at 914-939-1897 or visit asksmartypants.com