In his move from development exec to full-fledged creator, Mike Vogel had to make a choice about the first story he wanted to tell. Of all the ideas he could have pitched to Toronto prodco WildBrain, he opted for one inspired by his own childhood.
Princess Alexander focuses on themes of sexuality and gender, and revolves around a young prince who realizes he has magical powers that have traditionally been exclusive to princesses, while possessing none of the natural skills that princes are supposed to have. Following this discovery, his family (and the entire kingdom) panics as they try to come to terms with the fact that boys can be princesses, too.
The 2D-animated series is inspired by Vogel's experiences as a cisgender gay man who grappled with who he was and how he should act as a child. The series targets kids ages six to nine and is an allegory for LGBTQ+ acceptance, but the goal is to leverage its fantasy setting to give the show broad appeal.
"The more I thought about the issues I struggled with growing up—what my strengths were and where I fit in the world—I wanted to pull from that in a way that people would identify with," says Vogel. "But I also wanted to tell a story that everyone who's ever felt like they didn't quite fit in could grab onto."
WildBrain is introducing Princess Alexander to the market at Kidscreen Summit. The team's goal is to get the show into production by summer 2020, and delivered by end of 2021. Vogel is writing a 22-minute origin story pilot, and the series format will be finalized once broadcasters are attached.
WildBrain rebranded from DHX Media last September following a year-long strategic review, and with this shift came a pivot in its content strategy to focus on shows from talented creators with a specific vision.
"The fact that this idea was so close to [Vogel's] heart and experience was what made us respond to it," says Stephanie Betts, WildBrain's EVP of content and current series. "We lean into shows with visionaries and strong creative leads at the helm, and we have that with Mike."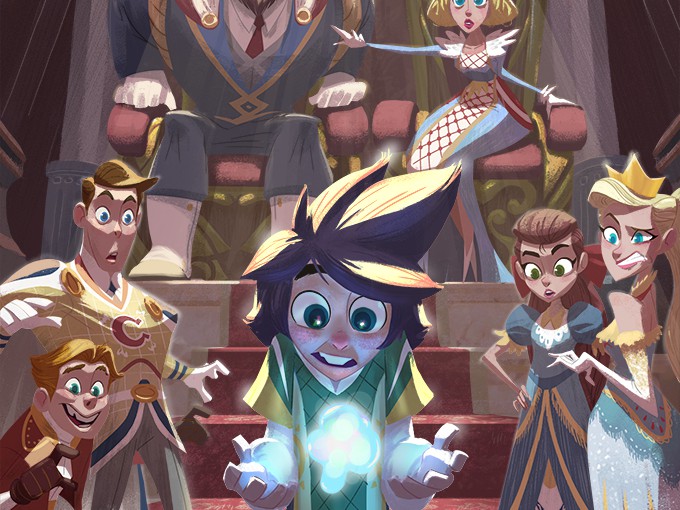 Before joining WildBrain as an EP, Vogel served as a director on The Spectacular Spider-Man at Sony Television and headed up development on the GI-Joe: Renegades, Transformers Prime and My Little Pony: Friendship is Magic shows for Allspark (formerly Hasbro Studios). He signed an overall deal with WildBrain in October 2018 and is leading its new Strawberry Shortcake and Inspector Gadget series.
Princess Alexander isn't WildBrain's first brush with tackling mature issues like sexuality; it did exactly that for many years with tween drama Degrassi. And this new show is just one part of the company's focus on telling inclusive stories, says Betts.
"When we look at any series that we develop, we want to tell stories that appeal to everyone in the audience," says Betts. "It's not about leaning into one group of people, but about being universal."
But the focus on gender norms may fit nicely with the youngest generation's shifting view of the gender and sexual orientation sprectrum, as many of them are now exposed to, and accepting of, more gender identities at a younger age. Among Gen Zers, 35% say they know someone who uses gender-neutral pronouns, according to the Pew Research Center. On top of this, only 66% think of themselves as exclusively heterosexual (compared to 71% of Millennials), market research company Ipsos MORI found.
Vogel has always wanted to see more LGBTQ+ representation in kids animation, and he's excited about creating a show that could help the world change and develop tolerance, reflecting how the main character begins to accept himself.
"A lot of shows in kids entertainment are doing a lot for inclusivity and diversity," he says. "But to put a character who is dealing with these issues front and center is something I've never really seen before."