In the rolling, felt-covered landscape of Bumperton Hills, one day the unspeakable happens: Mama, a blue car, forgets her anniversary with her orange-hued husband. She enlists her two kids, Cory and Chrissy, to help put on a dinner. When Mama can't remember Papa's favorite food—and worries she's wrecking the whole evening—the kids manage to save the day.
For many adults, this plotline in upcoming Netflix original series Go! Go! Cory Carson is relatable, but it may not be a particularly effective storyline for a children's show. Many kids TV executives would turn the plot down, and suggest the showrunners swap it for a kid-focused tale.
But at Netflix's LA headquarters, kids execs gushed they could relate to Mama's woes, having forgotten their own anniversaries. Go! Go! Cory Carson may be a preschool show, but it hit on a universal parental truth—balancing life is hard.
And the team behind Berkeley, California prodco Kuku Studios knew that to capture parents' attention, Mama's story needed to be told. Led by Alex Woo, a former storyboard artist on Cars 2 and Ratatouille, and Stanley Moore, a story artist on Monsters University, Kuku is bringing a Pixar sensibility to Netflix to help freshen up the SVOD's preschool slate—and the streamer is using the lessons it learned working with these creators to innovate and update its kids strategy.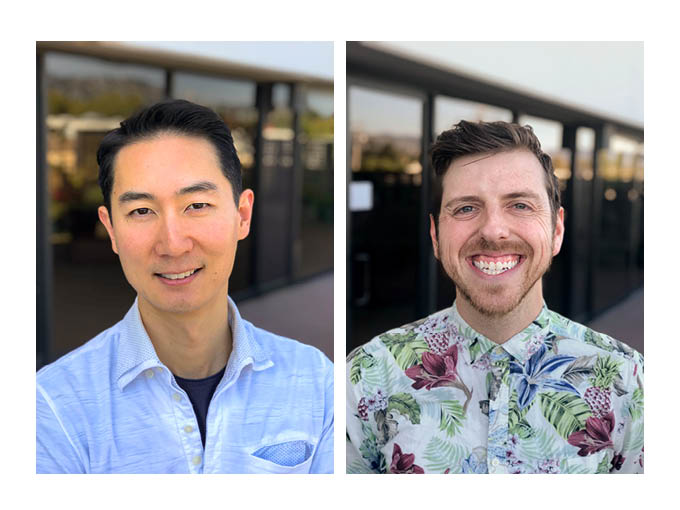 Under international director of original animation Dominique Bazay's leadership, Netflix has put out a handful of preschool titles, including Atomic Cartoon's Hello Ninja, DreamWorks' Dragons Rescue Riders and The Jim Henson Company's Word Party. Brought in four years ago to kickstart the SVOD's preschool programming, she relocated to Amsterdam at the end of 2019 to lead the kids and family international originals team, with Heather Tilert taking stewardship of the strategy as director of original animation for preschool.
With Tilert as the new head, 2020 marks the SVOD's biggest push to date for programming aimed at under-fives, and Go! Go! Cory Carson will set the tone for Netflix with its first season, which launched on January 4. The goal is for future greenlights to follow suit by creating unique, interesting shows different from what else is on the market—and for everyone in the family.
To do that, Netflix is starting with a show about cars—a road kids media has been down before.
From DinoTrux to Transformers: Rescue Bots, and even Netflix's own Buddy Thunderstruck, vehicle-themed series are such a stalwart for kids that the show's creators have actually worked on one of the most famous iterations—Pixar's Cars franchise. But Cory Carson is not your typical speed racer.
"When we looked at shows that were made about vehicles, a lot of them were high-action, high-adventure. They were about adult cars racing and jumping off ramps, and doing all of these crazy things," says Moore. "We didn't see a show about vehicles focused on what it was like to be a child—they didn't capture the essence of childhood."
The seven x seven-minute CG-animated show will be supplemented with several specials, short-form content, mini movies and another season of seven eps, all due later this year. The series sees Cory drive through life, going on adventures, and eager to grow up. The creators tried to build a modern family dynamic: Mama is a "carchitect" who works full time, and Papa is a stay-at-home cartoonist.
The idea for the show originated from the Go! Go! Smart Wheels toy line created by Hong Kong-based VTech.
When Woo and Moore left Pixar to set up their own shop, Allan Wong (CEO and founder of Vtech, and a family friend of Woo's) approached the pair, saying he wanted to get into animation and was looking for someone to adapt the toyco's IP.
"We thought that the toys themselves had personalities, and vehicles are a no-brainer for a young audience," says Moore.
(Just as a show about cars isn't new, basing a show on a toy line isn't unique, either. But partnering with an established toyco will alleviate some of the growing pains Netflix has had building its merchandising and licensing efforts. VTech will handle part of the L&M, continuing to put out more Go! Go! Smart Wheels toys, while Netflix works to identify other possible brand extensions.)
But it takes more than just an IP to get a kids show going, so beyond VTech and Netflix, Kuku needed a few others to get the job done. It interviewed 13 vendor studios before choosing Paris-based Superprod to handle production. The studio rose above the rest by adding human-like details, such as when Cory would shyly hide behind or snuggle up next to Mama.
To put together a look and feel for the show, Kuku worked with Tonko House—another Berkeley studio set up by a few fellow former Pixar creatives, including Robert Kondo (art director for Ratatouille, Toy Story 3, Wall-E and Monsters University) and Daisuke "Dice" Tsutsumi (lighting art director for Toy Story 3 and Monsters University)—on the production design.
Tonko House helped create a toyetic, tactile world for Cory and his family that evokes the look of found materials, such as plastic-vinyl furniture, wool rug grass and wood-block decorations.
"We had to choose very specifically what sort of textures we would apply to create the illusion of a tactile world in which there are no limits. But in fact, it was all about learning how to embrace those limitations," says Tonko House's Kondo. "If you think of a place like Pixar as having a big swath of oil paint with which you can mix any color, I feel like working on Go! Go! was more like using a box of crayons."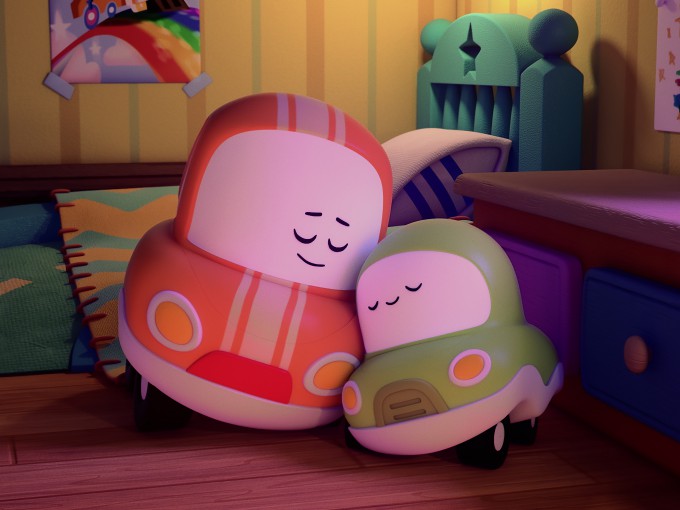 Working with that smaller toolbox pushed his team to come up with ways to make the animation even better. Kondo hopes his production design team—many of whom had never worked on a CG show before—will apply these lessons to Tonko's upcoming preschool CG-animated series, Oni. Tsutsumi serves as the showrunner for it, which was picked up by Netflix late last year, and created a world for it filled with oddball gods and monsters from Japanese mythology.
Oni is part of Netflix's shift into making more international originals, and it wants those diverse cultures to be reflected not just in the characters, but also through the educational storylines—an area the SVOD had struggled with. Beyond
JibJab Studios' Ask the StoryBots and Henson's Word Party, Netflix hasn't made a significant effort to put out educational content, and it has been challenging to get kids to click on the educational titles it licenses.
"We were having a really hard time with traditional educational content, and my analysis is that when you have to choose, kids tend to pick the things that feel glossy and less like the broccoli," says Bazay.
Go! Go! Cory Carson (which Tilert describes as "pure, entertaining joy") serves as a guide for Netflix's best guess as how to make educational content that feels glossy. The box art for a show needs to be bright, colorful and eye-catching. Once kids click on an educational show, Netflix has found the winning formula to keep them coming back is to mix those lessons with a bit of laughter.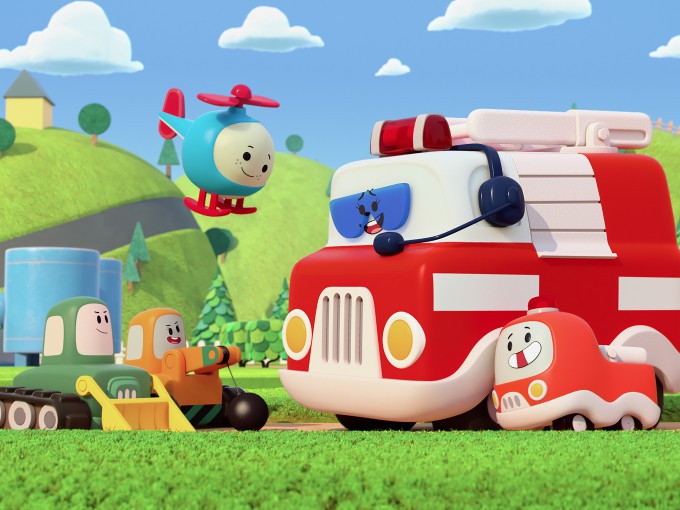 Both Tilert and Bazay acknowledge that most kids shows (especially those aimed at preschoolers) tend to have at least some cognitive and socio-emotional curriculum, but they want to take the content they commission a step further, and are looking for specific lessons on topics like marine biology, math and early reading.
The main restriction they're putting on that content is that it needs to be globally minded. Each country has its own version of what kids should be taught at different ages, and a big part of Bazay's job is finding stories that will resonate outside the US.
The American representation is locked down, especially thanks to a recent raft of overall deals signed in the last year with the likes of Alex Hirsch (Gravity Falls), Kenny Ortega (High School Musical), Darla Anderson (Coco, Cars, Toy Story 3) and Chris Nee (Doc McStuffins, Vampirina).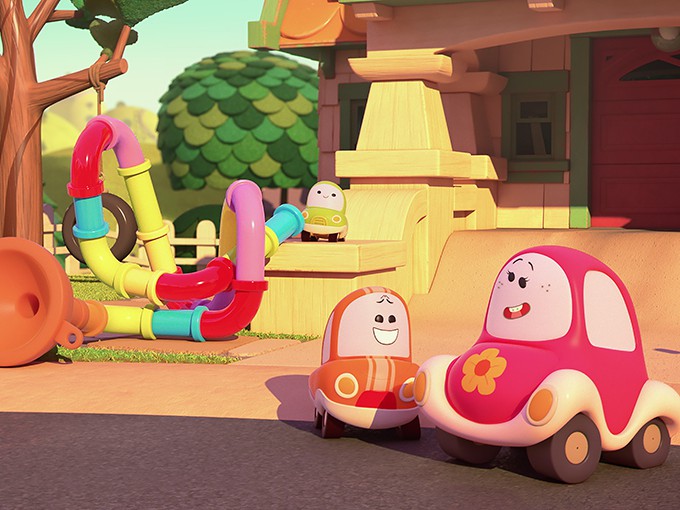 There is also a relatively new deal in place with Moore and Woo's Kuku Studios, which Netflix signed in September. The goal of this overall deal isn't just about locking in creators' content exclusively for Netflix, Bazay says (though that certainly is a bonus). Rather, the Netflix team loved everything Kuku created so much, they wanted to allow Moore and Woo to keep creating without having to worry about the monetary cost of starting a new prodco.
In return for that protective financial coating, Netflix's subscribers will be seeing a lot more from Kuku, including a few potential spin-offs of Go! Go! Cory Carson, as well as the pièce de résistance—an animated feature film they are working on for Gregg Taylor, Netflix's director of original animated features.
As of press time, the feature is in story edits, and Kuku is working with a production design team to build the world. Woo and Moore wouldn't go into much detail on the film, but confirmed it's about "dreams" and will be set in a world after kids have gone to sleep. It's a fitting thematic premise, since Woo and Moore say working with Netflix on Go! Go! Cory Carson was their dream project. But the feeling is mutual.
"A few years ago, I was on a panel with Alex Woo and a few others, and during the panel I said, 'The Kuku guys are brand-new to TV. They're brand-new to preschool. We're really going to have to help them and teach them how to work in this space,'" says Bazay. "When I watch the episodes, I wish I could redo that panel and tell the world that I feel like [Woo] taught me how to make preschool in a very different way."