LA-based animation studio OddBot is branching out from preschoolers with a new book adapt and an eco-focused series in a bid to grow its international reach. Alongside a new show geared at two-to-fives (the studio's bread-and-butter), the prodco is developing its first show for kids six to 11 with a timely environmental bent, as well as trying its hand at bringing a non-linear story from a book to screen. Known for producing animated preschool bridge series, such as Disney Junior's Muppet Babies and Nursery Rhymes, the new slate is the studio's way of positioning itself as a viable partner on shows that skew a bit older, as well as showcase it's creative ability with projects that are different from anything it's made before, says OddBot's president and creative director Chris Hamilton. 
Blasting into an older-skewing demo, the studio is creating the 26 x 22-minute sci-fi action adventure series True Martian (pictured, above). The 2D-animated show orbits around Quaid, a 14-year-old girl—and the first human born on Mars—who realizes that humans aren't the only ones living on the red planet, and who works to unite the humans and aliens.
Created by Josh Saltzman (Pete the Cat, Inspector Gadget), the show is a first in a lot of ways for OddBot. Instead of the episodic format of the studio's other work, Saltzman has mapped out serialized arcs for the show that could stretch multiple seasons. It's also the prodco's first climate change-focused title, which OddBot is making to reach the growing audience of children concerned with the environment. The studio wanted an eco-conscious series to tackle an important topic for kids, but it wasn't until True Martian that they found something they felt stood out in the kids space, says executive producer Fred Schaefer.
"A lot of eco-shows are mission-based where teams go around confronting problems, or they're heavily curriculum-focused," says Schaefer. "We wanted an exciting adventure story that would reach the demo, while also shedding light on the climate issues."
OddBot's budget for True Martian is roughly US$575,000 to US$675,000 per episode, and the studio is seeking co-production partners. The team is working on a bible, designs and a pilot script for the show, and plan to deliver the completed show in 2022.
If True Martian is a new direction for the studio, its new 3D-animated preschool series Job Jungle (pictured, below) is the prodco sticking to its roots. The 52 x 11-minute action comedy tracks a trio of animals who learn about different careers in every episode. Because kids everywhere aspire to many different jobs, the series doesn't focus on any one job, like Bob the Builder or Fireman Sam, which gives Job Jungle an opportunity for global appeal, says Hamilton.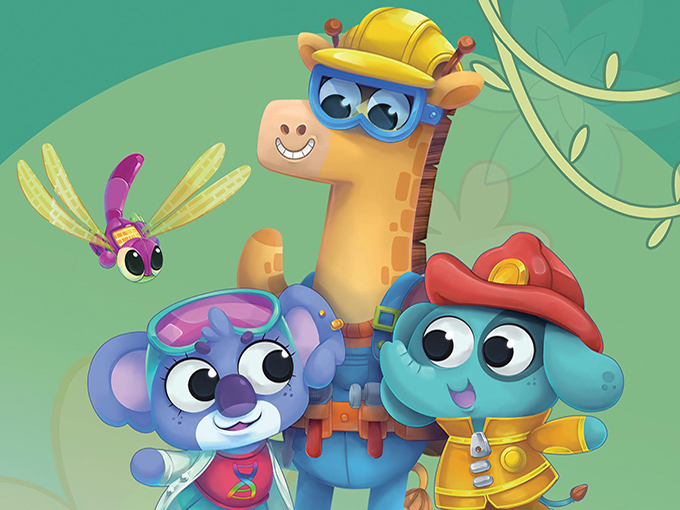 Rounding out its new slate is an adaptation of Barney Saltzberg's interactive children's book Beautiful Oops!, which teaches kids about the value of mistakes. Turning the book into a 52 x 11-minute preschool series is a bit of a challenge for the prodco, because the book isn't a linear narrative so much as it's a philosophy about kids turning their screw-ups into something great, says Hamilton.
To make sure the creativity of the book comes through, the studio is making it into a mixed-media series that blends CG, 2D, stop-motion, and live-action. The preschool show will combine an arts-and-crafts type show with character-driven action, to keep kids engaged, says Schaefer. The studio is working with Saltzberg to get his insights on turning the book into a show. 
"We want to be seen as the studio that can partner with other studios that are looking for a range of content, while also tapping into relevant issues like climate-change," says Hamilton. "We can make content that's very much in our element like Job Jungle, experiment with a book adaptation like Beautiful Oops! and also create a whole new world with True Martian."