Every January in Vegas, tech conference CES offers an interesting prophecy for the future. And even if it doesn't all come to fruition right away (self-driving cars are still years off, for example), this early look at big trends on the horizon is always throught-provoking at the very least. Here's a look at some innovations that we think could make it all the way to shelves and have an impact on the kids and family market.
Optimization
The showroom floor was rife with products designed to help consumers live their best lives.
In exchange for lots of personal data, new tech promised everything from a better night's sleep (through connected pillows), to cleaner teeth (through timed toothbrushes), to better stomach health (through, and this is true, a "wand" that measures gut biomes through your abs). And then there's the tech that is supposed to make life easier—like Pelican's new range of connected camping gear (so you never really have to be off the grid), or the toilet paper robot from Charmin (pictured), which promises to rush to the royal user's rescue if they ever run out while on the throne.
The CES scene mirrored what we're seeing in content. New shows at Cartoon Forum this year promised to teach preschoolers how to stop being shy and improve their chemistry skills. With such a focus on "living your best life," there's a very real possibility that some of this technology will trickle down to kids.
Smart homes
With doors that accept packages to indoor app-controlled greenhouses, LG, Sony and Google all bowed new smart home devices at CES. And given that kids live in those houses, this tech will likely filter into their lives, not only in the next year but far into the future.
Think 1999 Disney Channel Original Movie Smart House…but the home isn't just going to be run by a virtual assistant (that's already happening, Alexa). Homes are set to constantly collect kids' data through their use of smart fridges and closets that launder and steam clothes. Gone are the days of just phones collecting and storing kids' personal info illegally; now doors will remember their schedules and suggest forgotten items like shin pads for soccer practice before they head off for the day.
Mobile viewing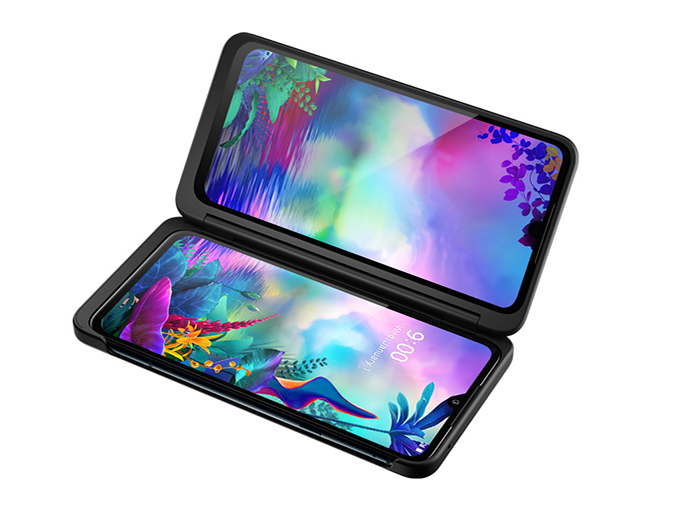 Mobile web browsing has grown massively over the last decade, with more than 75% of global video content now consumed on phones, according to eMarketer. It's no wonder tech companies are going after those viewers aggressively. But with only a few tablets debuting at CES, this year's push was all about foldable phones—with a screen twice the size of a standard iPhone—from Samsung, Royole and LG (which, pictured above, actually offers a model with dual screens, one of which can be removed to act as a regular phone).
Bigger screens should make it easier for everyone, including kids, to watch the steady stream of new content in the pipeline, including Jeffrey Katzenberg's upcoming mobile-only SVOD Quibi. At CES, he announced a new format for ads and content, which will tip and turn as viewers manipulate their phones.
The only problem is these new, bigger screens would change aspect ratios again. Just as no one was prepared for the vertical viewing boom, is anyone prepared to return to a square format?
You likely won't see a tree made of screens in people's homes—or their front yards—any time soon (even though there was one at CES), so consider the importance of these concepts with a grain of salt. But we recommend you watch the optimization, smart home and mobile viewing spaces for some cool product announcements this year.