Novel Effect, the kidtech company best known for its voice-interactive story books, has taken its technology a step further and is working with producers to bring Dora the Explorer-esque content into the 21st century. While call-and-response style TV shows have been around for many years, the new technology would allow kids to interact with live-action and animated videos in real time.
When characters ask viewers a question, with answers provided on screen, the video remains static until kids read out a response. (If kids don't respond within 90 seconds, the mic shuts off and the content resumes). There is a choose-your-own adventure mode where viewers can pick one of the provided responses to read out, triggering a different set of videos.
It will be available in spring or summer this year on the Novel Effect branded app. Novel Effect will launch as an subscription service a yet-to-be-announced subscription fee, which will provide 100 original and licensed titles aimed at kids two to 12. The app is available on mobile, desktop, and through Amazon, Roku and set-top-boxes.
Novel Effect has made an animated series, Monster Heroes: Vampires and Veggies, based on a series of middle grade books from Capstone of the same name. Created by Novel Effect, the show is made by Canadian studio Double Impact. The Monster Heroes videos skew towards preschool age kids. Each video is four to five minutes long but can take longer depending on kids' reading speed.
The techco has also made Cooking with Matt (pictured below) a live-action series that asks kids to decide what ingredients should go into recipes. Novel Effect has also partnered with Driver Studios to create an interactive version of the prodco's show The Stupendous Drew Pendous & His Mighty Penultimate!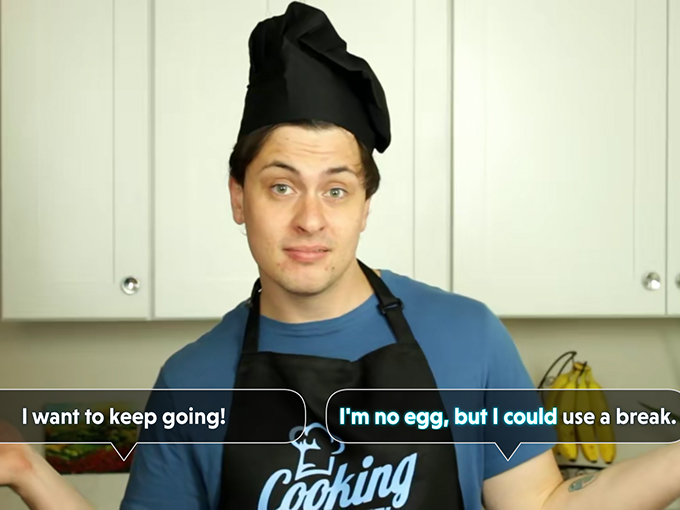 CEO Matt Hammersley says he intends to work with a number of companies to make interactive content, promising it isn't difficult to produce. Novel Effect provide producers with the backend of the system, and adds that previously created content can often be turned into a call-and-response format.
With the increased focus on video content, the company will turn the technology powering its voice system over to the general public to encourage user-created voice-driven stories.