In ten years' time filmgoers might be standing in virtual reality theaters, wearing special 4K headsets while enjoying a variety of scents thanks to smell-o-vision. Or…maybe the industry will stay largely the same (though with hopefully more diversity in front of and behind the cameras).
Following a decade of moves in the movie business, including new box office records, consolidation and changes to visual norms (thank you Spider-Man: Into the Spider-Verse) it makes sense to look ahead and see what the next ten years could hold for the industry.
Tech all the way 
Film producer and entertainment consultant Kathryn Arnold (Nevada, Cowboys and Angels) thinks special effects could take up a much larger role in the industry, to the point where real life actors could be replaced by CG-animation in the next decade.
Arnold points to recent films that have used animation to stand in for actors like Ang Lee's Gemini Man, Disney's Star Wars: Rogue One (pictured, below) which replaced Carrie Fischer with CG, and the recently announced Vietnam War set to feature a CG version of American actor James Dean—who died in 1955. All of this points to a future where computer-generated versions of people could become the actors of the next decade, she says.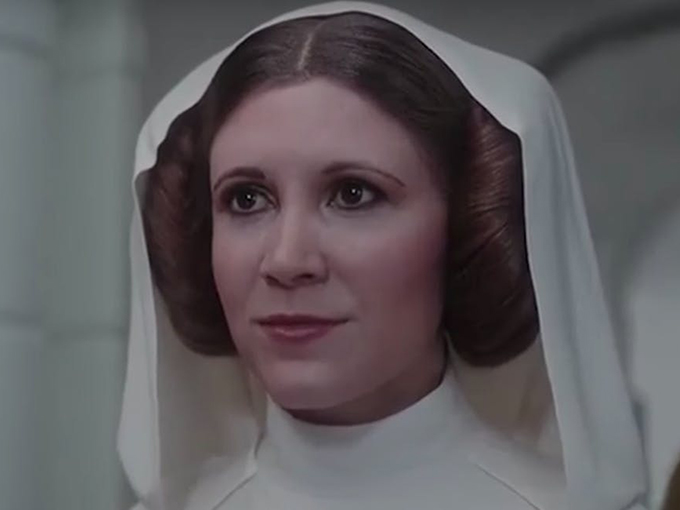 Building on her techno-optimistic view, Arnold predicts that in 10 years, theaters could be screening movies that are interactive choose-your-own-adventure productions. Emulating projects like Netflix's Black Mirror: Bandersnatch, theater audiences could vote on what endings they wanted to see in a movie.
Realism revolution 
Superheroes are having a moment. Technically, they've been enjoying one for the last decade. But by 2030 cape-wearing crime fighters could be rejected and replaced by a lot more realistic films, says Glenn Williamson (Eternal Sunshine of the Spotless Mind, Push), a film producer and lecturer at the UCLA school of theater, film and television. The end of superheroes could be a trend that echoes across industries and toy experts have predicted the death of the superhero toy over the next decade in the face of fading fandom and franchise fatigue.
"People look for authentic experiences and with so many virtual worlds around us we could start seeing a lot more films that try to get closer to the real world," he says. "The pendulum will swing away from heavily animated superhero movies, and we could see films going retro and having only practical effects and no CG."
Following a lot of growth in virtual and augmented reality, there's been speculation around how new tech could change the industry. But forget all the buzz around VR, says Williamson—that tech can't show a film to a theater full of people. Until the VR evolves to the point where whole audiences can share in the experience and not just a few at a time, then the two will not compete, he adds.
Indies rise up 
The buzz throughout the past decade is that the bottom is falling out from under the indie sector because of the rise in streaming and merged media congloms. But the fear around the industry may be over exaggerated, says producer and senior film programmer for the New York-based Jacob Burns Film Center, Andrew Jupin (Outer Spaces, We Are Strangers). The '20s will be a time of the indies.
There are a couple of factors at play: First, streamers have helped expose audiences to international content they may have never seen before. Second, this shift towards more realistic, often cheaper to produce, content is an opportunity for indies to break through the traditionally blockbuster-dominated box office, says Jupin. "It's only going to get easier and cheaper for everyone to make and share films and as the demand for movies that reflect other culture's increase worldwide we'll see multiplexes make a lot more room to screen international films," says Jupin.
Although the future of the industry is uncertain, Jupin is optimistic that any change that comes to the movie business in the next 10, or even 100 years, will be positive.
"People have been heralding the death of cinema every 10 years or so, but it's still here and strong because it's a malleable medium," he says. "Audiences will always want to go to a theater to see a movie for the communal aspect. The industry is always going to be at the forefront of technology and will always be influenced by the people who can make these films. The industry isn't going anywhere, but it's always going to change."
To keep up with what other industry experts predicted about tech, CP and TV, check out the 2020s landing page where all of this week's future-focused stories are.