Almost all of the biggest movies to come out this year have one thing in common. From Avengers: Endgame to Fast and Furious Presents: Hobbs and Shaw, and even Joker—eight of the top 10 movies at the 2019 box office have been franchise features, according to Box Office Mojo. The only two that aren't are movies out of China—Ne Zha and The Wandering Earth. Take a closer peak at these franchise tentpoles, and you'll see: Avengers is more than 10 years in the making, the first Fast and the Furious movie came out in 2001, and the Batman franchise originally bowed in the 1940s.
Not a lot of the ideas being presented at this year's box office are very new, in fact, it's been awhile since a new franchise has been able to burst on to the scene and take off, especially from a company without a mouse or a moon in its logo.
But Brisbane, Australia-based Like A Photon Creative is taking a big swing, and hoping to be that first new IP to break through. And it's got an army of Australian animals alongside it to do so in new franchise Tales from Sanctuary City.
The prodco isn't going to just release one movie and hope it takes off and becomes a hit leading to multiple sequels and spin-offs. Co-CEOs Kristen Souvlis and Nadine Bates have already greenlit three full-length animated feature films, and have plans to do seven more after that. They are also developing several TV series spin-offs, digital offshoots and extensions for their own reading app Kindergo.
"Old IP was new once," says Souvlis. "We commissioned three [movies] at once because once you get to the second, and it doesn't have that three year wait time, it becomes a known IP really quickly. You're automatically building that trust."
Tales from Sanctuary City starts with the 3D-animated The Wishmas Tree (pictured above), which will be released theatrically in Australia and New Zealand in early 2020. The 80-minute film follows a possum who wishes for a white Wishmas and ends up freezing her whole hometown (Sanctuary City), threatening the lives of everyone who lives there. The first two films are financed by Universal Content Group, Odin's Eye Animation, Pony Up Pictures Studios, Screen Queensland and Screen Australia.
It's aimed at children five to nine, but releasing this first film will give Like a Photon a chance to test where the audience demographics really lie, says Souvlis.
The next two films, Combat Wombat and Daisy Quokka are set to be delivered in March and September 2020, respectively. No release schedule has been set for the second two films, but Odin's Eye Animation (as the distributor) is working on worldwide sales of the first film.
While this is a tight turnaround time since pre-production started in September 2018 and animation in January, Souvlis says they've sacrificed sleep to make it happen. In doing so, they've kept the costs low, with each clocking in between US$2 million and US$3 million, which means there's less to recoup at the box office to break even.
Working on three movies at once had the added benefit of allowing the production to retain the same team for all three films. "Queensland in Australia can suffer from brain drain so we train wonderful animators and then they go off and have to move elsewhere because there's not a lot of stuff going on," says Souvlis. "But we've been able to lure them back to Queensland."
For example, Like A Photon was able to bring on Damian Pin, the lead animator on all three films. He has also served as an animator on Maya the Bee Movie, The Lego Batman Movie and Peter Rabbit. Also on board is Matt Everitt as the executive producer. Before these films, he served as the animation supervisor on Outlaw King, animation director on The Lego Ninjago Movie, the lead animator on The Lego Batman Movie and Happy Feet Two. Other producers on the first movie include Souvlis and Bates and Ryan Greaves (as co-producer). The film is directed by Ricard Cussó, who is a first time director but will be staying on for all three. Peter Ivan wrote the first film and Matt Kinmonth wrote the second.
"Normally when you crew up a film everything goes through storyboard and layout and animation and lighting, but because we've got three at once, the crew is able to just go on to their next film," says Souvlis.
And they're not stopping after three films either. The plan is to take a small break after the third film but then Souvlis says they will most likely greenlight the next trio of films…and then another four after that. The prodco is also currently developing three TV spin-offs, including Tiny Tales (pictured below), which was pitched at this year's Asian Animation Summit, based on the third film in the franchise Combat Wombat. Even though that movie hasn't even been delivered to the distributor yet, Souvlis says her team saw something special in the main character Maggie.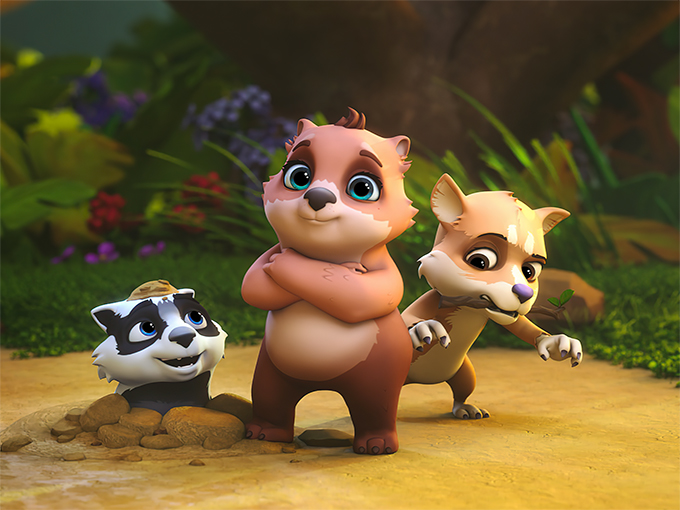 "We loved how these friendships formed in the movie, so we felt like there was really fertile story ground in having an all Australian cast of preschoolers discovering their own abilities as animals and as friends," says Souvlis.
Like A Photon is also considering digital extensions of the brand, including incorporating it into the Kidscreen Award-nominated reading app Kindergo that the company created, and through maker-style videos on YouTube featuring crafts or even narrative stories that will be released on digital first. It's all part of the plan.
With all of these offshoots and wide ambitions for the universe, there might have traditionally been a lot riding on box-office returns, but Souvlis really isn't that fussed. Rather than building out the IP one brand at a time (and risk losing an audience that ages out), the wide breadth of content allows kids to discover the brand in a multitude of ways, she says. So if the feature film is a child's second or even third touchpoint, it doesn't really matter.
"We knew from the outset that we're not trying to compete with Frozen," says Souvlis. "[But] there are lots of other times in the year when there's no other content that can resonate the way we can with audiences. And we've got Universal Content Group behind this as well, so it's not just us trying to do an indie release and hope for the best."