Pack your bags and mark your calendar! Asian Animation Summit is headed to Bali.
Kidscreen and BEKRAF Indonesia Agency for Creative Economy have inked an agreement to move the event to Indonesia in 2020 and 2021.
"We are very grateful for this collaboration," says Fadjar Hutomo, deputy chairman at BEKRAF. "We plan to promote the Indonesian animation industry, globally, and this provides momentum."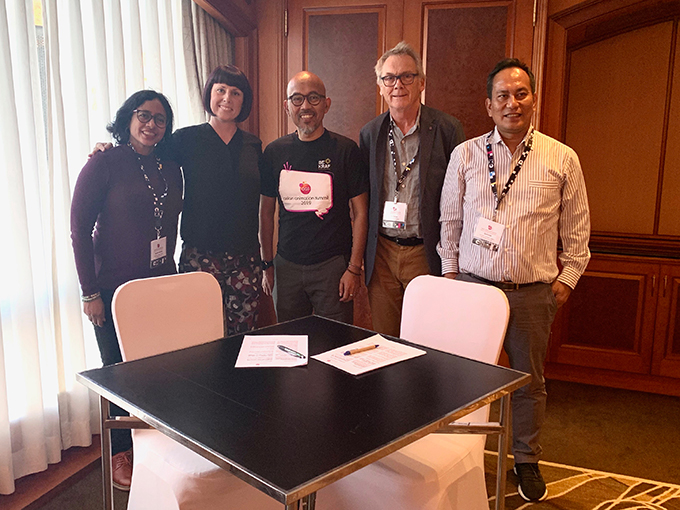 Left to right: Hanifah Makarim (BEKRAF), Jocelyn Christie (Kidscreen Publisher), Fadjar Hutomo (BEKRAF), Kim Dalton (AAS Board Chair), Syaifullah Syaifullah (BEKRAF)
The annual event is designed to showcase Asia's strongest animated projects on the hunt for investors. For the past two years the event has taken place in Seoul, South Korea and before that in Brisbane, Australia.
Roughly 50% of the projects that debuted at AAS have since gone into production, including shows like Bluey (resented at the 2016 showcase), which went on to be picked up by Disney+; Bottersnikes & Gumbles (2012), Kuu Kuu Harajuku (2013), Wonderballs (2012) and Balloon Barnyard (2014).
This year, 25 new animated projects looking for financing and partners were pitched at the event, which finished today. The projects came from Korea, Malaysia, Australia, Thailand and of course, Indonesia.
Bali, where the event will be taking place, is a small Indonesian island known for its forested volcanic mountains, rice paddies, beaches and coral reefs—and is home to 4.2 million people.
"We hope to enhance and expand the summit, to make it even bigger," says Hutomo. "We have animation talent, and we also have facilities like studios that participants can visit."