Superhero giant Marvel Entertainment is looking to the heroes all around us in its first docuseries, premiering on the company's parent streaming site Disney+, which launches tomorrow (November 12).
The series will follow 20 kids who are working to affect positive change in the world around them. In each episode, Marvel surprises these young heroes, welcoming them into Marvel's Hero Project to join the company's fictional heroes as the stars of their own comics.
Marvel's Hero Project is produced by Marvel New Media, in partnership with MaggieVision Productions. It is executive produced by Sana Amanat, Sarah Amos, Joe Quesada, Shane Rahmani, Stephen Wacker and Liza Wyles for Marvel and Maura Mandt and John Hirsch for MaggieVision.
Marvel's Hero Project will premiere on Disney+  Nov. 12, with new episodes airing every Friday.
Kidscreen's sister publication Realscreen caught up with executive producer and Marvel Entertainment VP of development Sarah Amos (pictured below) to get a peek behind the cape at how the superhero entertainment giant is moving into non-fiction programming.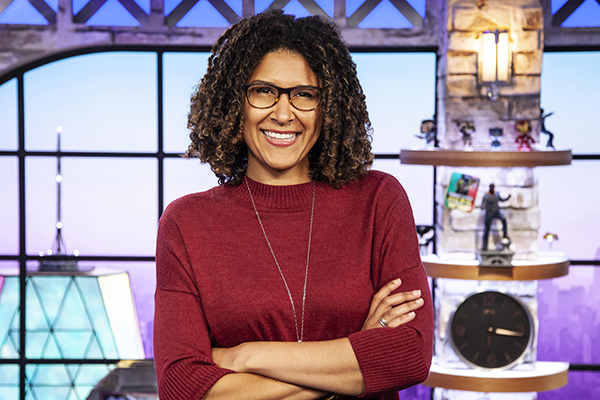 The following interview has been edited for length and clarity.
How did this show come together? Who or what was the driving force behind it?
Sarah Amos: This show has actually been in the works and part of the conversation here at Marvel for well over the last year. And it all really started with Dan Silver, an executive now at Disney+, who was talking with his son about superheroes and what kind of superhero his son would be, and it really got him thinking about the power of Marvel and the concept of superheroes and kids and how much fun that is for kids. From there we started talking more about the power of everyday heroes and how so many people are doing incredible things in the world and how that really aligns with Marvel.
Non-fiction content is definitely a newer space for Marvel fans, and it's something that they haven't seen as much from us in the past, and we are just really excited and honored that this is our first outing in this space
The show isn't foregrounding any specific Marvel heroes. It really is about these kids.
If you look at the history and legacy or Marvel, every Spider-Man story is just as much a Peter Parker story as it is a story about Spider-Man, and so what we wanted to do with this show is really make sure that we were honoring these kids first and foremost. The stars of these episodes are not Marvel, they are the Jahkils, the Adonises, the Elijahs (main image), the Rebekahs, the Haileys of the world. It is all of these amazing young people who have taken an opportunity to see a problem or an issue that they want to tackle and they want to help solve without thinking about themselves, without thinking about how difficult it might be.
Does the show predate Disney+ or has it always been in production as a Disney+ original?
It has always been in production as a Disney+ original. We've definitely been thinking about this concept for a long time, but Disney+ was so perfectly the right home for it. It is a show that you can watch with your family. It is a show that can help younger audience members learn about and tackle different, difficult issues. And then we were able to bring in our production partners on it, MaggieVision, and that was the final piece that we needed to really have this all come to life in the way that we envisioned.
Is Marvel looking broadly to develop shows and projects in-house for Disney+ or cultivating these partnership for co-productions?
We let the project lead the production plan. Currently, we are lucky enough to have three projects that we are working on or have worked on for Disney+. We have Marvel's Hero Project, Marvel Storyboards and Marvel's 616, and all three of those are being done with third-party production companies. While we love our own stories, and we love to tell them, we also really see the need and importance to bring outside voices in sometimes to get a fresh perspective and to get a wide variety of storytellers in the type of work that we are doing.
What does producing with Disney+ look like for Marvel, which is a part of Disney?
They've been wonderfully hands-on and supportive, and they're there when we need them to weigh in and to give feedback. They also really respect that when it comes to Marvel, when it comes to our brand, when it comes to our stories, we are the experts. They have allowed us to take a couple of risks and to really trust that we would know how to make the show. Something like Hero Project has so many facets to it, from the comic books to surprises for the kids to telling the individual stories. If pivots needed to be made, if changes needed to happen, Disney+ was really wonderful about understanding and reinforcing the fact that first and foremost was the final product, and as long as the content was strong, we'd figure the rest out.
What were some surprises that came up along the way during production?
We have 20 amazing kids, and their stories are incredible, and it was the first time that we had really tackled doing something like this. So as we went along, there were changes that were made to how we wanted to bring the Marvel voice into it. How we wanted to talk about the comic book creation, even how the reveals would take place, and the delivery mechanism for giving the kids the comic books, all of that had to be figured out, because it had never been done before.
These kids were really quite shocked, and they and their families were quite moved by what is a really special moment of getting to see yourself on a comic book.
Copied from Realscreen