After nearly three decades building puppets for other people's shows, Paul Jomain is finally making them for his own.
The veteran designer—who has created puppets for The Jim Henson Company, Disney and theatrical producer Cameron Mackintosh on Avenue Q and Les Mis—is now pulling the strings as puppet creator and head of design for the new preschool series Monty & Co.
From the UK's Pipkins Productions, the 52 x 11-minute musical preschool dramedy explores the lives of an eclectic group of characters, including an elephant, a robot and a human who all live together above a curio shop.
Puppets play a special role in kids entertainment, Jomain says, because they're more tangible than cartoons and therefore resonate more strongly with kids.
"Kids suspend their disbelief with puppets," he says. "Even if you were to put a sock on your hand and stick a few ping pong balls on the top of it, the child is completely engaged with what's going on. They don't look at you, even though you're the one holding the puppet, and they totally believe it's real."
And Jomain should know: If there's something he's an expert in, it's puppetry. Before starting on the new series, Jomain spent years honing his craft through a number of different jobs. He began his career as an assistant designer on Broadway musicals in Andrew Lloyd Webber and Cameron Mackintosh's office. He then moved to an architecture firm where he made models—experience he was able to lean on to do some set design for Monty & Co.
He's worked with The Jim Henson Company in the UK making props and costumes before being promoted to run the Muppet Workshop. While there, he oversaw production on puppets for educational preschool series The Hoobs for British free-to-air network Channel 4. He also created puppets for Henson's Bambaloo series, and was part of the team that built puppets with Jim Henson's Creature Shop for the sci-fi feature film The Hitchhiker's Guide to the Galaxy. He created the costumes for the bunny puppets in Disney Playhouse's (now Disney Junior) series Bunnytown, which ran from 2007 to 2008. The industry vet has also worked in theater and produced the puppets for live-show producer Fiery Light Productions' Peppa Pig's Treasure Hunt and Peppa Pig's Party.
Jomain chose to use knitwear materials and plush fabrics to give most of the characters on Monty & Co a soft and huggable look, he says. And in an effort to create one puppet that was different from what's already out there, he made a robot out of pieces of musical instruments and other junk he had lying around.
With so few shows about puppets, Jomain says there was a hole in the market for something new. In fact, more than 75% of the fictional programs for kids in North America are animated, according to research published in April by the Center for Scholars and Storytellers out of UCLA and Ryerson University of Toronto. About 11% of the shows in both the US and Canada are mixed-media, and the research found there were very few puppet shows in either region (0% in the US and 1% in Canada).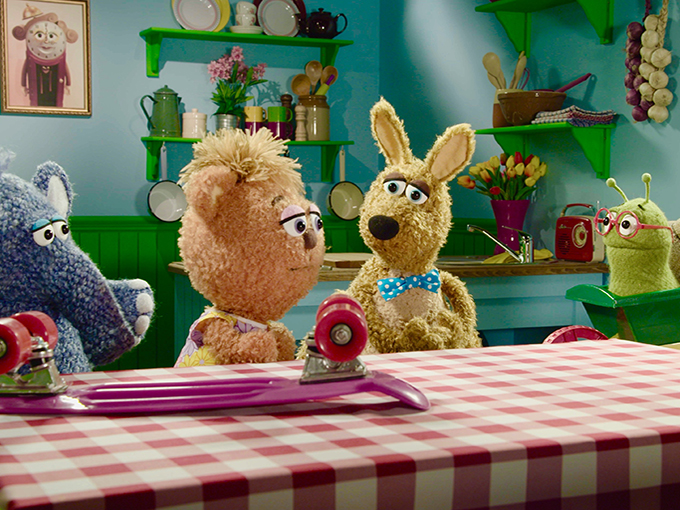 London's Serious Lunch picked up the worldwide rights to Monty & Co in September and will handle distribution and merchandising for the series. The first 34 episodes of the series are set to be completed by the end of this year, and the prodco will produce the remaining 18 in the new year, says Jomain.
Pipkins Productions began development on the series four year ago after the team behind the studio—including puppeteer Nigel Plaskitt (Little Shop of Horrors, The Muppet Christmas Carol) and the head of content, BAFTA Children's Award-winning writer Gail Renard (Custer's Last Stand Up)—decided they wanted to try producing their own content, Jomain says. Four years in the making, the series first took off when Jomain built the characters.
"This is the third time I've tried putting a project together," he says. "We were trying to develop another idea four years ago that didn't work and we were all pretty disheartened. I felt like the only way I could push Monty & Co along was if I disappeared into my workshop and got to work making some characters. I unveiled them at the next production meeting and one scriptwriter said, 'Well, it looks like we'll have to write something for it now.' Once the scriptwriters had the characters it was a domino effect for us to figure out the rest of the show."