Kids' most beloved IPs and entertainment brands of 2019, according to our annual Smarty Pants Brand Love tracking study, reflect the dueling passions of contemporary childhood: the old and new, toys and video games, furry friends and literary heroes. What unites the top-30 properties for six- to 12-year-olds is a blend of the following driving characteristics: age-appropriate, cool, family-friendly, fun, high-quality, rewarding, easy, well-designed, innovative and safe.
The original toy story
Based in a play pattern that is so simple, yet perfectly aligned with kids' desire for creative, hands-on fun, LEGO outperforms other toys and IPs for the second year in a row. Through its expansive product lines, entertainment content and brand partnerships, LEGO has consistently scored higher than 800 since 2014. Now the world's most valuable toy brand, according to global consultancy Brand Finance, LEGO is trusted by four out of five parents, and is perceived among kids as a fun (69%), age-appropriate (73%), customizable (62%) and challenging (62%) brand that offers great variety (52%), based on Brand Love data.
Meanwhile, Hasbro's NERF brand lands in the second spot again with a Kidfinity increase of 16 points. The analogue brand continues to ground play in unstructured adventure, competitiveness and physical fun—among both boys and girls. In an era of sedentary and screen-based entertainment, the enduring success of NERF—described by 73% of kids as active and 63% of kids as cool—is a reminder that active physical play still resonates with kids.
Reeling in the love
Out of sight, out of mind is so true with kids. It's why great entertainment brands and IPs must constantly develop fresh content and products. When they do, Kidfinity scores rise.
Case in point: This year's releases of film sequels Toy Story 4 and The Secret Life of Pets 2 resulted in the brands landing in third and fifth positions, respectively (with Pets moving up a full 17 positions).
In terms of appeal, 90% of kids say they now love or like Toy Story, and 87% report the same for The Secret Life of Pets. These brands clearly demonstrate how movies can breathe new life into dormant properties.
In fact, more than half of the top-30 IPs are riding high in kids' hearts and minds due to recent or upcoming movie releases.
Game on

Mario is ever-present in the pantheon of top gaming IPs, but the immersive Roblox, Minecraft and Fortnite titles are tops with kids this year. Social is clearly the name of the (video) game in 2019.
Even though STEM-friendly Minecraft and Roblox are each more than 10 years old, they've picked up steam recently. Appeal (love/like) for Minecraft lifted to 79% in 2019, from 76% in 2018, and 64% of six to 12s believe Roblox is really popular now. Both games are leaping off the screen into other categories, too, including toys, books and clothes.
Social gaming phenom Fortnite, meanwhile, posted the largest gain of the 350 brands in the annual Brand Love study, moving into 10th place. Jumping to a Kidfinity score of 675 among girls and 835 among boys, three in four kids say it is really popular now and 59% say it's good for connecting with others.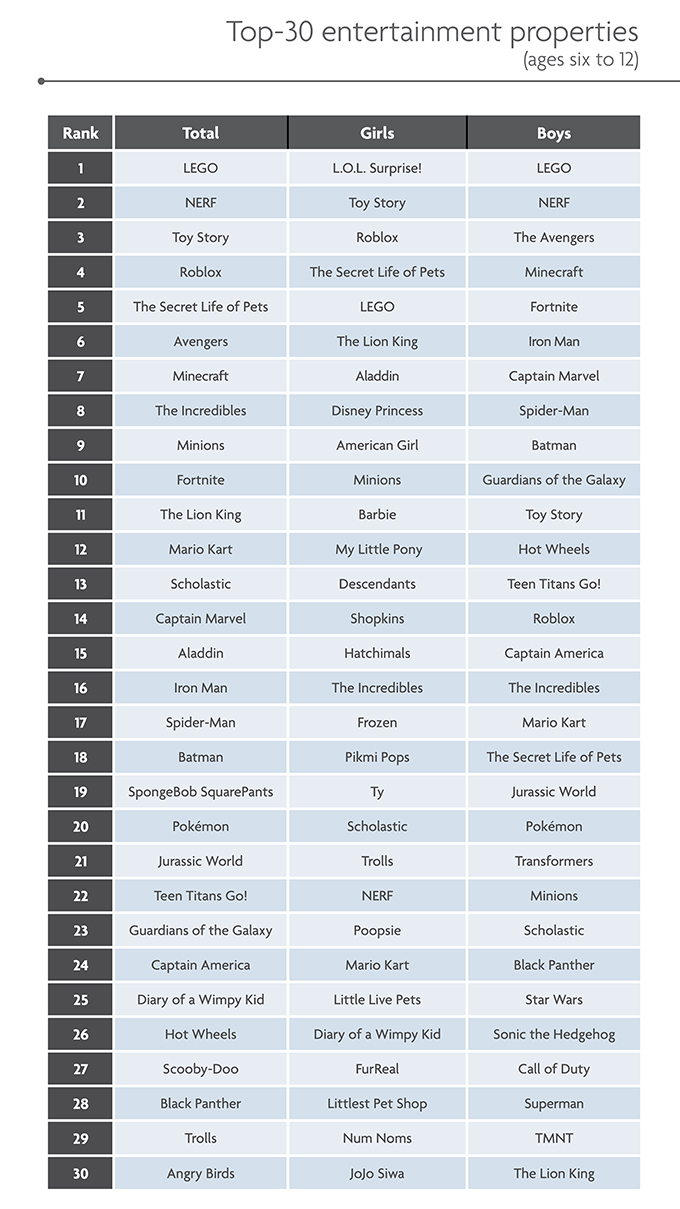 Cheers for ears
Disney has the magic touch when it comes to creating and acquiring great IPs. A third of kids' top-30 IPs are Disney properties.
From princesses to Iron Man to Star Wars, many of Disney's brands have evolved from childhood faves to being enjoyed by parents and kids together. In fact, five of the top-10 brands defined by kids as "all-family" are Disney-owned—The Lion King (56%), Toy Story (53%), The Avengers (50%), Aladdin (50%) and The Incredibles (47%). Their feel-good storylines and aspirational characters continue to drive affinity across all ages.
Cute and cuddly creatures
When it comes to toy and entertainment IPs, kids love animals. The Lion King and The Secret Life of Pets certainly tap into this, as do IPs like Hatchimals and Teenage Mutant Ninja Turtles. Hatchimals may feature hybrid animals, but its appeal is clear for girls, 79% of whom love or like the 15th-ranked brand. In 29th spot, TMNT is one of the few animal-based IPs on boys' list, with 84% say they love or like the sewer surfers.
Princesses, pets and collectibles
MGA Entertainment's L.O.L. Surprise! is now girls top toy/entertainment brand. Riding YouTube's unboxing/unwrapping trend, 62% of girls say the collectible brand is really popular now. In fact, collectibles are bigger (or should we say, smaller) than ever with girls, and they are commonly mashed up with the gender's other favorite: animals. Making girls top-30 list for two consecutive years, My Little Pony, Littlest Pet Shop and Shopkins prove their longevity with mini-packs, bling bags, seasons/series and more. Pikmi Pops, Ty, Little Live Pets, FurReal and several others have effectively tapped into the collectibles trend.
While the buzz of gender-neutral rages on, girls—particularly younger ones—still place a premium on princesses and doll brands. Disney Princess, American Girl and Barbie, for example, all have healthy Girlfinity scores in 2019. Barbie, in particular, has endured for a few reasons—girls see it as high-quality (55%) and always having new things (51%).
Saving the world
Boys also have a love for great storylines and hands-on fun, but the majority of their top-30 favorite brands reflect a love of battles and superheroes. The Avengers has scored in the mid-800s since 2016, and old-school heroes like Batman and Superman continue to appeal to nearly all boys (90% and 85%, respectively).
Beyond heroes, boys get a dose of adventure from brands like NERF, Jurassic World and Star Wars. But video games are currently stealing the show. Minecraft remains popular (although less buzzed-about), and Fortnite rages on with 42% of boys saying they play the game daily.
Keeping kids engaged
Kids' love for entertainment brands and IPs can be everlasting. With a steady stream of new content and products that resonate and excite, properties have the ability to be timeless power brands—particularly when parents connect as well. At the same time, toy and entertainment IPs are some of the most volatile, with dramatic swings in affinity and usage depending on investment. Wonder Woman, for example, was a big hit in 2018, but the brand's Kidfinity score fell a significant 41 points to 621 this year. And established gaming IP Halo fell a whopping 75 points to a score of 635 among boys. Both have new releases due in 2020, so they will most likely spike again next year. The lesson: To maintain a longer-burning fire in kids' hearts, keep fanning the flames.
Brand Love is an annual brand equity tracking study conducted online among a representative sample of US households with children ages six to 12. In 2019, 8,183 children and their parents evaluated 350 consumer brands across 19 categories as part of the two-month study. Smarty Pants' proprietary Kidfinity and Parentfinity scores are composite measures on a scale of zero to 1,000 that factor in brand awareness, appeal and popularity.
Ricardo Maldonado serves as syndicated sage at Smarty Pants, a youth and family research and consulting agency. For more information contact Meredith Franck at 914-939-1897 or visit asksmartypants.com.