After getting her start as an apprentice staff writer on Disney Channel's Kim Possible in 2003, Nicole Dubuc is heading back to the House of Mouse. But this time, rather than being in one of the most junior positions, she is going to be leading the whole show. Serving as executive producer and—for the first time—showrunner on Disney Junior's upcoming series The Rocketeer, Dubuc is ready to blast off.
Based on Dave Stevens' comic book series and Walt Disney Pictures' 1991 movie of the same name, the 22 x half-hour animated series for kids two to seven will premiere on Disney Channel, Disney Junior and DisneyNOW on November 8. Starring Kitana Turnbull (A Series of Unfortunate Events) as Kit, the show is about a girl who discovers a rocket-pack and has to look after her town through high-flying adventures.
The Rocketeer is produced by Burbank-based Wild Canary (Puppy Dog Pals, Miles from Tomorrowland) in association with Disney Junior, and showrun by Dubuc herself. Dubuc has previously served as an executive producer on Hasbro series like Transformers: Rescue Bots Academy and My Little Pony: Friendship is Magic. She has also written for My Friends Tigger & Pooh, R.L. Stine's The Haunting Hour, Miles from Tomorrowland, Star Wars Rebels and more.
"In this situation [as showrunner], I'm not only getting a chance to take a pass at the scripts before they're locked and final, I'm sitting with the director as we're going through the animatics, helping to lock in the show's lighting, doing music spots and sound effect spots," says Dubuc. "So really it's just overseeing the entire process."
Having been a junior writer on many series herself, Dubuc always tells her writing staff to be ready whenever a call comes with an opportunity, which is exactly how she landed this gig.
Disney approached Dubuc when she was still working at Hasbro and asked if she was interested in doing some development work for them. Then, in the meeting, the executives slid the Rocketeer comic book across the table to her. As a fan of the movie for a long time, Dubuc just thought, "I can't say no." Three years later, the show is about to premiere.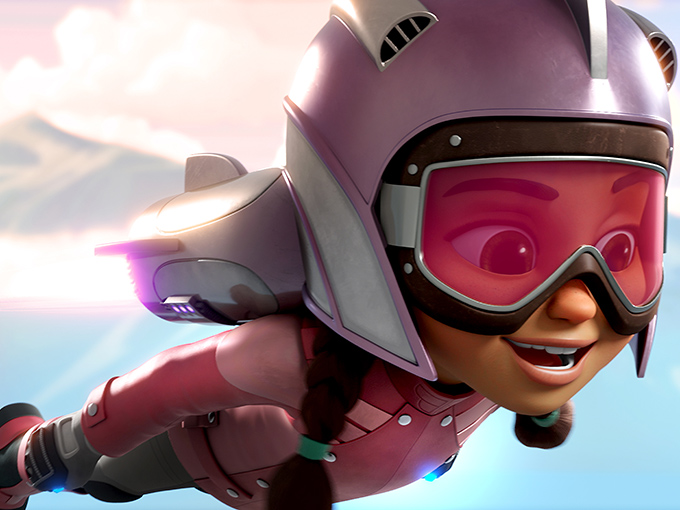 Since this is her first time showrunning, there was one thing Dubuc wanted to make sure she got right—and that was filling her team with lots of experts in their own right. First up was finding an animation company, which meant having studios do tests. Dubuc wanted to pick the company with a vision that most aligned with the story she wanted to tell and that created the most accurate portrayal of a unique visual style, something she calls "steam pop." The look is a bright, arts-and-crafts visual with elements of machinery scattered throughout.
"ICON animation just did this beautiful flight sequence for us and we immediately knew those were the people we wanted to work with," says Dubuc. "They've been able to convey nuance of character and great action sequences."
The person who came up with that style was actually her art director Max Micelli, who Dubuc brought on board after working together on Miles from Tomorrowland. She also pulled in supervising director Michael Kenny after working on that same series together. Several other experienced Disney alums lent their talent to the production as well, including Dominic Lewis (DuckTales) as the composer and Beau Black (The Lion Guard) as the songwriter for the original music in each episode.
One of the reasons that Dubuc brought on a lot of people that she had worked with previously is because she wanted to hire good people and simply get out of their way.
"I think one of the biggest mistakes that gets made is you hire professionals and then for one reason or another their point of view gets second guessed or notes override them," says Dubuc.
But she also made a concerted effort to bring in new voices, especially new writers for her writers' room. She found this fresh blood in a number of different ways. The production team at Wild Canary constantly finds new people at various industry conventions, looking through portfolios online and reaching out to professors at schools to find out who their up-and-coming students are. Dubuc, meanwhile, is often sent links for people's character design and storyboards that she makes time to look through. And she meets up with a lot of new writers to see what they're interested in and what advice she can give them.
While Dubuc is busy locking down talent for The Rocketeer, Disney is busy locking down its own roster of talent in a series of overall deals, including Travis Braun, Craig Gerber and 17 creators from Disney TV Animation. Dubuc confirms she doesn't currently have one in place, saying that, after having an overall deal with Hasbro for a couple of years, she is enjoying the creative freedom to bounce around. But she does see the positives in the deals and notes job security is "certainly a wonderful thing in animation."
"I think if you really love what a studio is producing it can be the perfect opportunity for you to bring your own properties to the table and have that automatic in to have people look at them," she says.
Looking to the future, she's focused on Rocketeer's linear premiere November 8 and excited for the 1991 movie to launch on Disney+ a few days later. So far the preschool series doesn't have any plans to head to the SVOD, but Dubuc is hoping for a season two either way.
Beyond Disney, Dubuc has plans to expand her horizons beyond TV and is hoping to have more time to finish writing a few YA urban fantasy novels she's been working on.
"I've got some stories to tell," she says.