Kam Kam (pictured above) — 3 to 6
Co-producers: ListenMi Caribbean (Jamaica) and Comet Entertainment (Canada)
Style: 2D animation
Format: 52 x seven minutes
Budget: US$2.5 million
Status: A bible is complete and episode scripts are in progress. Looking for broadcaster presales.
Delivery: Q1 2021
Kam Kam is a headstrong Jamaican girl who wants to become a space explorer and travel the universe. She uses her imagination to turn everyday experiences—like bedtime or a trip to the market—into cosmic adventures, bringing her cousin Danny, pet cat Barry and favorite toy Glow Juice along for the ride. ListenMi Caribbean producer Kenia Mattis based the idea on bedtime stories written by her younger sister Kamika. Kam Kam recently won best concept in the Emerging Animated Content Competition at the 2019 KingstOOn Animation Conference and Afro Descendant Film Festival.
Ivy & the Inklings — 4 to 7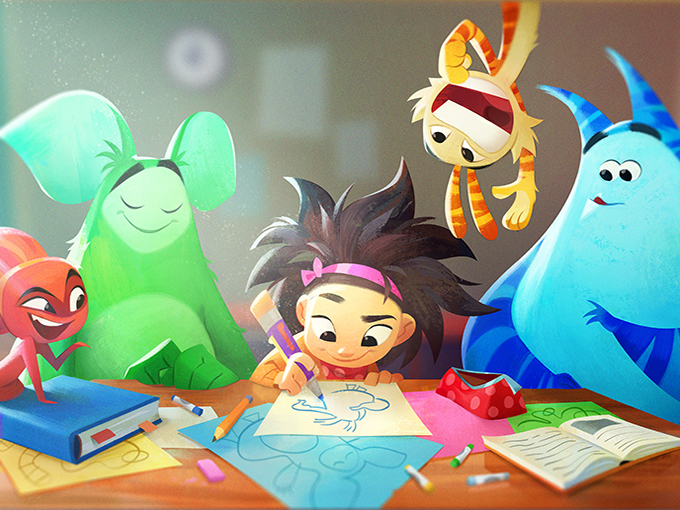 Producer: Jellyfish Pictures (UK)
Style: CG animation
Format: 52 x 11 minutes
Budget: US$8.5 million
Status: An illustrated bible, pilot episode script and animation test are completed. Bomanbridge Media is distributing for Southeast Asia and China.
Delivery: 2021/2022
Ivy & the Inklings is an original comedy-adventure centered on an art-obsessed eight-year-old girl whose doodles, or Inklings, come to life and give her insight into how she feels. After Ivy is uprooted to a new home and school, her Inklings help her navigate the emotional journey. With their help, she learns to identify and manage her feelings in a positive way.