By: Alyssa Wright 
YouTube dominates the field

No other brand is as powerful in kids' lives this year as YouTube. The user-generated content behemoth (with a growing library of studio-developed content) has captured kids' hearts and emerged as the top brand among six- to 12-year-olds in the US. Besting 349 brands across 19 categories (ranging from confections to apparel), the content provider topped the ranking for the third time since the study's 2009 inception.Nearly all (97%) children said they "love" (77%) or "like" (20%) YouTube—up from 95% in 2018—and it was the most widely used brand, with 92% of kids tuning in regularly.
YouTube is one of only two brands (out of 350 tested) with a Kidfinity score above 900 (a perfect score is 1,000). Its seven-point Kidfinity bump since 2018 further confirms kids' growing love and desire for video content, and solidifies the platform as the place where they go to get it.
And despite concerns around children's digital safety, YouTube continues to rank well among parents, earning a Parentfinity score of 850—outranking many classic adult favorites, including Target (846) and Walmart (828). Producers can expect to see this score grow in years to come as the platform continues to make improvements to its algorithms and advertising policies to protect young users and put parents' minds at ease.
Streaming strengthens its grip
While YouTube dominates the content field, other streaming providers also performed well in 2019. Netflix held onto its seventh spot for the second year running, with a Kidfinity score of 877. Boys' affection for the brand, in particular, is growing deeper: Three-quarters (72%) of boys ages nine to 12 said they "love" Netflix, compared to 64% in 2018.
YouTube Kids rounds out the top-50 list, squeaking in at 50th and holding steady against its 2018 ranking. The safer "younger sibling" of YouTube ranked 26th among kids ages six to eight.
Prime Video, meanwhile, racked up 24 more Kidfinity points this year, earning its highest score to date with 750. The platform nearly broke into the top-100 brands, landing at 105. Tween girls are particularly excited by the platform, which gained 47 Kidfinity points with this group over 2018.
Hulu remained a popular streaming player, coming in with a Kidfinity score of 743. The brand moves up six spots to 113th among kids ages six to 12. Like Prime Video, tween girls (ages nine to 12) are driving the brand's momentum. Its score jumped 64 points to make it this group's 49th favorite brand, with an all-time high score of 788.
And even though it's not set to launch until November 2019, Disney+ is already establishing itself with families' most-loved brands. No doubt benefiting from the Disney halo, the streaming service has 89% awareness and 48% "love" among kids (along with 97% awareness and 55% "love" among parents). Though its release is still a couple of months away, 80% of kids already say they "definitely or probably" will use it in the next year.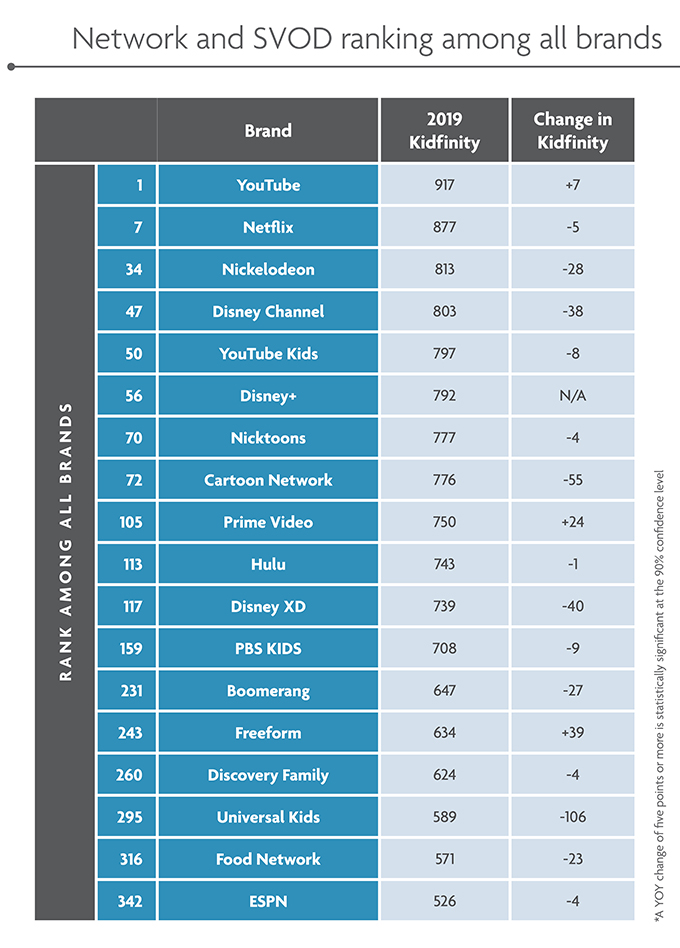 Kidsnets lose momentum

The big three kid networks stumbled this year as kids' love for SVOD brands grew. While awareness for Disney Channel, Nickelodeon and Cartoon Network remained near universal, "love" is waning and perceptions of popularity are declining, especially compared to the streaming alternatives' popularity gains.
Kidfinity scores reached an all-time low for Nickelodeon and Disney Channel, declining by 28 and 38 points, respectively. Cartoon Network lost the most footing of the three leading kidsnets, posting a 55-point decline to 776. The animated powerhouse slid to 72nd, from 30th spot in 2018.
Universal Kids experienced the biggest loss of all 350 brands this year, dropping 106 Kidfinity points and falling 100 ranking spots to 295th. Other notable kidsnets like Disney XD (40-point Kidfinity drop), PBS KIDS (nine-point drop) and Nicktoons (four-point drop) all felt the impact of waning interest. Family-friendly Food Network, Discovery Family and ESPN also saw Kidfinity slides in 2019.
Brands to watch in 2019
Disney+ isn't the only brand worth keeping an eye on. Outside of the content space, there are several noteworthy names gaining momentum with six- to 12-year-olds.
On the gaming front, kid-centric Roblox continued to gain love among kids. In 2019, the brand jumped 25 points to net a Kidfinity score of 789, besting former breakout hit Fortnite's 2019 score by 30 points. While Fortnite is now kids' 89th favorite brand overall, Roblox climbed to 58th.
Girls lifestyle IP Justice is another one to watch. In late 2018, the retail brand announced the launch of a new entertainment division dubbed Justice Studios and three projects to accelerate its rollout: The Ultra Squad graphic novel series following four tween girls (it released a second installment earlier this year), with corresponding bracelets, journals, squishies
and more; the Finding Clara documentary available on Justice's YouTube channel; and a second Live Justice Awards. From clothing to content, the sky's the limit for the fashion-forward trendsetter, which reached a Girlfinity high of 835 this year.
Finally, STEM-based Dash gained steam in 2019. Wonder Workshop's voice-activated coding robot has been rolled out to more than 20,000 schools and is the highest-rated brand among girls for "becoming more popular" (45%).
As 2019 unfolds and people search for innovative ways to engage and connect with younger consumers, we expect to see SVODs gain momentum, brands invest more in content development, and the infiltration of educational-based play technologies in schools and homes.
Brand Love is an annual brand equity tracking study conducted online among a representative sample of US households with children ages six to 12. In 2019, 8,183 children and their parents evaluated 350 consumer brands across 19 categories as part of the two-month study. Smarty Pants' proprietary Kidfinity and Parentfinity scores are composite measures on a scale of zero to 1,000 that factor in brand awareness, appeal and popularity.
Alyssa Wright serves as media maven at Smarty Pants, a youth and family research and consulting agency. For more information contact Meredith Franck at 914-939-1897 or visit asksmartypants.com.