By: Fred Black 
Despite all the focus on their originals strategies, acquisitions remain a key component of the kids and family libraries at Netflix and Amazon. But the two SVODs differ in what they're looking to buy. Both platforms have been growing their content offerings, in number of titles overall and kids and family content specifically. Yet adult and YA fare is still far more prevalent than the kid-friendly options on each. Despite overall increases in titles, kids and family content currently makes up just 10% of both library catalogues—down from 15% for Netflix and 18% for Amazon in 2016. There's an opportunity to fill that gap.
By analyzing existing catalogues and announced slates, we at Ampere have come up with a predictive model that estimates the likely number and nature of SVODs' acquisition needs in the kids and family space.
Past purchases
While the overall percentage of kid-targeted shows and movies is down, both SVODs continue to amass titles. Amazon, in particular, has grown its volume of kids and family pick-ups much more rapidly, adding 512 titles between 2016 and 2019 (compared to 76 for Netflix).
This slower growth is likely due to Netflix's focus on original production, especially for the older age groups, with acquisitions being used to fill gaps in that slate. One in five titles in Netflix's kids and family catalogue is now an original or exclusive.
Conversely, Amazon appears to be abandoning original production in favor of rapid catalogue growth in the hopes of beating the competition through sheer volume. Amazon already has 44% more unique kids and family TV titles than Netflix, and has been expanding that lineup much more quickly. However, this has come at the cost of originality and exclusivity—only 4% of the catalogue is an Amazon original or exclusive.
Netflix overtakes Amazon when it comes to volume of kid-friendly content, with Netflix boasting 3,076 hours to Amazon's 2,741. Netflix has been curating its kids and family content with a focus on longer-running—and arguably more successful—series like Ben10 and Trollhunters, while Amazon puts less focus on immediately recognizable shows, opting for titles like Learn with Ted the Train and Spid the Racing Car alongside stalwarts such as Sesame Street and Dino Dana.
Upcoming acquisitions
These divergent strategies mean the two major SVOD services will have significantly different approaches to the acquisition market.
Amazon's rapid library growth and lack of original production will likely mean the company requires 148 kids acquisitions over the next 12 months to maintain its growing content needs. In comparison, Netflix's purchase order will most likely be smaller at 46 titles, with the SVOD only looking to buy in from outside where its growing original slate cannot yet meet audience demand for content.
Netflix's acquisition strategy will be heavily focused on the younger age ranges—we estimate 74% of acquisitions targeted at under-10s, with a particular focus on the seven- to nine-year-old age group (making up 35% of overall buys). The older demos are a bigger focus for Netflix's upcoming original strategy, with a number of new series already greenlit. As a result, it needs very few outside titles to fill out its library in this area.
Likewise, Amazon is also focused on the younger age groups, with an expected 73% of acquisitions geared for under-10s. Its activity, however, is likely to be focused on the preschool demographic, and we predict it will need 44 titles—33% of its overall acquisitions—for the under-four age group.
Netflix has begun to focus heavily on animated content and 65% of acquisitions will likely be in the animated space, with live action taking up the remaining 35%. At Amazon, where the current library has historically been heavier on live action, we predict the split to be 62% animation to 38% live action. Yet both companies will most likely focus heavily on animated content for the under-10 crowd: 76% of acquisitions at Netflix and 80% for Amazon.
Things get interesting when we age up a bit. In our predictive model, Netflix splits nearly evenly between animated (57%) and live-action content (43%) for the 10- to 12-year-old demo. In comparison, Amazon is likely to acquire just 33% animated content for tweens.
Finally, in the teenage demographic, both companies' acquisitions will be entirely live action.
When it comes to the boy/girl divide, Amazon is offering gendered content, with 30% targeted at a specific gender (compared to 25% for Netflix). Amazon skews more toward boys (17% of acquisitions) than girls (14%), with titles such as Blaze and Monster Machines. The most gendered age group is the seven- to nine-year-old range—which means we estimate only 59% of acquisitions will be gender-neutral (17 titles), with 31% (nine titles) skewing male and 10% (three titles) skewing female.
When Netflix does have a skew, it leans toward female content (13% of acquisitions) such as its original Ponysitters Club, more than male (11%). The streamer's greater neutrality is particularly prevalent for under-fours, for whom all eight of Netflix's predicted acquisitions will be gender-neutral.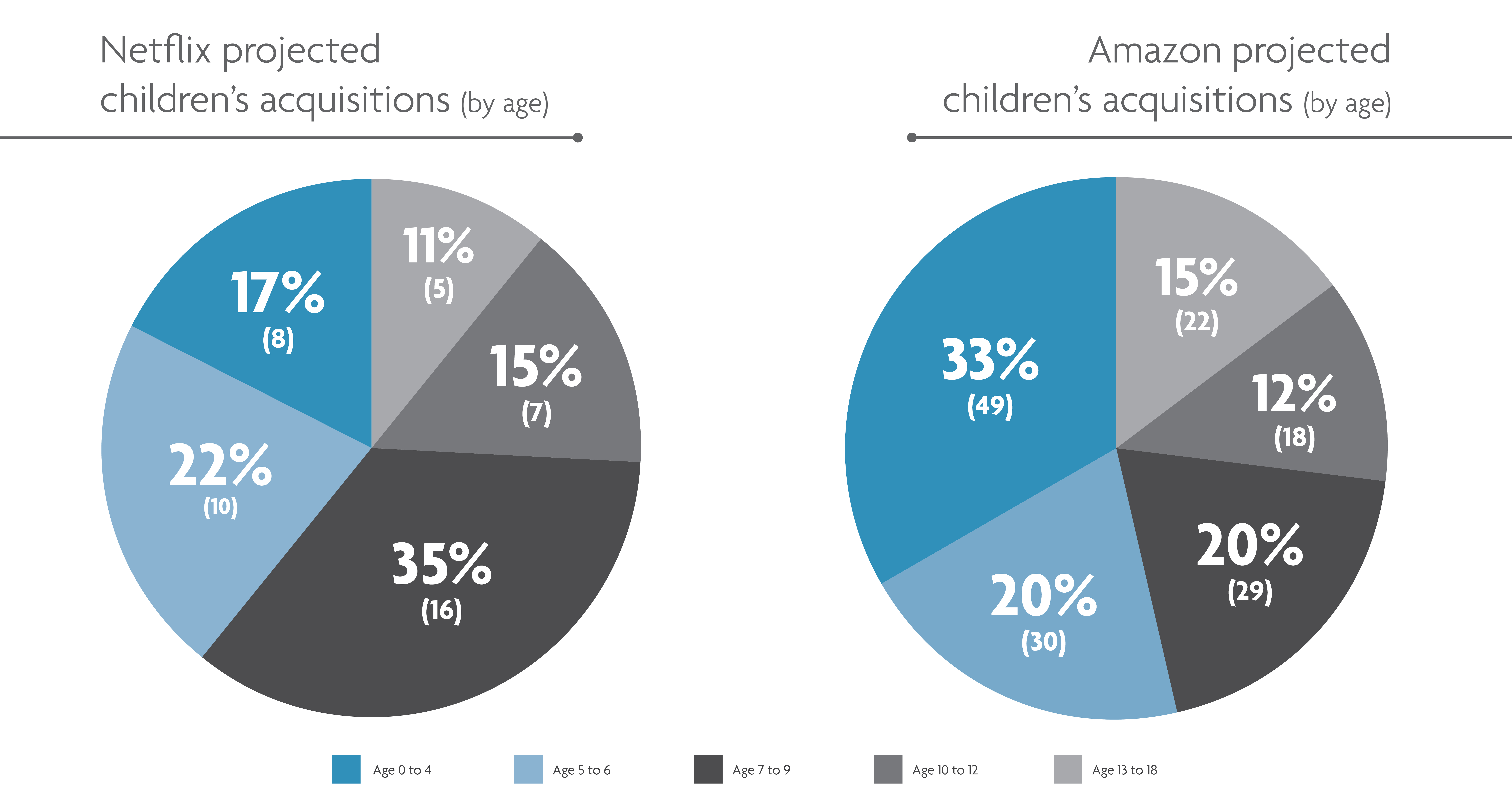 Future thoughts
Keep in mind that of the two platforms, Amazon will need to acquire by far the most kids and family content at 148 titles. Based on past acquisitions and previously announced projects, it will need to focus on preschool, where it prefers gender-neutral or male-oriented animated shows.
Netflix's kids strategy, meanwhile, is built around an impressive slate of upcoming original titles that skew heavily toward older female viewers. It will only need to acquire a third as many titles as Amazon to fill the gaps so far neglected by its originals slate. The focus in terms of acquisitions, then, will be on the seven- to nine-year-old demographic, an area where Netflix prefers animated content skewing toward gender-neutral or male-oriented content.
Fred Black is an analyst with London-based market research firm Ampere Analysis.