We all carry fond memories of the cereal aisle from childhood: bright packaging stacked five shelves high and plastered with Saturday morning cartoons. It might as well have been the candy aisle, except that here we were far more likely to convince mom or dad to put our favorites in the cart.
Children's entertainment properties have long been present at the kitchen table. In addition to The Smurfs, Mr. T and Ghostbusters expanding their brands into cereal bowls, everything from canned pasta to frozen dinners to juice boxes have had popular characters slapped on their packaging. And beyond the relief parents feel when picky kids finally eat something (anything!) thanks to their heroes on the label, this brand tactic is also a reaction to kids' increasing power to sway food-buying decisions.
The last 24 months have shown a significant surge of IPs popping up at mealtime. In 2016, Wild Kratts' animal-loving animated brothers expanded into cereals and snacks through a partnership with Whole Foods Market. Soon after, Cloudco struck a deal to put Care Bears content on 1,800 restaurant screens in the US. YouTube sensation 44 Cats, meanwhile, has a range of pasta inspired by the show's carb-loving kitties. And earlier this year, following the success of its food-centric Shopkins line, Moose Toys launched its preschool-focused Kindi Kids doll range, which it plans to expand onto snack shelves.
Successful brand extensions in food and drink now rely on much more than sticking licensed characters on existing packaging. Children's IPs are increasingly seeking mutually beneficial partnerships that maximize marketing potential, tapping into kids as an ever-growing force in retail.
Bon appetit
As adults abandon authoritarian styles of parenting, children's participation in meal planning has grown, says Johanna Faigelman, CEO and founding partner at Toronto-based Human Branding. This isn't just limited to food: Parents are letting kids play a larger role in making decisions across the board, from setting bedtimes to limits on screen time.
This attitude first became noticeable among the parents of Millennial kids, Faigelman says, and got more prevalent with the subsequent Gen Z, and even more so with the Generation Alpha kids born after 2010. "It's seen exponential growth since the 1960s," she says.
While letting kids pick their snacks may only cost a few dollars every week, it contributes to a significant economic force. A 2012 study from the marketing and advertising firm Lindstrom Company showed that children under the age of 11 wield US$1.2 trillion in annual spending power in the US.
This makes kids properties an ideal marketing platform for food and beverage brands (provided, of course, those brands can meet parents' strict expectations around nutrition).
Subway, for example, serves as the official sponsor of Kidz Bop's 2019 world tour. Sasha Junk, SVP of marketing for the kid-focused music brand, says the partnership works because Subway has long sold itself as a healthier alternative to fast-food competitors. This is key given that Kidz Bop appeals to particularly young children. (Junk says children ages five to nine make up the largest part of the Kidz Bop audience).
"We didn't go out looking for a [fast-food] partner specifically" says Junk. "But Subway was definitely on our list. They were perfect—not only could we build a traditional kids meal program, but we were able to do an entire promotional overlay in restaurants and on-site during our tour."
For its part, Subway began running on-site activations at select Kidz Bop concerts in the US. Aside from family play areas, it sponsored "Daddy Dance-Off" contests during the show and presented pre-show video marketing.
Kidz Bop, in return, got presence in more than 25,000 Subway restaurants. In May, the chain added a branded meal option (which includes some Kidz Bop games and swag along with a milk/sandwich/fruit dessert combo) to its Fresh Fit for Kids menu. The special meal is marketed in-store and through a co-branded YouTube video showing Kidz Bop members challenging each other to make the best Subway sandwich. Junk says the partnership is "performing above our expectations," and at press time, the YouTube video had racked up 1.3 million viewers since its June 27 debut.
Recipe for success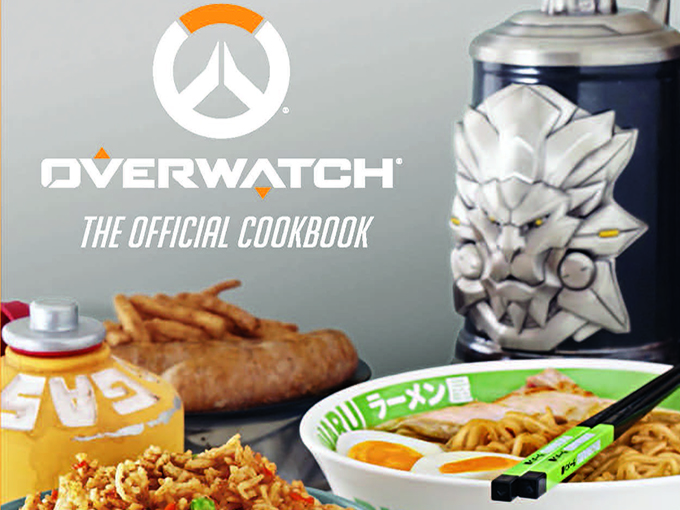 California-based Activision Blizzard knows gamers are more than the sunken-eyed couch zombies that audiences so often see on television. Many wield a whisk as deftly as an XBox controller, and the video game publisher has tapped into this insight to expand one of its biggest IPs in an interesting way.
Overwatch: The Official Cookbook is set to launch in October with more than 90 recipes. Each of the game's 30-odd playable characters has a distinct backstory and country of origin, so author Chelsea Monroe-Cassel crafted drinks, dishes and desserts inspired by each one.
Matt Beecher, VP of global consumer products at Blizzard Entertainment, says that while Overwatch isn't explicitly a child-focused brand (its target audience is technically 13+), its 40 million-strong player base is broad and global in scope.
"We're looking to create ways for our fans to immerse themselves into our brand," says Beecher. "A cookbook is a great way to bring a favorite franchise into your home, your kitchen, to create experiences related to heroes that are a part of our world."
Published in partnership with Insight Editions, the cookbook is part of a 25-year-old publishing program at Activision Blizzard that has produced game-based novels, comics and even other cookbooks. Beecher says the company's World of Warcraft cookbook sold "well above expectations" and is now available in 10 languages.
Beecher won't know for a while if Overwatch's offering will fare as well, but says the online pre-order numbers make it look "very promising."
Come back for seconds
Grocery stores, however, remain the true bastion of kids' shopping influence. Because individual food items cost less than a night at a restaurant, grocery products are seen as "low-stake" purchases, Faigelman says. This makes it more likely that modern parents will let their kids have some control in this arena.
"A lot of decision-making for both kids and adults comes from an irrational place," Faigelman says. "Children develop emotive links to cartoon characters, and can recognize brands before they learn to read. You feel, for example, like you have a relationship with Dora the Explorer. That's going to hold power over you."
Faigelman points to 2017 research from Missouri-based Revel Advertising that showed 52% of three-year-olds and 73% of four-year-olds "often or always" ask their parents for specific brands when shopping. Some entertainment properties have been benefiting from this phenomenon for nearly a century. As the owner of the Popeye character, King Features has had successful deals with fresh and canned spinach products that have lasted nearly 40 years, in some cases. But for the character's 90th anniversary in 2019, the company wanted a more modern partnership.
Carla Silva, King Feature's VP, GM and global head of licensing, says the recent Popeye deal with subscription meal kit service Dinnerly is meant to market the brand to Millennial families, which, according to NPD research, is the largest consumer group using meal kit services (kits allow subscribers to plan their meals through online tools, with ingredients and recipes delivered weekly). Subscribers planning their deliveries around July 16 (National Fresh Spinach Day) could order Olive Oyl fried chicken with Popeye's spinach salad or a J. Wellington Wimpy creamed spinach burger.
King's Dinnerly partnership was announced in June, and while success metrics weren't available at press time, another animated kids brand has been gathering grocery store data since 2016 and found that, sometimes, less branding is better to make sure a product moves from store shelves to kitchen cupboards.
Wild Kratts partnered with Whole Foods Market and its parent company Amazon in 2016 to launch four retail products. Whole Foods provided shopping intelligence and in-store data that showed where competitive opportunities could be found, leading Wild Kratts to launch with crackers, body wash, gummy vitamins and lunch bags.
Initial sales were strong, say Kaitlin Dupuis, licensing director for Kratt Brothers Company, and because of that success, the company saw potential to expand the range into cereals, juices and fruit snacks. But rather than simply slapping the animated brothers' faces on a slew of new packaged goods, Wild Kratts made two changes that Dupuis says ensured success: it altered its package design and started co-branding its products with Whole Foods' 365 house line.
When Wild Kratts' products first hit shelves, the show's animated brothers were front and center. But consumer research indicated that this might have been limiting sales.
"When people see licensed characters on packaging, parents often think it's less nutritious," Dupuis says. "We wanted people to know we offer the same nutrition as other brands."
So beginning in 2017, the redesigned packaging still included the brothers, but they have been de-emphasized in favor of animals (i.e. nature) and clearer product shots. The characters are still big enough for kids to identify, but aren't the dominant image shaping a parent's impression of the product.
Along with this shift in focus came the appearance of the 365 logo displayed prominently at the top of Wild Kratts' second wave of products. The company initially considered continuing with the creation of wholly new products it could own outright, but these would have had to compete with 365′s products for shelf space and purchase consideration. Instead, the Kratts began appearing on existing Whole Foods products that already had a customer base.
"That helped us accelerate our growth at a quicker rate," Dupuis says, adding that the popularity of the Wild Kratts characters boosted sales on the newly co-branded products. By fall 2017, sales had quadrupled, she says.
Dupuis lays much of the credit for Wild Kratts' grocery success at Whole Foods' feet, crediting a flexible partnership and shared consumer data for strong results. These partnerships may become the norm as the established retail grocery sector comes under increased pressure from companies like Amazon, delivery meal kit services like Dinnerly and the rise of smaller, independent markets. Grocers need every edge they can get to put shoppers in the aisles and put their food products on the table.
As a result, investment in food and beverage innovations and startups is on the rise. According to CB Insights, food and beverage startup investment tripled between 2013 and 2018, to the tune of US$9.5 billion.
Given the natural advantages kids entertainment properties have when parents scan the aisles, it makes sense that stores would want to keep customers coming back by stocking shelves with family-pleasing products. If the 60-year trend toward empowered kid shoppers continues—and Faigelman anticipates it will—it's likely grocers will want more IPs lining the shelves.