Take a step into the Nick-Verse, filled with Timmy Turner, Jimmy Neutron and SpongeBob.
After primarily releasing games focused on a single IP, Nickelodeon dipped a toe into the multi-IP space last year with Nick Football Champions (timed with a release for the soccer World Cup). This past spring, the kidcaster waded in a bit deeper with the launch of Super Brawl Universe for iOS and Android, and then it followed that up with the web-based Nick Jr. World, which featured properties like Blaze and the Monster Machines, Shimmer and Shine, Top Wing and Butterbean's Café.
Now, Nickelodeon is unveiling its biggest cross-property game to date with the launch of Pixel Town—a sprawling sandbox app featuring more than 12 iconic franchises.
"What's cool about cross-property games is they give us a chance to celebrate IPs in a way that we wouldn't get to do otherwise," says Francis Dahl, director of international games and apps at Nickelodeon. "It allows us to keep certain brands alive and in the mix, like Rugrats or SpongeBob, or bring in a new show like Henry Danger. I think that having a cross-property Nickelodeon game gives us the chance to do more creative stuff and celebrate our full catalogue."
Designed to promote SpongeBob's 20th anniversary, Pixel Town will launch next month in Singapore, the Philippines and Malaysia before its international rollout. Created in collaboration with Singaporean mobile game publisher goGame, the multiplayer iOS and Android app blends elements from CatDog, The Fairly OddParents, Danny Phantom, Rugrats, Jimmy Neutron, Avatar, Rocko's Modern Life, Hey Arnold! and The Wild Thornberrys into SpongeBob's world. (While multi-IP games are definitely a focus for Nickelodeon right now, according to Dahl, fans can still expect to see plenty of single titles in the future, too.)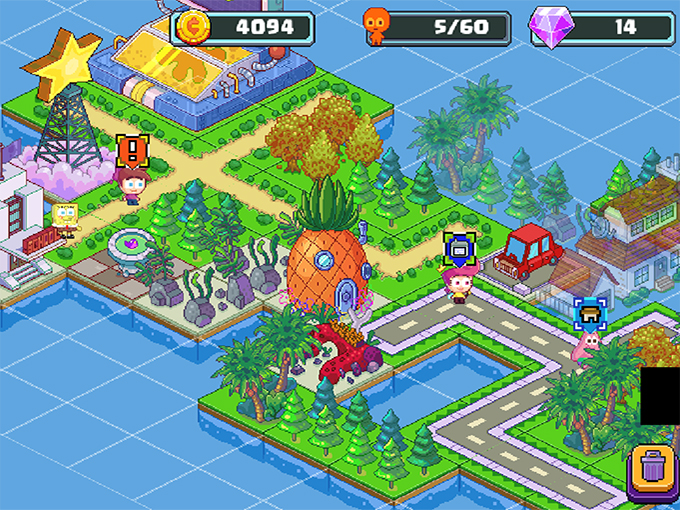 The story begins in Bikini Bottom, where Patrick Star is fiddling with one of his plankton experiments. Something goes terribly wrong, and suddenly, all portals across the Nickelodeon universe are opened. Players need to find the right formulas to release trapped characters so they can join the sandbox gameplay.
"We're giving kids their own Nickelodeon universe and letting them flex some of their building muscles and creative skills to make it look however they want, " says Dahl.
Players create a Nickelodeon town that they can expand by collecting characters, costumes and animation—all of which are drawn in a retro pixel art style. The game further immerses users in the world by having them go on quests with characters from the initial launch properties. Pixel Town's multiplayer functionality allows kids to connect with their friends and enter their respective Towns. More characters, skins and buildings will be released after launch.
"We aim to do everything globally, but part of our strategy is to test some of this in specific markets before going out to a full global audience," says Dahl. "Then we might tweak the mechanics or design to improve the experience, so that before we go as wide as possible, we can make sure that we are doing it in a way that it's seeing some success in its initial launch place."
To learn more about what Nickelodeon has planned for the future of gaming, check back next week and read about the Future of Gaming.