Why did Tony Hale cross the road? To make 2D-animated comedy series Archibald's Next Big Thing, which premiered on Netflix on September 6.
The two-time Emmy winner (known for his roles in Arrested Development, Veep and as the voice of Forky in Toy Story 4) created and executive produced the new series. Produced by DreamWorks Animation Television, the 13 x half-hour show follows a chicken named Archibald Strutter who embarks on absurd and wacky adventures—like becoming a superhero who can fix any problem thanks to a found key, or travelling across the ocean and befriending a whale at a monster-truck rally.
Hale both writes and voices Archibald. Aimed at five- to eight-year-olds, the show is inspired by Hale's 2014 children's book of the same name, which was co-written by Tony Biaggne and illustrated by Misty Manley and Victor Huckabee. The idea came out of a desire to tell a story about a character who doesn't worry about the future and who's focused more on the journey than the destination, says Hale.
"In 2003, when I got the job on Arrested Development, I was so excited," says Hale. "But it didn't satisfy me in the way I thought it would because I was looking for what my next project might be. I got my dream, but in this business you're always being asked what's next, and you're almost not encouraged to be present in the moment. I got together with some friends, and we had this idea of a story about a chicken who just decides to be."
When writing the series Hale's strategy for the humor, and the show's overall design, was to keep things simple and not try to go too over-the-top with the comedy and art, keeping it on brand with the book.
"Comedic timing is very important to me," he says. "We never shied away from good jokes and never dumbed it down. Kids really get smart humor and timing."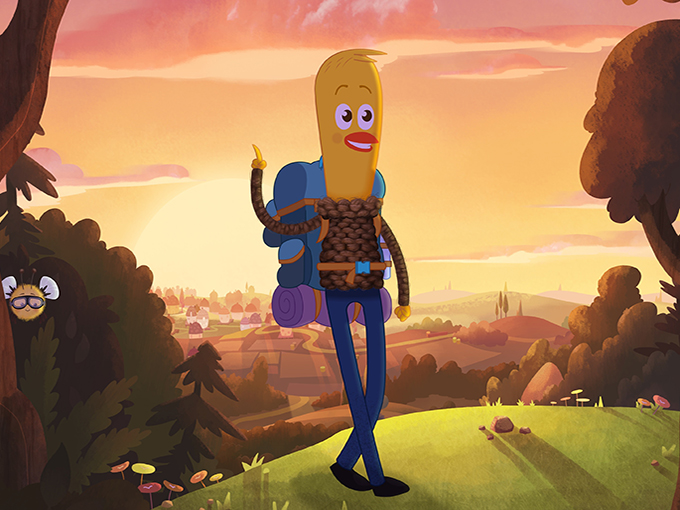 Hale is also excited to share the story with his daughter, Loy, who helped develop the style choices and design of Archibald's sister, who was named after her.
"She said things like 'Loy should wear argyle socks' and I'd write that down," says Hale. "And now she's 13, and everything I do embarrasses her, but she still really loves having this [book and series]. It's something we share and it's fun to have these memories."
And, consistent with the show's overarching message, Hale hasn't turned his attention to "what's next," but is living in the moment of getting Archibald on to the screen. His biggest hope for the new show is that the message of appreciating and enjoying where you are, and not worrying about where you're going, resonates with kids.
"There's a lot of pressure on kids to have stuff figured out at a very young age," says Hale. "But there's something about Archibald because he's just exactly where he is."