Moose Toys is digging itself into a hole, and the Australian toymaker couldn't be happier.
With Treasure X Aliens, Moose is expanding its collectibles brand all the way into outer space. The new line is already available in Australia and launches in the US this month, letting kids dig through slime to retrieve 18 new action figures as well as space-themed treasure.
The boy-focused brand (for ages five and up) first launched in July 2018 and featured figures buried in a sand-like substance. The first Treasure X products saw kids go through a multi-layered unboxing process to dig for the figures and pour water into a wooden chest to reveal treasure. With Treasure X Aliens, Moose Toys is introducing a new material for kids to dig into—the still wildly popular slime—to keep the play pattern feeling fresh.
In fact, the Moose team is toying with all kinds of new unboxing methods, new compounds and new ways to dig and discover in an effort to recreate the viral moments that the first iteration spawned, says the company's global VP of boys, youth electronics and craft Rob Wolf.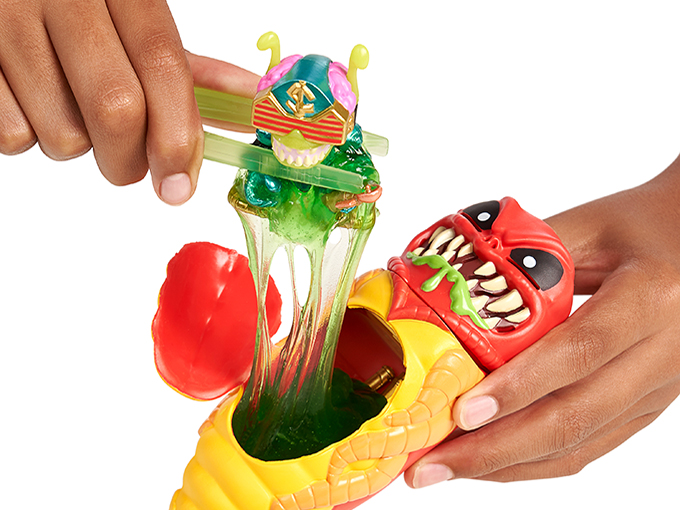 And forget pirates or deep-sea divers; aliens seemed like the right fit because they offer an opportunity to create a completely new look for the brand's treasure-hunting characters (complete with space-age apparel and weapons), Wolf says. The alien theme—with its focus on slime and bodily functions—also opened the door to incorporate more humor into the adventure-centric IP and expand its appeal to even more boys.
"As we're growing, learning and seeing where the brand goes, the humor is really important in terms of how we push the boundaries and go forward," Wolf says.
In addition to launching the new alien theme—the first of many new iterations, says Wolf—Moose Toys is also rolling out an update on the original products with its King's Gold line. Instead of a sand-like substance, kids will dig through a compound that imitates rocks. Moving forward, the company also plans to dig up licensed consumer products. Moose partnered with Australian retailer Big W to launch apparel inspired by the brand, while Ravensburger North America bowed a board game at the end of June. Moving forward, Wolf says publishing will be an area of focus, along with toy categories beyond collectibles.
Content will launch this fall in support of the brand's new themes. In addition to webisodes featuring the Aliens and King's Gold characters, there will also be content that sees the two themes intermingle. The mash-up, Wolf says, is yet another effort to keep things fresh and give kids new ways to engage with the property.
"When you look at the overall Treasure X brand, [we're] continuing to evolve the line," Wolf says, adding that the team is constantly monitoring social media to stay up-to-date on the newest compound trends. "You have to be innovative and push the boundaries. There are a lot of opportunities to expand on Aliens, and we think it's something with a lot of legs."