Preheat the oven and fire up the stove because Chris Byrne, president of New York-based Byrne Communications, is digging into a delectable food-inspired toy trend to find out which companies are jumping on the bandwagon (and cooking with gas).
Foodie Roos: Hope you're hungry, because toymakers are serving up tons of food-inspired consumer products right now. California's Maya Toys, for one, is hoping to satisfy appetites with its Foodie Roos (pictured, above) range. The plush line looks and smells like food, and the first series includes 20 different characters inspired by treats like popcorn, cookies and juice (but please don't eat them). Packaged inside containers reminiscent of ice cream cartons, Foodie Roos launched in June and targets kids ages five and up.
Whimsical food-inspired playthings are particularly well-suited to younger kids, says Byrne. "Some of the best play patterns let kids break traditional rules. Early on, you learn you're not allowed to play with your food—but with these products you can. There's an appeal in toys that reflect the world around children, but that also add a layer of fantasy and fun."
Cutetitos: Florida toyco Basic Fun!, meanwhile, is dishing out its own food-inspired offering with Cutetitos (pictured, below). The collectible plush line for kids ages three and up features animals—including dogs, cats, bunnies, sloths, a monkey, a pig and a panda—wrapped in burrito blankets. The blind pack range was inspired by the social media trend of people sharing photos and videos of their pets wrapped up in blankets (like burritos), and launched in fall 2018.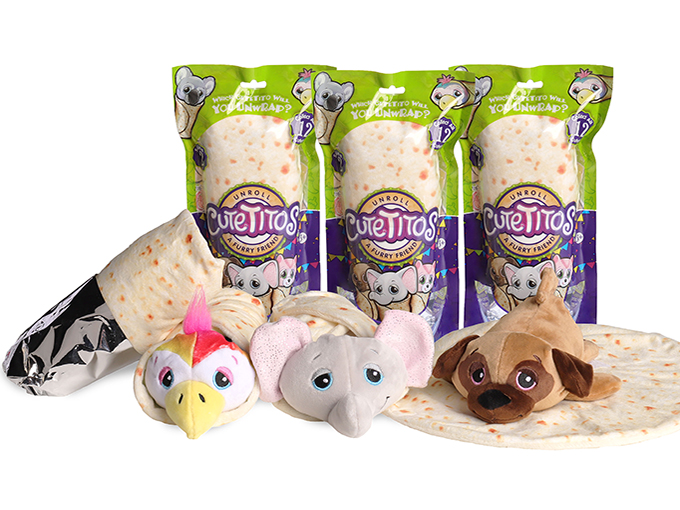 Though many foodie toys focus on junk food (somehow vegetables just seem less festive than, say, sprinkles), Byrne isn't worried about push-back from parents. "I don't think it's a concern," he says. "These are flights of imagination. If parents are promoting healthy eating in the home, that is much more compelling than anything a child might take away from a collectible vinyl character."
Mice Mania: The best part about food-inspired playthings might just be that there are no crumbs to clean up afterward. But even without the mess, Hasbro hopes kids still see some mice. The Rhode Island-based toymaker launched Mice Mania (pictured, below)—part of its Lost Kitties range, which features collectible cat figures found in blind-pack cartons—in May. The extension (for kids five and up) features a moldable compound that looks like cheese, with mice or kitty figures hidden inside.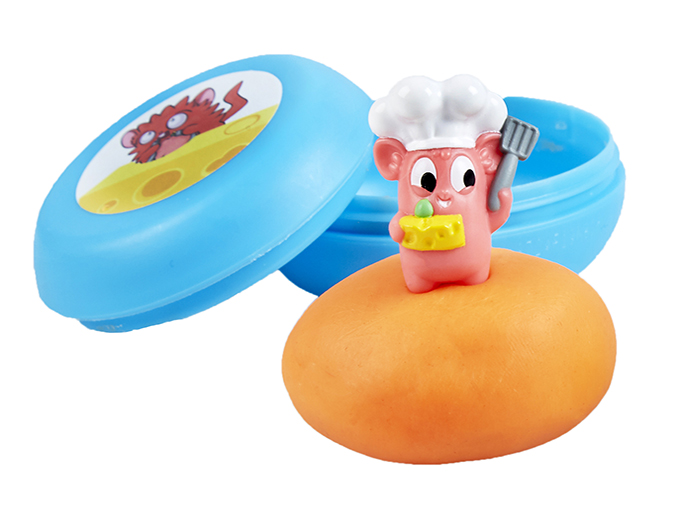 But while toycos seem to be having fun playing with their food, Byrne says shelves could soon be full. "Like any trend, it will ultimately play itself out," he says. "When you start to see a proliferation of food characters that are similar, the trend will begin to wane. But it's a classic play pattern. I can't remember a time in the modern toy industry when there wasn't some kind of food play."