Kids are an extremely important factor in why a lot of people in the US and UK subscribe to Netflix. In fact, 83% of parents in the US said their kids wanting Netflix was either very or quite important in retaining them as a customer, according to new data from UK children's media specialist KidsKnowBest. Meanwhile in the UK, it was even higher at 87% of parents saying kids were either very or quite important in keeping them with the streamer.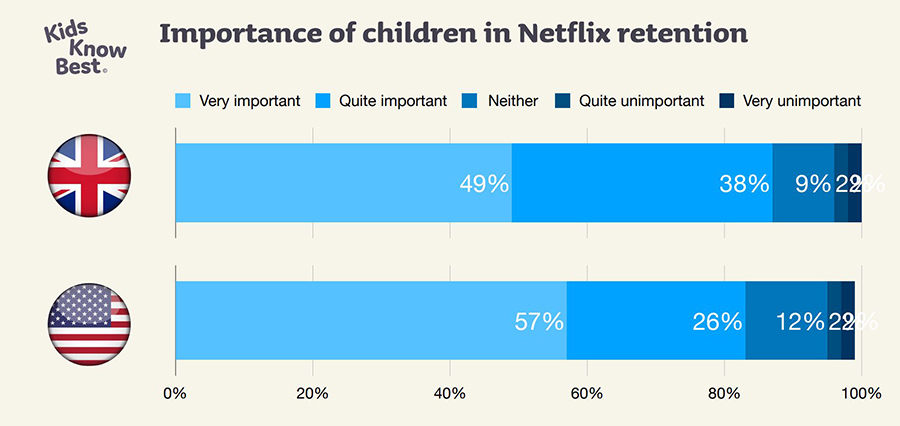 Two of the most effective brands on Netflix at converting kids from a casual viewer who has only seen the show once into a fan are Little Baby Bum (pictured) and Peppa Pig, according to KidsKnowBest. Seven percent of kids surveyed said they had watched Moonbug Entertainment's Little Baby Bum once, and 5% said they were fans of the series. However, the conversion rate was huge, with 72% of kids who had watched the show once transitioned into saying it was one of their favorite things to watch or was something they watched frequently.
On the other hand, 14% of kids said they'd watched Peppa Pig once, with 9% of those surveyed said they were a fan. And its conversion rate of 68% put the brand in the top-five most effective content at converting kids to fans.
The other brands that did the best job of converting kids to fandom were programs not explicitly for those under 16, namely Brooklyn Nine-Nine (71% conversion rate), Planet Earth (71%) and Stranger Things (69%).
Led by chief operating officer Pete Robinson, KidsKnowBest spoke with 4,000 kids under 16 (the youngest via their parents) in the UK and USA for a new study on the SVOD. The org looked at several different components that make up how kids use Netflix, including how many of them have a Netflix subscription (75% in the UK and 81% in the US, acknowledging that most households share accounts and most kids don't subscribe themselves).
Stay tuned this week for more information on what are kids favorite shows on Netflix and how the SVOD (and its producers) can convert viewership numbers into CP sales.