Most of our clients in the kids industry use demographics to understand what makes their audiences tick. That often means looking at age and gender. Age nuances make a ton of sense, given all the aspects of child development that are timeless truths. The average social-emotional, cognitive, and physical skill set of a seven-year-old will always be behind that of the average 11-year-old, so you can and should tailor your offerings accordingly. Yet gender is a different entity all together.
We recently surveyed 1,200 US parents of kids age two to 16, and 1,200 kids age five to 16 to get an understanding of children's passions. Analysis by gender opened a window into sizable minorities among fandom in typically gendered categories. We found that when it comes to gender, norms are changing every day, and kids are more and more emboldened and outspoken about doing their own thing. Embracing a gender-welcoming mindset can mean the difference between flat and impressive earnings.
Gender disparity is alive and well
Kids engage with content relating to their passions, almost as much as they engage with those passions in real life. So what kids like correlates with what kids check out online. This means kids who like toys tend to watch RyanToysReview, cinephiles seem to enjoy CinemaSins, and music lovers gravitate towards watching videos of Selena Gomez. In general, we also see that topics of passion and engagement also correlate with kid request and purchase of related products.
Weekly engagement with different passions (five to 12)

Yet unsurprisingly, some topics are more polarizing by gender than others. Topics with major disparity (more than 20% point difference) among the five to 12 set include cooking, video games, theater/dance, superheroes, fashion/style, makeup, and DIY/crafting/art. Girls tend to gravitate towards more female-centric topics (such as cooking, theater and dance, fashion and makeup), while boys still over-index in the video games and superheroes categories.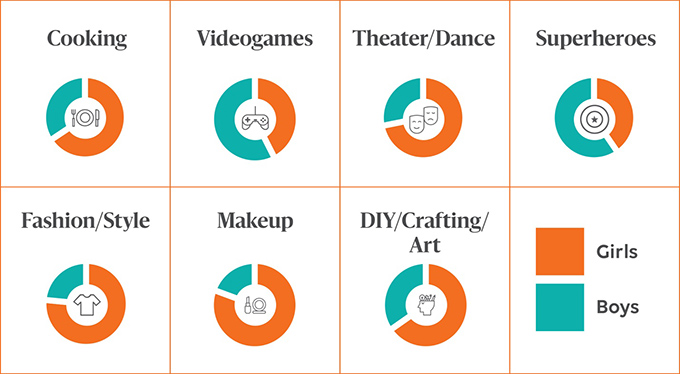 Gender polarizing is far from gender exclusive
At the same time, for every gender-polarizing category, there is a sizable minority of the opposite gender that engages with it. For example, fashion/style and makeup are the most polarized topics, skewing heavily toward girls. Yet both of those categories still have enough boy engagement to make a business case for a broader gender reach.
In the makeup category, 13% of boys engage with makeup-related activities or content at least weekly. And 5% have tried, bought, or asked their parents for makeup after seeing makeup-related content online. For fashion/style, 19% of boys engage with the category weekly, and 11% have tried, bought, or asked their parents for fashion/style items they've seen online.
For more balanced, but still skewed categories, the windfalls can be even stronger. While both the superhero and video game arenas lean boy, 42% of girls age five to 12 engage with superheroes and 62% engage with video games. Efforts on behalf of these industries to represent and welcome girls, seem to be paying off. (The gaming gender gap increases significantly among teens, showing there is still work to be done to welcome girls in teen-targeted gaming.)
It's no surprise that many businesses still concentrate on one gender or the other, especially if marketing resources are limited. But some simple steps for welcoming the opposite gender cost little to nothing. The only major thing that needs to change is mindset.
Some ideas include ensuring a mix of boys and girls in advertising and on packaging, even if your offering is pink; for new-to-world offerings, avoid using gender-skewing brand names, product names, or titles and don't ignore the sizable minority—make an effort to understand the full range of your fan base, what draws them to your offering, and what they need, regardless of gender.
Sarah Chumsky is the VP of Insight Kids, a passionate team of business strategists and developmental experts who spend their waking hours pondering and communicating timeless truths and timely trends. Through innovative qualitative and quantitative market research and consulting, they bring the voice of the child to the creative process, helping their clients create products and experiences that meet kids where they are. Reach them at info@InsightStrategyGroup.com or via www.InsightKids.com.