As the Disney+ and Apple TV+ launches approach, the SVOD space is being shaken up, but the content that Amazon and Netflix are looking for is likely to stay the same, according to Fred Black, an analyst with London-based Ampere.
A new study unveiled at The Children's Media Conference from the research firm found that both streamers are in a race to build up more kids content and add recognizable IPs and brands to their libraries as Disney's streamer threatens to become a prime destination for kids and families because of its well-known IPs and popular franchises, Black says. As just under half (49%) of all Netflix and Amazon subscribers in the UK live in a household of children, most of which are nine and younger, a portion of content added is always going to have to be aimed at kids, he adds.
When it comes to family fare, content creators pitching the streamers need to be aware of the subtle differences in the target demos, Black says. Netflix skews slightly older, aiming for the seven-to-nine demographic, with a third of its kids content aimed at that market, he says. The SVOD has a 50/50 split between live-action and animation, though its original kids productions usually target the 10 to 13 demographic, Black adds.
Amazon, meanwhile, has moved away from commissioning kids-specific content over the last two years, and content creators looking to get a show greenlit would be smart to go to Netflix over Amazon, he adds. But while Amazon has slowly shifted away from new commissions, as Netflix focuses on the older child, Prime has been acquiring preschool content, with 35% aimed at kids four and younger, with its catalogue skewing slightly towards live-action (59%, versus 41% for animation). In all, Prime Video has increased its total kids catalogue to 547 distinct titles, which is almost double what Netflix has, says Black.
"It's an exciting time in the SVOD space because even though Disney+ and Apple's upcoming streaming service threaten to shake things up, the data shows that Amazon and Netflix have been consistent in seeking out more and more kids content," says Black.  The streamers are also being consistent with the demographics they're focused on and what's most interesting is that there could be a battle among SVODs for established IPs as new streamers try to compete in the growing market."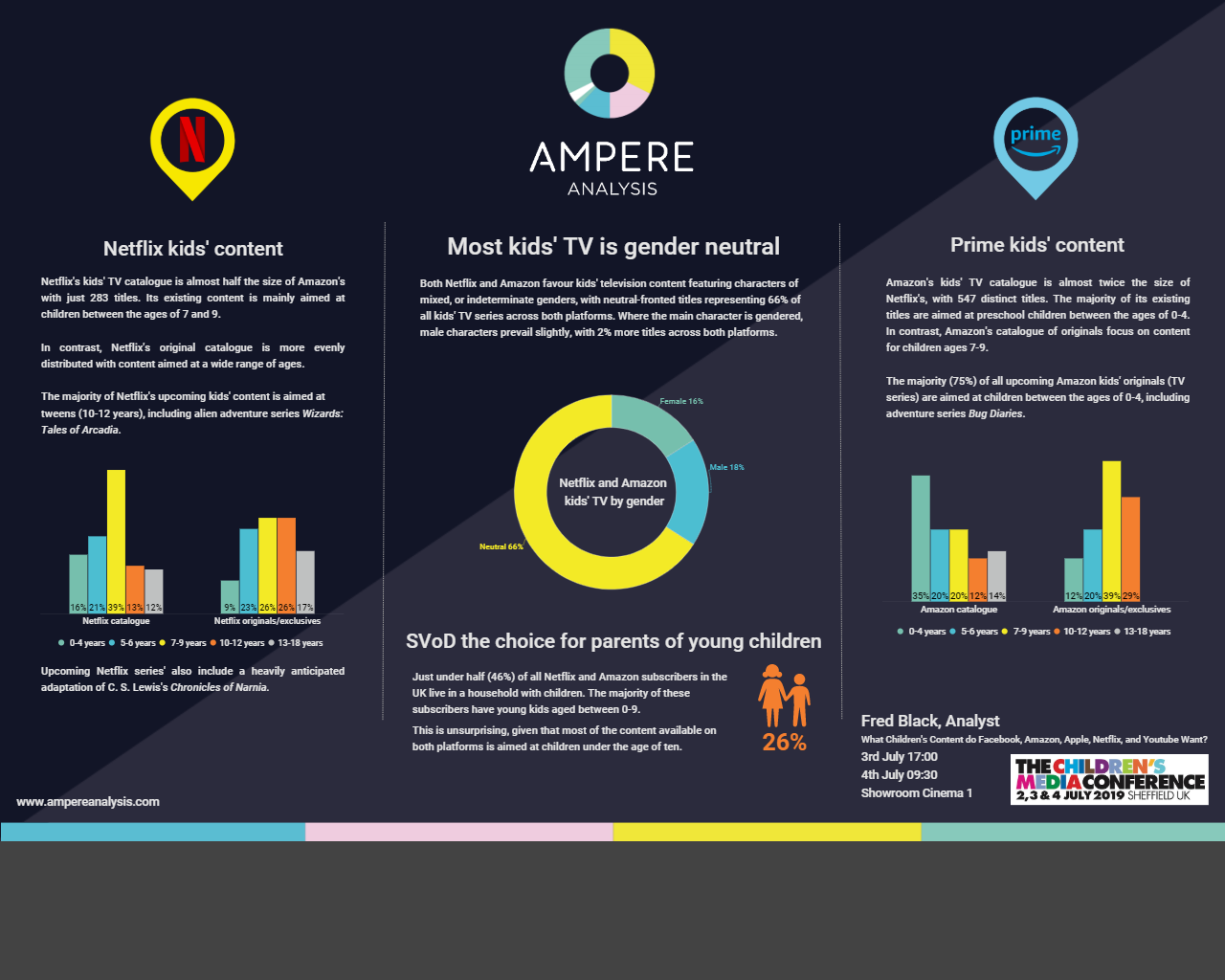 Click on the infographic to enlarge the image.