Chinese distributor UYoung has sold a trio of animated series to state-owned broadcaster CCTV for its children's channel. The series are going to be accessible to more than one billion viewers  through the channel, according to UYoung.
First up, CCTV has picked up all three seasons of Belgium prodco Studio 100′s Mia and Me. The 78 x 22-minute girl-skewing IP is for kids four-to seven-years-old and revolves around a 12-year-old girl who has to adapt to her new school, while also saving a magical world. Meanwhile, the two seasons of US-based Space Race LLC's STEM-focused action series Space Racers are also joining the channel. Targeting three-to six-year-olds, the 90 x 11-minute episodes center on a group of cadets who explore the universe.
The broadcaster also acquired two seasons of UK-based prodcos Doodle and Eye Present's preschool series Messy Goes to Okido (pictured). The science-focused comedy's 78 x 11-minute episodes follow the adventures of an unruly monster named Messy, as he finds answers to questions for three-to five-year-olds. No broadcast schedule has been released for the shows.
In other Messy news, Eye Present is expanding the brand's presence in the UK with a magnetic board game that teaches kids four-to eight-years-old how to code (pictured below). Eye Present is funding the game through a kickstarter campaign.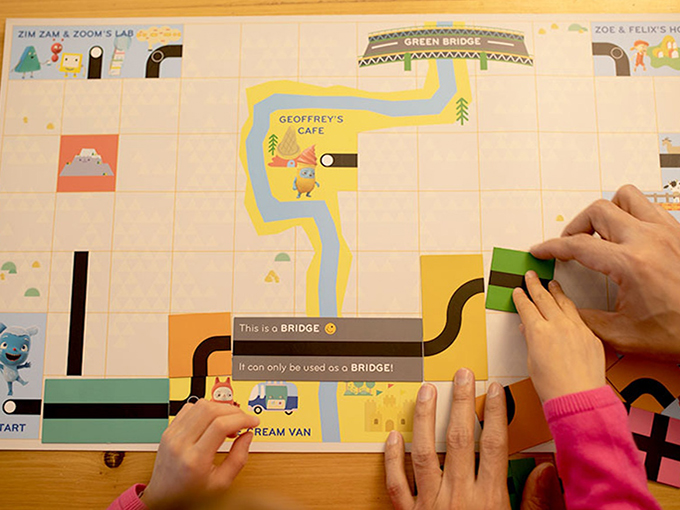 Eye Presents also hired former Turner exec Amanda Billings as the CEO of the Okido brand, to help build the IP's growth.
UYoung acquired the content and merchandising rights in China for the show in March, while also making an equity investment in the property, giving it a share of the international revenues. British pubcaster CBeebies commissioned a third season of the show from Doodle and Eye Present in October 2018.