Good news for content creators: there's been a 2% bump in the volume of kids' content on SVODs. In fact, streaming services made more than 53,200 hours available between April 2018 to April 2019, according to London-based market research firm Ampere Analysis.
Overall, SVODs favor TV over films, Ampere reports, and 83% of the kid's content on SVOD's continued to be television titles, while only 17% of the content is movies.
Despite the uptick in kids shows, streaming companies continue to invest more in other genres resulting in a decreasing proportion of kids content in SVOD catalogues around the world. Between August 2015 to April 2019 the volume of content on SVODs that's aimed at kids fell to 12%, from 16%, according to data collected from 57 SVODs across 38 markets.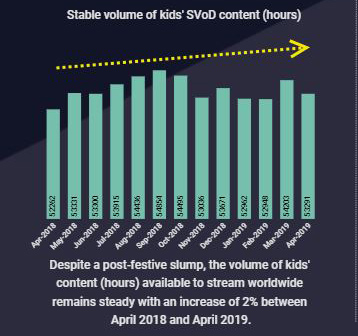 The study comes amid Amazon's recent announcement that it's shifting its focus away from kids content to family co-viewing and young adult audiences, with plans to renew its current kids TV show's on a case-by-case basis. The streamer's slate will continue to be available, but when it comes to younger viewers Amazon is going to license content rather than commission it.
SVODs may not have seen the same success reaching kids with content as they've seen with adults, so investments have shifted to other genres, posits Ampere's research director Richard Cooper. The upcoming slates of large SVODs show that the services have not pulled away from licensing children's titles, but are spending more in commissioning content for other genres, he adds.
This might be because SVODs are struggling to know what appeals to kids, and don't want to risk investing in original IPs that might not pan out, says Cooper. "Children's is a growing category, but it's growing slower than other genres."