The number of kids who say voice control is their preferred method of interacting with all of their tech devices has reached 12%, double the amount reported in January 2018, according to a new report from UK-based market research firm Kids Insights.
The surge is driven by an increase in kids' access to smart speakers, with the new data showing kids exposure to the tech has risen to 21% of kids, tweens and teens in the UK now having access to one. That is up from 11% in Q1 of 2018.
An increasing ease in smart speaker technology means that any kid can use the devices to listen to music, news or get help with their homework, says the report. The report also advises content creators to be aware of children's preference for, and their familiarity with, voice control when developing new products and experiences.
Big entertainment companies have already started to take note, including LEGO, Bandai Namco and Sesame Workshop which have all created Amazon Alexa skills. Nickelodeon, meanwhile, reported that players returned to its Alexa-based SpongeBob Challenge game five times per month on average in 2018.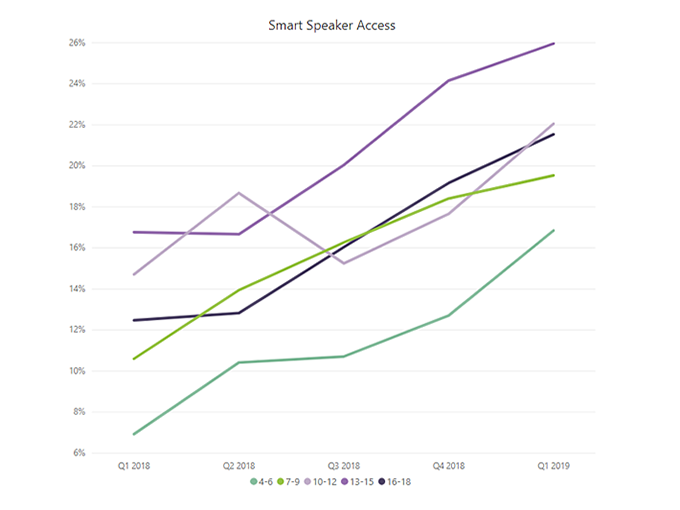 In terms of individual hardware, Amazon is leading this smart speaker charge with its Amazon Echo Dot devices, which account for more than half (51%) of the smart speakers owned by three- to 18-year-olds, according to the report.
Amazon is keen to take advantage of this growing market, says Kid Insights. To do this, the company launched a new version of its Echo Dot Kids Edition last week with a range of features to ease the privacy concerns of parents. The Echo Dot Kids, first launched in 2018, but the newest version of the device cannot access or collect children's personal information, and has parental controls that let users set time limits and restrict access to some content, the report says. 
The company has sold more than 100 million Alexa-enabled devices since it first launched the Echo in 2014, according to Amazon's 2018 annual financial report. Building on this popularity, developers doubled the number of Alexa skills to more than 80,000, while the types of devices with Alexa built-in more than doubled in 2018.
Kids Insight's data is based on the results of surveying more than 26,000 kids ages four-to 18-years-old, from across the UK between January 1, 2018 to March 31, 2019. The report also uses data the research firm has collected since May 2017.