How do you start? You have to open the box, of course, dump all of the pieces onto the table and begin the meditative act of flipping each one over to reveal its part of the image. But once that's done, how do you start? Do you scour the pile for edge pieces and build yourself a frame? Or do you search for your favorite part of the image, and work to put it together first? Filip Francke, CEO of Ravensburger North America, doesn't really care how you start—as long as you're putting the pieces together.
Across the toy space, board games continue to be popular. The category drove significant growth for Hasbro in fiscal 2017, increasing 10% to US$893 million, thanks to games like Speak Out, which sparked considerable buzz on social media. And while the Rhode Island-based toymaker's gaming business declined last year, brands like Monopoly and Magic: The Gathering actually grew. The category made a comeback in Q1 2019, when revenue increased by 2%. Similarly, games have been a strong segment for Toronto toyco Spin Master, whose activities, games and puzzles and plush segment grew 24.7% to US$455.5 million in fiscal 2018.
But move aside cards, dice and meeples: Ravensburger—a games and puzzle publisher headquartered in Germany—believes the board game renaissance of the past several years has paved the way for puzzles. According to market research firm The NPD Group, the puzzle category posted an increase of 9.9% last year, the highest percentage growth of any subcategory. Ravensburger's puzzle segment was ahead of the curve with a 14.5% increase in the same period.
"It's not just a fad," Francke says. "With increases in screen time and a strong desire from parents to disconnect, puzzling is something that feels constructive."
It doesn't hurt that traditional 2D puzzles are less expensive than the average board game.
Ravensburger's puzzles retail in the US$9-to-US$25 range, while its kid-focused games are more likely to sell for US$20 to US$30.
Simply slapping a pretty or popular image on a puzzle, though, is not enough to take advantage of the trend. Puzzles should be approached as an experience, rather than as a consumer product, says Francke. The cardboard should feel good in your hands (Ravensburger has its own formula), and every single piece should fit into place with a satisfying click. The colors need to be accurate and protected against fading, he adds, and the image should be well-lit and well-composed so it's easy to read. Most importantly, Francke believes the images shouldn't be found anywhere else, which means pulling something straight from the TV or movie screen simply isn't going to cut it.
"You have to do something special with it," he says. "It needs to be customized art, and it needs to be something a little unexpected."
Get out
In fact, the unexpected is exactly what Francke wants to focus on moving forward. Beyond the classic 2D and increasingly popular 3D puzzles (globes, in particular, are a strong seller), Ravensburger is looking to innovate the format with its new range of escape puzzles.
After completing an escape puzzle, users decipher a series of clues to rearrange pieces and resolve a conflict. The completed version of a puzzle that depicts a space observatory, for example, can be rearranged to build a laser and save the earth from an approaching meteor. A sealed envelope contains the final image after all of the clues have been solved. The US$19.99 line launched with specialty retailers this spring and will roll out at Target locations this fall. It currently targets adults, but Francke believes the products could be adapted for younger puzzlers.
"It's an additional feature that connects to the really hot trend of escape rooms," Francke says. (Escape rooms are part of the location-based entertainment boom that has also seen live shows and pop-up shops taking center stage in the kids space. Being locked in a small room might sound like a nightmare to some, but the combination of problem-solving and adrenaline-inducing countdown clocks has proven to be potent.)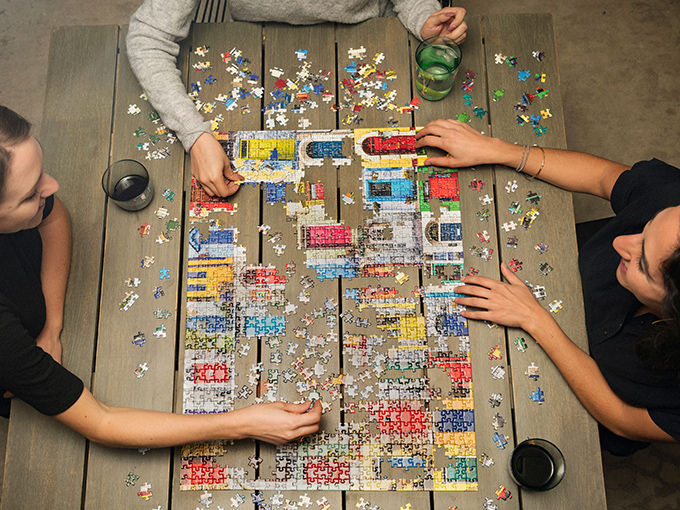 Game on

Beyond efforts in innovation, Ravensburger North America is also putting its marketing team behind the puzzle trend. Francke anticipates that 25% of the company's marketing spend for 2019 will go into the category.
Ravensburger's Puzzle Club—a subscription service that delivers a new jigsaw every month—will soft-launch this summer. The company is also rolling out Puzzle World, an online community that allows people to connect, discuss trends and upload images they believe should be made into puzzles.
Additionally, Francke plans to use the success of Ravensburger's most popular board games to drive even more people to puzzling.
"Our own data shows that 73% of people who love board games also love puzzles," he says. "Our Villainous game is a great example of an immersive experience, because you play as your favorite Disney villain. We'll use the same custom art with the six villains from the original game in the puzzle, and it will include collectible figurines. This allows us to connect with fans of that game through a new category."
Moving forward, Francke says Ravensburger is also seeking out partnerships that can contribute to innovative or immersive puzzling. In particular, he's enthusiastic about the possibilities surrounding the digital puzzle experience.
"We're excited to bring something new to the market and to prove people wrong who think puzzling is a pretty mundane category."