While there's a sliver of positive news on the representation front when it comes to the animation sector, there's still a ways to go, particularly for increasing the number of women of color in senior positions, a new study finds. While more than half of all film animation execs are female, and women make up 39% of execs on the TV side, less than 10% are women of color (6% on the film side and 9% on the TV side), according to the report from Women in Animation.
The distribution of female versus male executives is also vastly different depending on the role and area of focus. For example, while half of CEO, CCO and president positions in film were held by women, only 6% of those roles in TV were held by females. A common trend emerged in the report, showing that as power increased from VP level to EVP and chief, the number of women in those roles decreases, with the highest film position as an outlier and exception. Especially on the TV side where the numbers decrease from 42% at the VP level to 6% at the CEO level. All but two of the 23 women of color executives were found at the SVP level and below.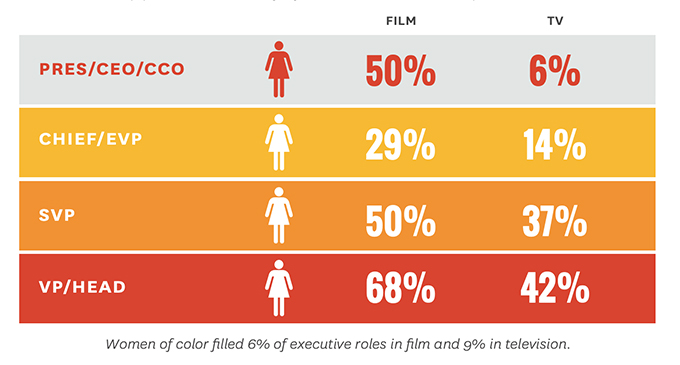 The report also covered roles in front of the camera and found that only 17% of animated movies released between 2007 and 2018 included a female lead or co-lead. Animated TV series fared a little better, with 39% of animated TV series in the same time period including a female cast. However, those characters were mainly white, as only 3% of films included lead roles for women of color (specifically Smurfs: The Lost Village, Moana, and Princess and the Frog, pictured) and only 12% of TV included roles for women of color.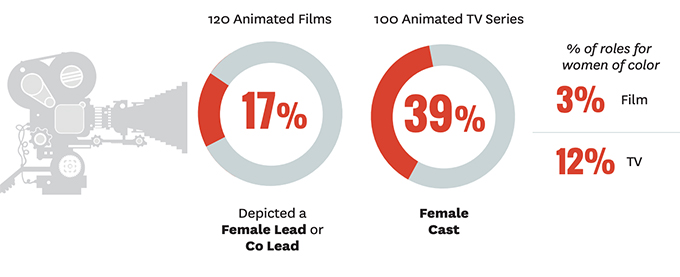 The results for female directors in film were the most dire: women made up just 3% of animated film directors (with women of color at 1%), and just 13% over on the TV side (with just 2% for women of color).
The entire report, featuring info on producers, and many other behind the scenes roles in animation can be found here. Women in Animation is presenting the report today at Annecy Animation Festival in France.
The study looked at 24 of the top film and television studios and prodcos creating animated content. Women in Animation found the information through each company's own website or Variety Insight, where it was publicly available. Then verified the information with members of the animation community, human resources departments or business executives. (Any companies that produce and distribute film and television content and didn't differentiate between those teams were looped into the film category.)