There are many different reasons to make licensed products right now (appeal to a younger demographic, bigger sales and name recognition, to name a few). Licensing dominates the toy conversation, especially this year with new outings for Frozen, Lion King, Aladdin, Toy Story, Secret Life of Pets and UglyDolls poised to hit the box office. But the kidtech world has always been slightly more hesitant to get in on the licensing love. Instead, companies prefer to test the waters with innovative offers and may be scared off by low margins and even higher prices for consumers.
Is it a missed opportunity? Twenty-five percent of US children's products aimed at kids under 14 are licensed, according to market research firm The NPD Group. This accounted for a quarter (or US$17 billion) of total US unit sales in Q4 2017. And considering that sales in the youth electronics toy category were up 3% in 2018, even as overall toy sales fell 2%, licensed tech toys might just be a match made in bottom-line heaven. 
So, which is the better strategy? There's no clear answer, but two kidtech companies that have taken drastically different approaches to the industry could provide some inspiration.
On the other side of the debate is WowWee. The Canadian kidtech company has been building up a roster of robots based on its own IPs since 1998. It is the company behind MiP (a rolling robot with gameplay and a personality, pictured above), innovative toy of the year at the 2015 TOTY Awards, not to mention a Miposaur and remote-controlled puppy bots named Chippies…oh, and a little something called Fingerlings.
With these animatronic finger-clinging animal toys, WowWee scored a hit in late 2017, selling 100,000 in the US in their first week at market. Fingerlings even spawned its own licensed brand, with everything from an animated series, to board games, to books and plush.
However, after years of building up its own roster of IPs, WowWee has turned its attention to new licensing deals. The toyco dipped a toe in these waters in 2017 with a Sesame Workshop partnership on coding robot Elmoji, and with Universal on a Minion MiP Turbo Dave bot (pictured below).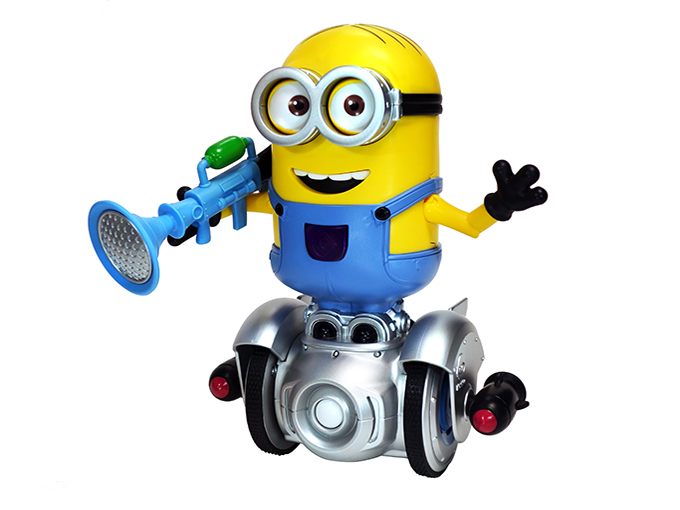 Now, WowWee is going all in on licensing, having signed an agreement with South Korea's Smart Study for its Pinkfong and Baby Shark brands in September, followed by a deal with the Wiggles in February.
"The toy industry is always changing and one of the changes now is that as a segment, preschool and the younger play patterns are becoming a larger proportion of the overall business because kids are turning to video games at younger ages," says Davin Sufer, WowWee's chief technology officer.
While he doesn't have hard numbers on when kids give up toys, long-term viability for WowWee will hinge on bringing younger and younger kids into the fold. To do this, the company has to create character-driven toys, he says.
The numbers support this theory: NPD's data found that kids ages three to five led the way for licensed sales based on units sold (30%), and the majority of sales for this age group were toys.
When Sufer and his team first met with Smart Study, Baby Shark had yet to go global. But WowWee's bet soon paid off when the viral song brought in close to three billion views (and counting). Initial products are already out at mass and online retailers, and new toys are expected to hit shelves this fall.
"If we tried to just do the same products, we could maybe have a hit item—if we did the right song, came up with the right content for it, and did everything right," says Sufer. "But if it's a song that people know and a character they recognize, like Baby Shark, we're that much closer to the finish line."
License agreements are quite pricey, and WowWee had to cut back on its tech in order to make the margins work. For its own robots, WowWee incorporates 50 functions, including rolling around, talking and teaching coding. But to keep the cost down for both manufacturer and consumer, licensed toys can really only do one or two things—such as singing a song when moved a certain way—and nothing else.
Sufer hopes to apply that same philosophy to WowWee's partnership with the Wiggles when new toys hit shelves later this year. While none of the products are confirmed yet, Sufer says he sees a lot of potential in creating a line around the group's songs "Rock-A-Bye Your Bear" and "Big Red Car," and especially for the Wiggles' first-ever female group member Emma.
"The dream is to marry the technology and the characters in a seamless way and make sure it doesn't look like you're forcing a label on something, or you're just trying to capitalize on something being popular," says Sufer.
To see the other side of the debate check out yesterday's post on why Sphero left licensing for edtech.