By: Alyssa Wright 
Play serves a critical role in children's cognitive, physical, emotional and social development. It nurtures creativity and imagination, and it helps young people satisfy curiosities, hone leadership skills and develop personal interests. It is immensely important in their lives. And as children mature, the nature of play evolves.
But what does a day full of play look like for kids? According to "Project 24," a day-in-the-life study by Smarty Pants, the answer varies depending on their life stage and gender. The study, which tracks how Americans ages two to 102 spend their time over a 24-hour period, reveals that preschoolers, kids ages five to eight and tweens ages nine to 12 have unique patterns, duration and frequency of play.
Child's play
More than three-quarters (77%) of all kids take part in some type of play each day—whether active, creative or digital. Unsurprisingly, more than 89% of preschoolers play daily, but this percentage drops to 68% by the time children are tweens.
Unstructured playtime—that exhilarating imagination-driven time spent running around just having fun—is the most common form of play. But as kids grow up, it becomes less frequent, as do board/card games and all forms of toy play.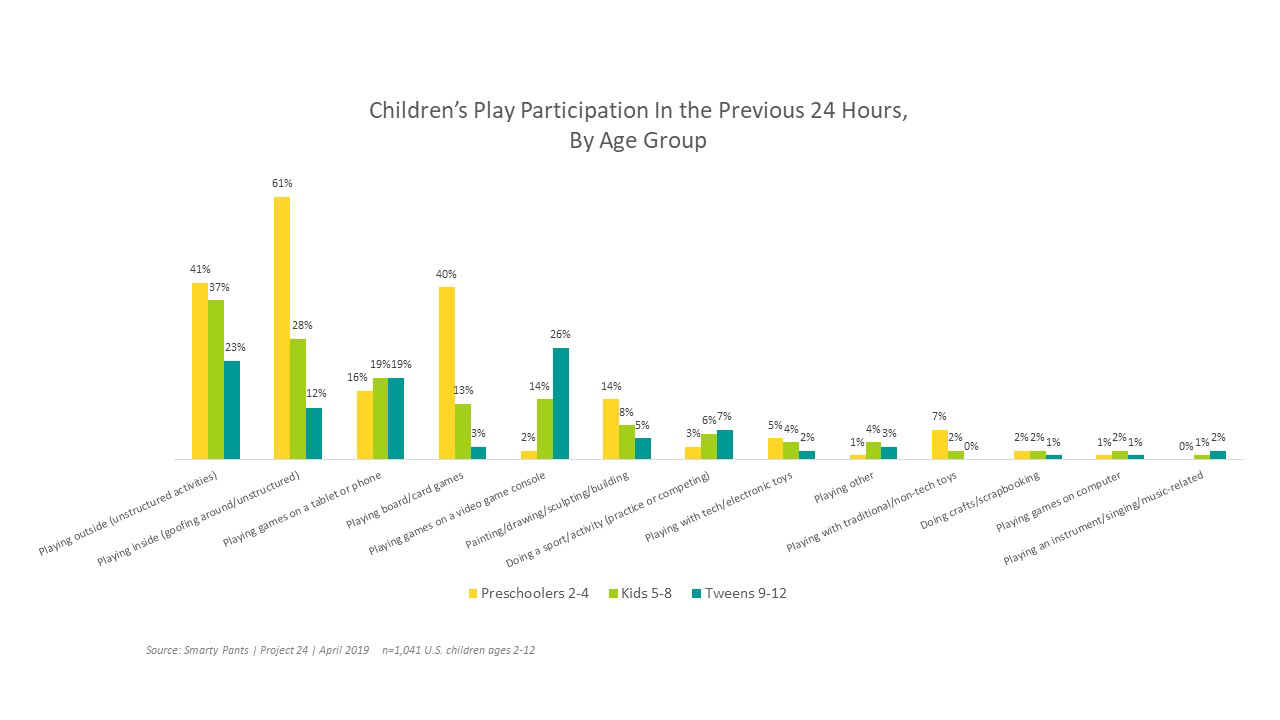 Sports may surprise you
Only 6% of kids ages two to 12 practice or compete in a structured sport or activity as part of their typical day. Sports participation is highest (7%) among tweens, who are eager to compete and demonstrate mastery, and lowest (3%) among preschoolers.
Kids who participate in activities and sports, like dance, baseball and volleyball, spend an average of 113 minutes doing so. As preschoolers and tweens, boys spend roughly 20 more minutes participating in sports and structured physical activities on a daily basis than girls.
Outdoors no more
Beyond sports, only 33% of US children play outside each day, a percentage that declines as the rigors of late elementary and middle school bring kids and tweens to the kitchen table for homework. By age 12, only 13% play outside. And even during their preschool years, less than half of little ones (41%) play in the great outdoors on any given day.
Board games or bored games
Indoor play, meanwhile, averages nearly two and a half hours per day, and 61% of preschoolers engage in unstructured inside time daily.
Preschoolers love board and card games, but begin to lose interest as they age. Two in five (40%) preschoolers play a board or card game in a given day, but by the time they reach the age of eight, this type of fun is rare.
Among those who break out the board games and card decks, the average daily time spent drops to 86 minutes among tweens, from preschoolers' 149 minutes.
Express yourself
Roughly one in seven preschoolers (14%) paints, writes, sculpts or builds in an average day. Starting at age seven, though, less than 5% express themselves in this way. Among younger kids and tweens, girls are more likely than boys to engage in creative time. Tween girls are also twice as likely as boys to do crafts and scrapbooking.
Thumbs take over
As kids age, play becomes more thumb-based, driven heavily by a rise in console video gaming. In fact, console gaming is one of only three play types that tweens are more likely to participate in than their younger peers.
A quarter of tweens say they play games on a video game console in a given day, whereas only 14% of kids ages five to eight and 2% of preschoolers say the same. Among these gamers, the average time spent stair-steps from 84 minutes among preschoolers, to 110 among five- to eight-year-olds and 172 among tweens.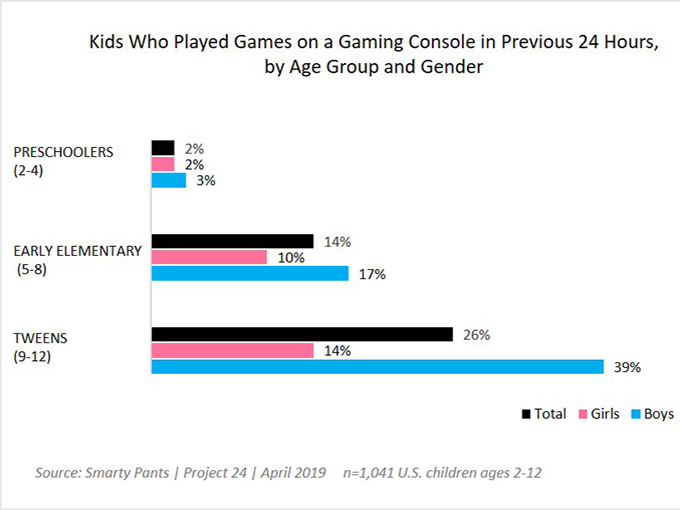 Devices delight across childhood
Games on tablets and phones are popular across all life stages. From ages two to 12, the percentage of children who play games on mobile devices remains consistent.
Among elementary-school kids, boys are more likely to play games on a mobile device. As they age, the small gender divide closes. Average time spent gaming on devices decreases with life stage. Tweens spend about 15 fewer minutes gaming on phones and tablets each day than kids two to eight, converting their time to socializing on these devices.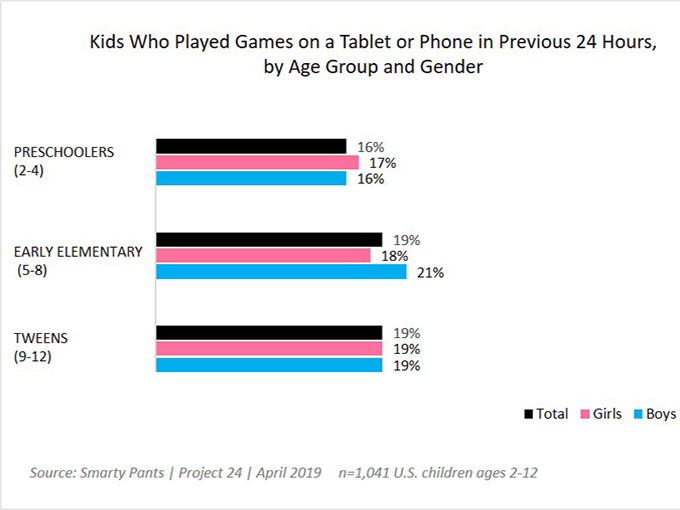 What about toys?
Beyond building blocks and bricks, markers or supplies used for creative endeavors, only 3% of two- to 12-year-olds play with a traditional/non-tech toy in any given 24-hour period. Eleven percent of three-year-old boys play with traditional toys daily, but this number drops to virtually 0% by age seven.
The low toy engagement data supports key observations from "Project 24." A large part of a child's day takes place in environments where branded toys are not present and unstructured, toy-free play is more common than marketers may realize. What little "structured" playtime there is tends to be dominated by screens, and as a result most children own countless toys with which they rarely play.
Tapping into kid truths
From the imaginative world of early childhood to the competitive landscape of video games and sports of tweenhood, one thing remains constant: Play is a foundational part of children's daily lives.
Opportunities are boundless for developers and marketers eager to drive engagement through the ways kids have fun.
Leveraging play patterns, developmental and gender insights only strengthens the likelihood those branded experiences will win with kids.
PROJECT 24 is a proprietary Smarty Pants study of US lifestyles and life stages. The spring 2019 project consisted of 24-hour, day-in-the-life photo documentaries and an online survey of more than 5,100 Americans ages two to 102 who logged each minute of the previous day. Alyssa Wright is media maven at Smarty Pants, a youth and family research and consulting firm. For more information contact Alyssa Wright at 423-773-7576 or visit asksmartypants.com.