While all eyes are on today's Avengers: Endgame premiere, another section of Marvel is hoping to break through using a bit of animated experimentation.
Now in its third season, and trying to keep audiences engaged when there's so much content to choose from, Marvel Animation's Guardians of the Galaxy TV series is playing around with a new storytelling format, blending multiple animation styles into its latest four-episode arc. Using multiple techniques, from claymation to 2D-animation, the media conglom worked with eight animation studios from around the globe to create "Black Vortex," which premieres on May 5.
Part of the 21 x 22-minute season, the four-part arc is inspired by the eponymous Disney Parks attraction (which sees the characters trying to escape the villainous Collector). The storyline separates and transports its characters into different realities, each rendered in a different animation style. 
"We need to do something fresh and surprising to get people to tune into a third season," says Cort Lane, Marvel's SVP of animation and family entertainment. "We as a studio need to push ourselves creatively. We typically do more straight ahead superhero action-adventure, but we know kids love comedy, so playing with bizarre comedy styles is something we need and want to do more often."
Most of Marvel's series, including Guardians of the Galaxy, are a hybrid with 2D character-animation and CG sets. Incorporating hand-drawn animation and an episode that looks like an eight-bit video game was a creative risk Lane felt Marvel had to take to help the studio grow. Each style was driven by the stories, and while he acknowledges it was risky, Lane says the pay-off could be huge for both this project and future iterations of Marvel 'toons.
To put all of these episodes together Lane's team had to make changes to the rest of the season. In some cases, studios had to be approached a few months earlier to begin the pre-production process. The normal cycle from script to delivery is about a year, but Marvel allowed extra pre-production time internally and with each studio to complete the new techniques.
Lane couldn't give specifics on the show's budget —though it's on par with previous seasons—but says a lot of planning was necessary to make sure everything was completed on schedule. "It was about approaching the production folks early-on with the story ideas so they could give us a lot of feedback about how to make this affordable," says Lane.
"We didn't go into this project with specific research on the appeal of these styles—the creative approach was driven by character and story with an instinct for animation looks that we suspected kids would like," says Lane. "We have the opportunity to check with kids on their affinity for the various looks, as well as grow our toolkit of animation tone and style as we expand into new formats and audiences."
When looking for studios to produce these episodes Marvel partnered with companies it had worked with before, or had previously pursued bids and tests with so that it already had familiarity with the varying styles. But what set certain studios apart, and the key factor which got each the job, Lane says, was seeing if they had the ability to execute the unique visual style the team had in mind for each sequence.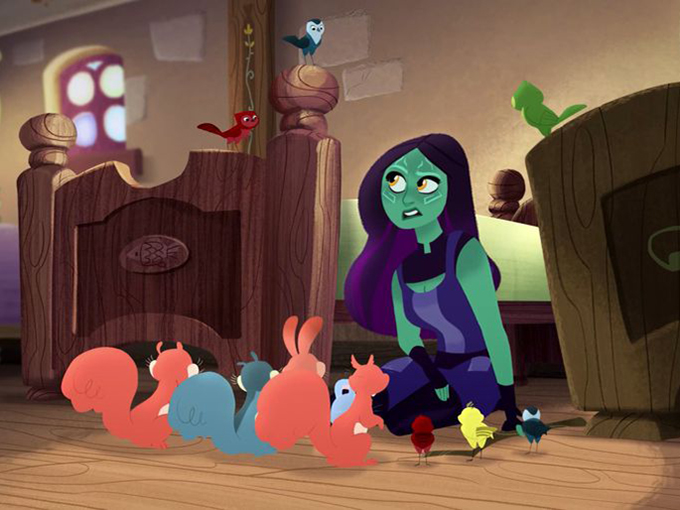 Two back-to-back 22-minute episodes will launch May 5 on DisneyNOW and DisneyXD. Titled "Black Vortex Part One," the first episode sees the alien warrior Gamora wake up in a world that resembles a children's book or fairytale (pictured above) and was created by Ottawa, Canada-based Mercury Filmworks. The studio has experience handling Disney's princess-style since it animates Disney Channel's Tangled series. With vibrant colors and talking animals, the aim was to make it look like if Cinderella was invaded by an green-skinned alien.
Gamora is technically a Disney princess, but everything about her defies the archetype, Lane says. So, as they were developing the episodes, the Marvel team wanted to show her character in a polar opposite setting to play for laughs.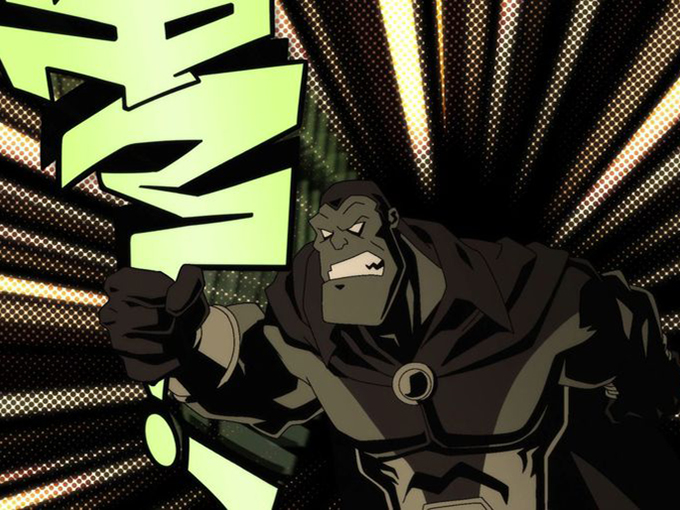 Turning to Marvel's origins for the second part of episode one, Drax (another alien) finds himself trapped in a comic book brought-to-life. Animation uses a traditional 2D hand-drawn style (pictured above), created by South Korean studio 3Papas. The motion-comic rendering is right in the wheelhouse for this studio, which handles 2D-animation on comedy TV series Papadog on South Korean broadcaster CJ ENM's Tooniverse and in the action series Robotex, which airs on South Korea's KBS.
The episode plays with the idea of identity and compares Drax's comic-book origin story to the one in the Marvel Cinematic Universe. "It allowed us to play with a lot of different comic book archetypes, like superhero origins from multiple sources," says Lane.
The second episode kicks off with CG-animation created by LA-based Brain Zoo, as Rocket (a talking raccoon) searches for his best friend (and talking tree) Groot. The episode has a lot of explosions and fighting, which Lane says made Brain Zoo an appropriate choice to handle animation as its portfolio includes work on the Call of Duty video games and Marvel animated feature films Ironman & Captain America: Heroes United, Ironman & Hulk: Heroes United, and the TV series Ultimate Spider-Man Web Warriors.
That episode also features a sequence with Groot, in CG-animation (pictured at the top). The character, who typically can not be understood by the audience, is in a world where he can not understand anyone else. New Zealand-based Mechanic Animation created this style for Marvel, and was an obvious choice since Marvel frequently works with the studio on its TV series Marvel's Spider-Man and Marvel's Avenger's Assemble, and on the Guardians of the Galaxy series.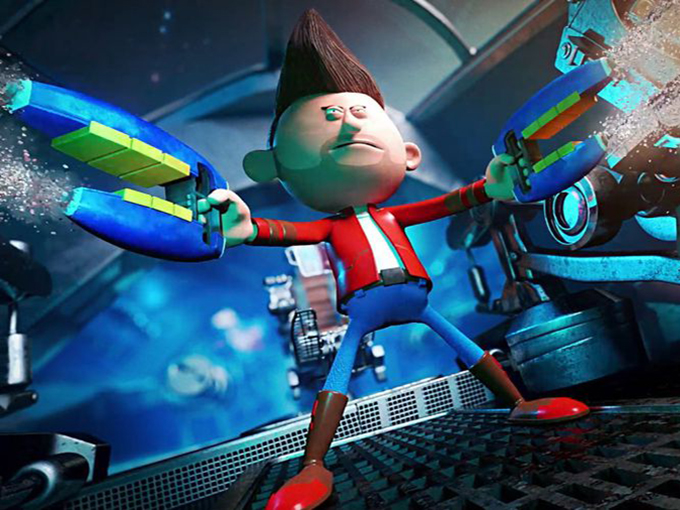 Then the story turns to the human team leader Star-Lord, aka Peter Quill, in a CG-sequence made to look like claymation (pictured above), also created by Brain Zoo. The studio handles animation for Lego Star Wars II: Empire. Its ability to create crazy worlds with characters that look like unusual bricks, or LEGO characters, made them was a fit to design the silly setting for this, according to Lane.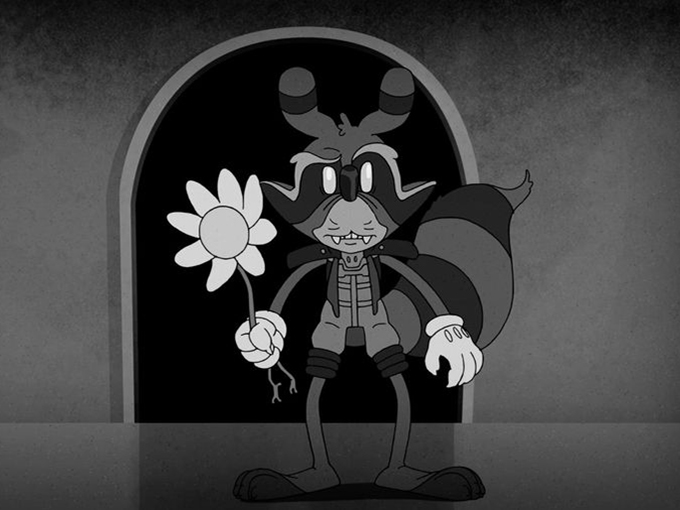 In the later episodes, the characters reunite and the styles shift again. Rocket finds Drax in a black and white 2D-world (pictured above), reminiscent of 1930s films like Disney's own Steamboat Willie. This style was created by South Korean-based SMIP, which is no stranger to the House of Mouse, having animated DisneyXD's TV series Avengers Assemble and Disney Channel EMEA's 101 Dalmations: The Series.
This animations style allowed the Guardians of the Galaxy team to have more physical action than their regular episodes. "There is some pretty intense physical action in this episode, and in this kind of animated world you can really push that envelope," says Lane.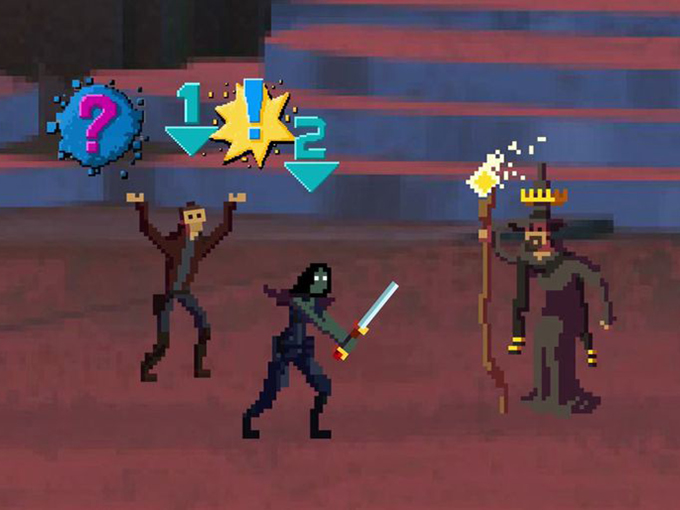 As Star-Lord and Gamora find each other, they get trapped in an eight-bit video game (pictured above), animated by Feitong Cartoons in Shanghai, China, which also did DisneyXD's 2009 TV series Kid Vs. Kat. This is the first time Marvel's animation arm has worked with a Chinese studio, Lane says.
Finally, the characters all reunite in the traditional series style by South Korea's Lotto Animation.
The Marvel team decided what animation styles would work with the stories they wanted to tell, what would let them put the characters in fitting and funny settings, and then they reached out to studios they knew that specialized in that work.
Moving forward, Lane doesn't rule out Marvel doing something like this again, and the door is certainly open to working with other studios on shorts and videos for YouTube in more styles that Marvel hasn't tackled before.