The average person celebrating a birthday can expect a silly hat, a song and (hopefully) some cake. Barbie, though, is anything but average, and that's why she's getting a massive consumer products program on her 60th anniversary this year. And while most 15-year-olds may be mortified to spend their birthdays with their own parents—let alone someone else's—Peppa Pig is inviting families from around the world to celebrate with her in a series of live performances and events. Sesame, meanwhile, is throwing a shindig big enough for the entire neighborhood in celebration of its 50th anniversary (talk about a Street party).
Birthdays are much more than just a chance for a sugar fix. They can be an opportunity for brands to build engagement, drive revenue, reflect on the past and even map out the future.
For kids (and kids at heart)
SpongeBob SquarePants occupies a unique position in the kids space, and that's not even taking into account the fact that he lives in a pineapple under the sea. He's just as popular with the adults who grew up watching the animated series as he is with kids today. To tap into that dual love, Nickelodeon is commemorating 20 years of SpongeBob with a big splash on screen and in stores, designed to appeal equally to both audiences.
The year-long celebration will be bookended by new content, beginning with the premiere of mixed live-action and animated special SpongeBob's Big Birthday Blowout in July and ending with the launch of feature film The SpongeBob Movie: It's a +Wonderful Sponge in summer 2020.
Nick's master toy partner Alpha Toy Group will bow kid-focused products from its new range throughout the year, including toys, collectibles, plush, novelties and playthings that incorporate Nickelodeon's famous slime.
SpongeBob's popularity with the older crowd has not waned in recent years, thanks to social memes and the popularity of gifs from the series. For these big-kids-at-heart, Alpha is launching vinyl figures designed to cater to fans familiar with SpongeBob's online popularity, with figures inspired by viral moments like Mocking SpongeBob or Surprised Patrick. Another adult-focused agreement will see fashion designer Cynthia Rowley launch a SpongeBob-themed wetsuit.
"When we're talking to kids, obviously they're most connected to SpongeBob through the content. So the special is all about
SpongeBob's birthday and that will be a great moment for the core consumer on the platform," says Charlotte Castillo, SVP of global franchise planning for Viacom Nickelodeon consumer products.
"For kids, a collaboration with Cynthia Rowley is not as relevant, but we'll do some social and short-form [content] around SpongeBob underwater, and that is relevant for them," she adds. "It's about balance, and managing both messages throughout all the activations to make sure everything will impact both [kids and adult fans]."
Nickelodeon also sees anniversaries as a prime time to differentiate at retail, whether it's something as simple as in-store signage and anniversary imagery on packaging, or a more complex full rebrand for shorter timeline categories (picture an entire apparel range inspired by SpongeBob's birthday). Retailers are always looking for something new to pull in kids and their families, especially when a franchise has been around for 20 years and become an accepted, expected figure on retail shelves, says Castillo.
"From a retailer's perspective, they can galvanize around an anniversary and that makes these milestone moments really important for an evergreen property like SpongeBob," she says. "That's our philosophy around launching and marketing and continuing to reinvigorate our properties."
You're invited
While Nickelodeon is taking advantage of SpongeBob's anniversary to refresh the evergreen brand at retail, Entertainment One is using Peppa Pig's birthday to solidify a top spot in the world of live and location-based entertainment.
The Peppa Pig brand is nearly old enough to get a driver's license, but is still considered relatively new compared to the likes of Barbie or Sesame Street. In an effort to build Peppa's legacy with caregivers and collaborators alike, eOne's anniversary festivities are focused largely on live and location-based events.
"Fifteen years is still young compared to some brands, but it's an incredibly long time in today's crowded market," says Rebecca Harvey, EVP of global brands and marketing for eOne. "The anniversary helps us open new doors and allows us to enhance our live-events program with lots of focus around family celebrations."
Location-based brand extensions, like pop-up shops and stage shows, continue to dominate children's entertainment as more families—and Millennial parents, especially—seek experiences over products. Peppa Pig is capitalizing on that trend by taking to both screen and stage with Peppa Pig: Festival of Fun and Peppa Pig: My First Concert. The former is an hour-long special rolling out in theaters this month, featuring 10 new episodes (including a two-part special) with new characters and locations.
The latter, meanwhile, is a musical stage show introducing preschoolers to live performances.
The animated series first launched in the UK and Australia in 2004, and because Peppa is a preschool brand, Entertainment One is focusing exclusively on caregivers when it comes to these anniversary events.
"For the kids, it's less about communicating the 15-year anniversary celebration, because they don't understand that," says Harvey. "When we look at our relationship with the children, it's just about giving them experiences they will love and remember. It's about creating those key childhood memory moments."
eOne's focus on splashy live and location-based brand extensions is designed to entice collaborators as much as caregivers, with the company putting on a show for potential partners in an effort to continue to grow the brand into new categories.
In July, for example, eOne will partner with British heritage brand Hunter for a limited-edition collection of footwear and accessories for children. According to Harvey, the anniversary gave eOne a reason to discuss a collaboration with Hunter, and Peppa's 15th birthday is expected to create further opportunities to forge new agreements and ensure continued growth.
The gift that keeps giving
Shifting the spotlight away from the stage and onto the toy aisle, Mattel's birthday celebrations for Barbie are focused on the future as much as the past.
Barbie's diamond anniversary was especially important to Mattel as the toyco makes moves to introduce more diversity into the doll line and solidify Barbie's trajectory for the next several years. Much of Barbie's birthday celebrations will strike a balance between the brand's history and upcoming brand strategy in an effort to acknowledge the doll's history as a trailblazer while simultaneously building the foundation for her next era as an empowerment figure, says Lisa McKnight, SVP and GM of the global Barbie brand.
For example, Mattel's 60th-anniversary doll collection launched in January and features six careers that have long been a part of the Barbie world—astronaut, pilot, athlete, journalist, politician and firefighter—but continue to be underrepresented by women in real life.
The range showcases Barbie's long history of encouraging girls to "be anything," and in March, Mattel kicked off the months-long Be Anything tour that will stop at 36 participating Walmart locations across the US. Each event will include interactive experiences—like uniforms girls can try on to roleplay different careers—and a chance to win up to US$20,000 to help fund education.
At the same time, Mattel is focusing on how Barbie can better represent girls moving forward, introducing new dolls featuring physical disabilities. The offerings include a Barbie with a prosthetic limb, as well as a wheelchair that comes equipped with a Dreamhouse-compatible ramp.
McKnight adds that Mattel wants the brand to be a source of inspiration and empowerment through its content for kids. New vlogs starring an animated version of Barbie launched on YouTube in March to drive the message of "finding your voice."
Barbie Vlogger also acted as a guest editor on YouTube Kids for the month of March, creating a playlist of inspiring videos.
"We're really focused on continuing to evolve the brand and make sure Barbie is reflective of the world around girls," McKnight says. "In an industry where toy brands have an average life cycle of three to five years, we're proud of Barbie's ability to connect with culture and stand the test of time."
Take it to the streets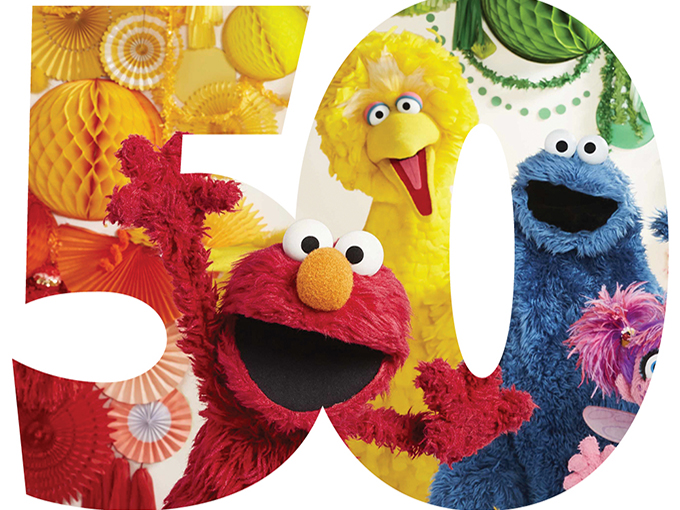 How do you get to Sesame Street, you ask? Actually, it's coming to you.
Sesame Workshop is commemorating 50 years of Big Bird, Oscar and Elmo with a number of anniversary-specific efforts. Upcoming content includes a local version of Sesame Street created for displaced Syrian families in Jordan, Lebanon, Iraq and Syria, as well as a new season focused on empowering kids to take safe risks and learn from their mistakes. Sesame is also rolling out a number of events, including a road trip that will see fan favorites from Sesame Street host community events across the US. New consumer products—spanning multiple categories with partners like Puma, Uniqlo and TOMS—will also hit shelves in time for the celebrations.
Additionally, Sesame Workshop will release new research later this year examining issues affecting kids and families (with a focus on the US).
"The anniversary is about reinforcing what we stand for," says Steve Youngwood, Sesame Workshop's COO and president of media and education. "The upcoming research will not only inform the work we do, but because we're sharing it, hopefully it will also inform the rest of the industry."
While most brand owners see anniversary celebrations as an opportunity to increase engagement and drive revenue, Youngwood says Sesame Workshop's nonprofit status puts it in a unique position. The 50th birthday is without a doubt a time to generate engagement, he says, but with a focus on elevating the company's mission and furthering Sesame Street's impact.
 Making magic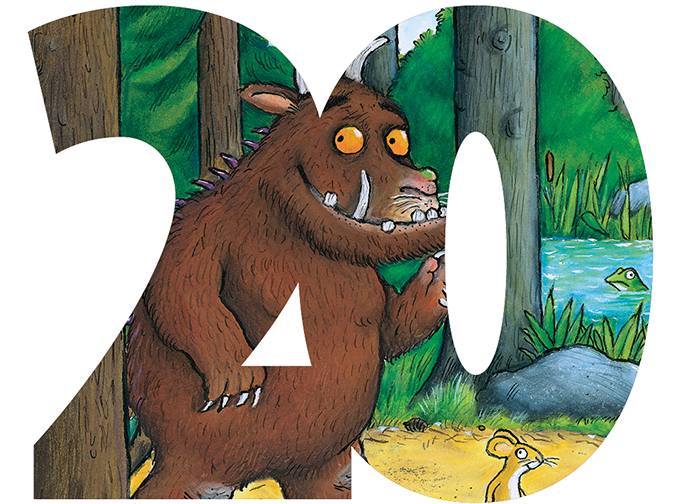 London-based indie prodco Magic Light Pictures is casting a spell with anniversary celebrations for The Gruffalo. First published in 1999, The Gruffalo was written by Julia Donaldson and illustrated by Axel Scheffler. The brand has since grown to encompass books, films and consumer products.
"We identified The Gruffalo as something unique, something we could develop into a classic property," says Daryl Shute, brand director for Magic Light Pictures.
An anniversary edition of the book from Macmillan Children's Books was released in honor of the brand's 20th birthday, along with a new branded attraction at Chessington World of Adventures in the UK and anniversary plush from Aurora.
"There are a lot of anniversaries this year, and it's a busy space out there. It's difficult to compete," Shute says. "The important thing is that the products need to feel special and different. We haven't taken the products we make every day and slapped an anniversary logo on it, only for them to go back to what they looked like before in a year's time. We've created products that are new, and a genuine celebration of the anniversary."
Most significant, Shute says, is the focus on events. By creating experiences that lead to memories, Magic Light Pictures hopes to turn this year's celebrations into long-term engagement as the company sets its sights on all of the anniversaries to come.