By: Mara Singer
Moms and dads as besties
Parents today have closer relationships with their kids than ever, and the family hierarchy is tangibly more egalitarian than it was for previous generations.
In many ways, kids and parents are more like friends in 2019—with shared styles, likes and dislikes, media preferences and even friendship circles.
Tracking data on parenting styles supports this new truth. Parents reported their everyday parenting styles have become increasingly more peer-like and less authoritarian (and that's just in the last eight years).
This close connection between parent and child is also seen in brand affinity data. On a consumer front, kids are, effectively, carbon copies of their parents.
This tight correlation in brand perceptions (and use) is not surprising, given the fact that the lines between kid and adult content blurred many years ago. Kids and their parents consume (and love) Netflix, YouTube and Instagram. They both see (and love) the same commercials for Geico, Under Armour and Google Home. And they both like to visit Target, GameStop and even Amazon. (According to our Brand Love data, 68% of kids ages six to 12 say they currently use Amazon. While they aren't necessarily making purchases, they are interacting with the brand.)
New parenting terrain
These shared interests and experiences have helped parents forge stronger peer-like connections with their children, but parenting in 2019 isn't just about being besties. Moms and dads still struggle with classic challenges—many of which have become even more daunting in the digital age. As kids wade through uncharted waters in the changing world around them, parents, too, have to learn how to navigate the new realities of raising children today.
Moms and dads are dealing with the push and pull of how to keep their kids safe without being overbearing; how to keep their kids abreast of disturbing events without compromising a sense of security; and how to keep their kids mentally and physically healthy in a world that doesn't always support these childhood fundamentals.
The complex role of guiding Gen Z through life is putting parents to the test as they traverse new terrain while seeking to raise happy, respectful, well-rounded kids.
Truth be told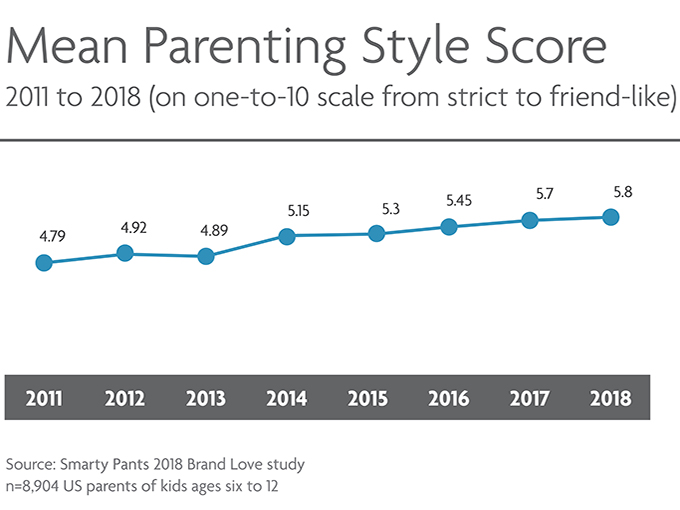 Social media, YouTube, Google and smart speakers are at the beck and call of even the youngest kids, giving them greater access to sensitive topics that were once for adults' ears only. The news, teacher conversations and advertising have created an environment where shielding kids from mature content has become virtually impossible.
As their perceived "besties," this new reality forces parents to have more open, honest and transparent conversations with their children—even before little ones are able to fully understand the implications of these issues.
Parents are dealing with weighty problems they themselves likely never faced as children, from standardized (over-) testing and screen addiction to even more dangerous concerns like bullying, online safety, school shootings and gun violence. Today's kids are exposed to political, policy and social change, as issues of cultural sensitivity, international hostility and even cannabis legalization begin to dominate conversations.
Digital support team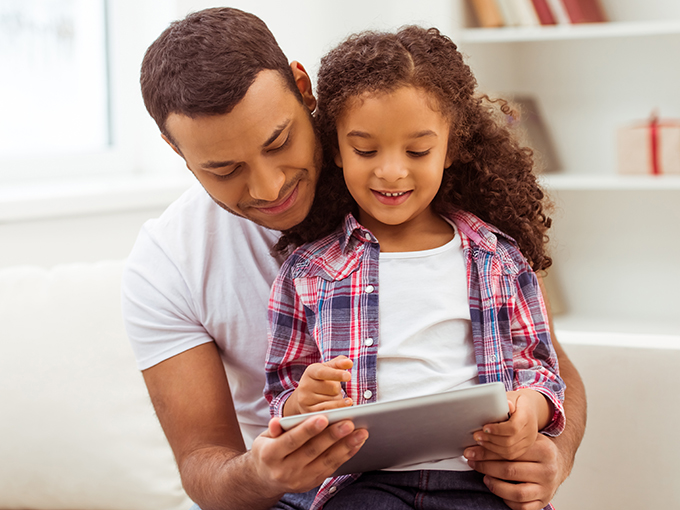 Balancing honesty and teachable moments, all while safe-guarding childhood for elementary- and middle-school kids is a core challenge for contemporary parents. As a generation of Millennial (and Gen X) adults try to make sure "the kids are alright," they are seeking resources, strategies and support for doing so effectively.
With so many kids armed with their own tablets and smartphones, many of the tools parents use come in the form of digital apps and services that promise to support kids' digital wellness and minimize family conflicts.
There are many apps that let parents manage their kids' digital lives. Kidslox, for example, allows parents to create daily screen time limits, set "lockdown" schedules for homework or bedtime, and block certain apps from being used. Similarly, Qustodio provides activity reports on what kids are doing on their devices, monitors calls and texts, tracks kids' location and lets parents block inappropriate content with web filters.
For parents who want even more insight into their kids' digital interactions, Bark monitors the content in text messages, YouTube, emails and social networks for potential safety concerns. Parents get alerts via email and text when Bark's algorithms detect potential risks. Once alerted, the app also provides parents with recommendations on how to talk to their kids about digital dangers and sensitive online issues. And there are countless apps that allow parents to keep tabs on their kids' whereabouts when they're not at home.
While these new tools may bring peace of mind to some parents, they aren't without concerns. This rise in hyper-monitoring could lead to a threatened sense of autonomy among children, a rise in issues of trust between parents and kids, and inappropriate data being shared with companies.
And every innovation brings inherent challenges. As moms and dads grapple with these issues, they are also seeking support and guidance in new ways. Parents are (ironically) turning to Facebook groups for guidance on how to help kids "unplug," reading peer reviews and journals for digital wellness advice from experts, and taking pledges for causes like Wait Until 8th, which encourages parents to delay giving children a phone until the eighth grade. These efforts will continue to grow as new concerns arise with the changing world.
One big happy family
For parents, the goal is and always has been simple—a happy, safe family with great parent-child relationships. But achieving this goal, while balancing the roles of peer and protector, will continue to be one of parents' biggest challenges.
As 2019 unfolds, brands of all kinds should look for opportunities to help out, speak up, lend a hand, and provide simple joys to families that are desperately trying to figure it all out.
Mara Singer is an insights brainiac at Smarty Pants, a youth and family research and consulting firm. For more information, contact Meredith Franck at 914-939-1897 or visit asksmartypants.com. BRAND LOVE is an annual brand equity tracking study conducted online among a representative sample of US households with children ages six to 12. In 2018, 8,904 children and their parents evaluated 379 consumer brands across 19 categories as part of the two-month study.