Casual gaming is on the rise, thanks in no small part to the boom in kids tablet adoption. According to Kids Insights US data, more than two-thirds of four- to six-year-olds own a tablet, and 56% of 11-year-olds have their own cellphones.
Today's gaming industry has gained widespread success, with global spending on content and services now worth approximately US$130 billion, according to London-based firm IHS Markit.
But if there's one cohort that's remained relatively untapped, it's the girl gamer.
High barriers of entry (expensive consoles, limited content choice, an industry geared toward boys) may have once kept young girls from the space, but mobile and shifting gender stereotypes have helped pave a new path for female players.
And developers and gaming companies should ignore these young ladies at their own peril.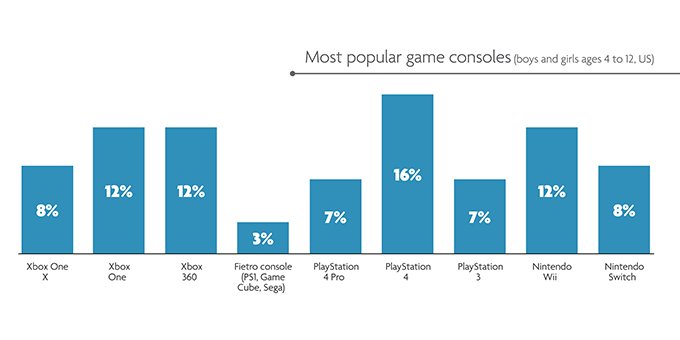 More than a hobby
In the last year, Kids Insights' UK reports have found that gaming is firmly established as one of the top-10 hobbies of UK girls ages four to 18, and it recently rose to eighth place, overtaking shopping and singing.
The number of young ladies who game is also on the rise. In the UK, only 15% of girls ages four to 18 do not play regularly, down nearly 50% over Q4 2017. And while girls are more likely to own tablets and smartphones than a console, their top choice activity on these devices is gaming (54%), ahead of watching clips or even social media.
That's not to say these young women aren't adopting console gaming. More than 41% of tween girls own a console in the US.
Though girls typically favor mobile platforms for casual gaming and aren't early adopters of the more expensive units, research shows that legacy consoles are important for the young girl gamer.
The Nintendo Wii—first released in 2006—is still the most popular version, with 14% of girls ages four to 18 in the US owning one, more than double the 6% who own the more recent Switch iteration. But this is in line with our research, which shows that older consoles in general are popular with girls, 11% of whom own an Xbox 360 compared to 9% who have the more recent Xbox One.
Let's play
Overall, Nintendo controls just under a third of the market share of girls' consoles, compared to 20% market share in the boys category. With some of girls' favorite games being Minecraft, Super Mario, Just Dance and Pokémon, it's clear they gravitate toward more fun, social gaming content, which Nintendo can provide.
Interestingly, Fortnite is the fifth favorite game for girls in the US. It is currently the only combat game that appears in the top 10 for girls (as well as for boys), likely because its lack of gore and fun gameplay, as well as its playability on mobile, appeals to the more casual gamers.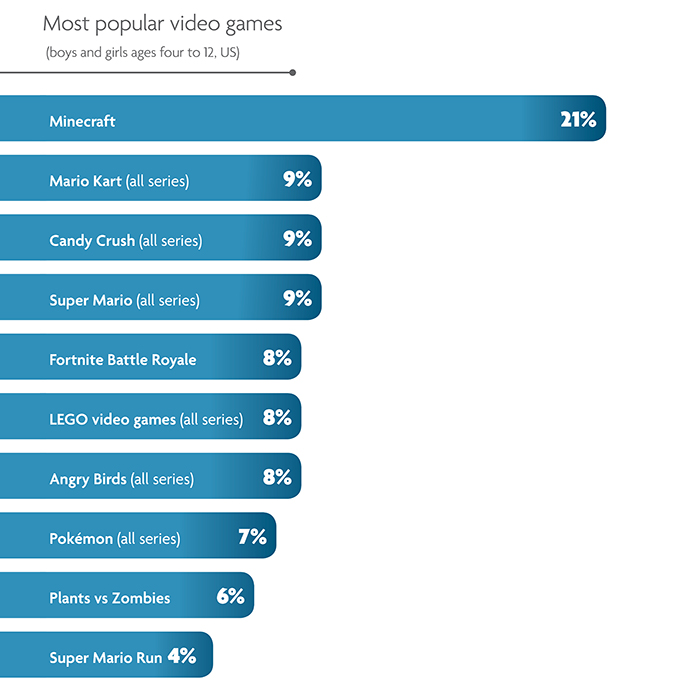 Gender balanced
With gaming's growing popularity among girls, comes a boom in female role models and influencers on social media platforms.
For example, while UK and US data shows that Minecraft YouTuber DanTDM is one of the more favored YouTubers among girls, the introduction of "girl power" to the gaming market has seen the arrival of female players like InquistorMaster—a Roblox YouTuber who has entered tween girls' top-10 list of favorite YouTubers for the first time.
As video gaming rapidly migrates from a console to an in-browser and in-app experience, we believe there's a significant opportunity for developers to create content and titles for this audience. Although the number of girl gamers is expanding, there are still only a small number of female characters represented in games. There is a clear opportunity to develop content that includes inspirational female characters and role models in an industry that is typically dominated by male characters.
Creating new titles, characters and content also opens vast new opportunities to develop licensing properties, an area the video gaming industry is actively pursuing, with movies based on Sonic, Pikachu and Super Mario all on the way.
And with 1% of young ladies ages four to 12 in the UK showing interest in game design (up from 0.4% in early 2018), we believe these latest trends will have a far longer-term impact than just the games industry.
Nick Richardson is CEO of UK-based market intelligence company The Insights People. Every week, the company's Kids Insights resource surveys 400 kids ages four to 18 in the UK and US (more than 20,000 per year). For sample reports and a free trial of the company's online portal, visit www.kidsinsights.co.uk/kidscreen