On Sunday, the fourth and final season of Emmy Award-winning animated series Star vs. The Forces of Evil from creator and executive producer Daron Nefcy will premiere on Disney Channel and Disney XD with two back-to-back episodes. New eps from the season will then air on Sundays this spring on Disney Channel.
The series will conclude the multi-universe adventures of the titular teen princess, who is sent to Earth by her royal parents to live with a new family after receiving an all-powerful magic wand for her 14th birthday.
Since season one debuted in 2015, Star vs. The Forces of Evil has delivered top ratings for the House of Mouse, thanks largely to rabid fan support for the IP across social media and sites like Deviant Art. Hardcover books, including Star vs. The Forces of Evil: Star and Marco's Guide to Mastering Every Dimension and Star vs. the Forces of Evil: The Magic Book of Spells by Nefcy and Disney Press, as well as online games Creature Capture and Star vs. The Dungeon of Evil have also helped drive the series' popularity.
Nefcy spoke with Kidscreen on what it means to conclude a popular series, the impact of writing a strong female lead and the value of fan relationships.
Kidscreen: What inspired you to make Star?
Daron Nefcy: I always loved animation and wanted to create a television show since I was a little girl. It's been my focus and goal since the fourth grade. I wanted to create a show that would feel special and stick with kids until adulthood. You remember the shows that you love as a kid forever; they will influence you and your world view. I take that responsibility with great importance. Star has everything in it that I wanted to see in American cartoons, but didn't have as a kid: A strong female lead who makes mistakes, comedy that also has real human emotions and characters that feel real in a world full of magic.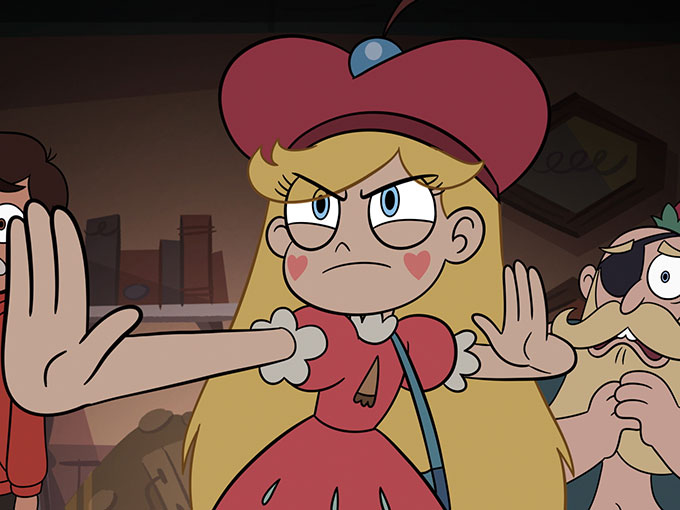 KS: The stories in the series are progressively more sophisticated and inclusive, ranging from feminist messaging, to Disney's first on-screen gay kiss. What are you most proud of looking back at the arcs?
DN: I'm the proudest when fans of the show tell me they have made friends through a shared love of the series. I remember making friends through a shared love of Sailor Moon, and I'm happy I can pay that forward.
KS: What's your take on gender equality in the kids biz right now? 
DN:  I think there is much more opportunity for women, and also female-led shows. When I started pitching Star in 2007, no one wanted to make a show with a female lead character.  But when I brought it to Disney in 2011, they were excited to create a female-led show. Now I look around, and every network is making many shows with female lead characters and I believe that Star helped influence that. The series helped prove that just because a show has a female main character, it doesn't mean boys won't watch it. I think people will watch what's good; gender isn't important, especially to today's kids.
KS: What's next for you? 
DN: I'm leaving my options open for now.
KS: What did it mean to be part of such a fan-driven show?
DN: This is a new world for showrunners. As a kid, I would see names on opening and end credits, but I would know nothing about that person. Now any fan can easily look up just about anyone on the show as long as they have social media, and most of them do. It's a new world I think everyone is still learning to navigate. It's been wonderful to get instant feedback on episodes; you can see in real time what is working for people. It takes all the theory away from wondering if something is going to work.
KS: Will you and Disney continue to leverage the fan relationship for Star in any new ways now that the series is ending?
DN: I certainly will, and I really hope Disney does, too. I would love to do more with Star. It would be so fun to do a movie or another book. One of my biggest hopes is that the show will one day get toys and products and be like The Nightmare Before Christmas—something that continues to grow in popularity as new generations of kids find it.