The road to making a hit is littered with failed attempts at adapting popular video games for screen. Lest we forget 1993's Super Mario Bros. which earned a measly US$20 million at the domestic box office and never went global, according to Box Office Mojo. Or more recently the 2018 film Tomb Raider, which reached just 51% on Rotten Tomatoes, and only earned US$58 million domestically on a US$94 million production budget. Or even 2016's big screen debut of Ubisoft's mega-successful game Assassin's Creed that earned only a 36 Metacritic score and opened fifth at the box office, bringing in just US$10.2 million on its opening weekend.
The TV world has had a bit more success with recent hits like Netflix's Skylanders Academy or DHX's rebooted version of Mega Man. But it remains a difficult task to adapt a property where the user is actively involved in a game's narrative. How do you convince people to simply sit back and passively enjoy it?
Premiering on March 8, Amazon Prime Video's newest kids show Costume Quest, produced by Amazon Studios, LA-headquartered Frederator, Wellsville Productions and Double Fine Productions, is making a play at this difficult process by adapting an IP based on a video game and comic book, of the same name, into 13 animated half-hour-episodes.
"We really made a sincere effort to bring the best of what serialized TV has to offer and just place it inside the world of the video game, as opposed to some that are less successful that try to reproduce [a video game] exactly," says Bryan Caselli, the co-executive producer on Costume Quest.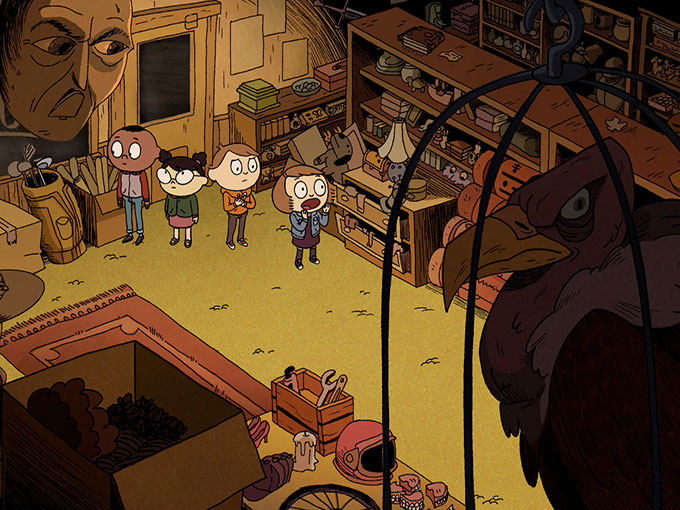 The action-adventure show, with just a touch of magic and a sprinkling of comedy, follows a squad of kids in the month leading up to Halloween as they try to thwart a gang of monsters trying to steal the town's nougat supply (the town is the largest provider of nougat to the world, naturally), all culminating in an epic final showdown. Aimed at ages six to 11, the first six episodes premiere on Friday, and the other seven will follow, appropriately, in October.
The source material, is first and foremost a role-playing video game developed by Double Fine Productions and published by California's THQ, released in 2010. The game itself takes place on Halloween only, and players have to rescue a kidnapped sibling and be home by curfew, all while in costume.
Caselli acknowledges the changes to the story may result in some die-hard fans upset with the changes, but he reasons that those fans are the reason video game adaptations don't turn out to be that great anyways.
"As a writer, [those fans] can really put you into a box because you're just trying to reproduce something that existed exactly as it is just in another medium," says Caselli. "I don't think that's a great way to go about it. I think the best way is to look at your medium, see what it has to offer that is unique, and just try to adapt what's great about the game into something new on its own."
The writers tried to improve upon a few key concepts. For example, the original Costume Quest played in an open-format world and was more exploratory in nature. However for the show, the writers went a different route and created a specific voice that was emotional and filled with coming-of-age stories. Also in the game, the monsters hunted for any candy they could get their hands on, so the writers got more specific and created a whole town focused on the nougat industry that the monsters were after because they wanted to create more specificity for the world of the show. Despite all of the changes, Caselli says the team kept the four main and a number of incidental characters from the game.
However, the show has even more source material to contend with in the form of a comic book. Released in 2014 Costume Quest: Invasion of the Candy Snatchers is written by Zac Gorman to promote the second iteration of the video game. To incorporate his point of view, Gorman is on board the series as a staff writer.
The main inspiration the producers took from the comic though, was the visual style. All of the backgrounds have a hand-inked indie comic sensibility and a washed paint look on top of that. Caselli says in development, the team decided they wanted a creepy quality for the 'toon, which was brought to life by paper and hand-drawn animation.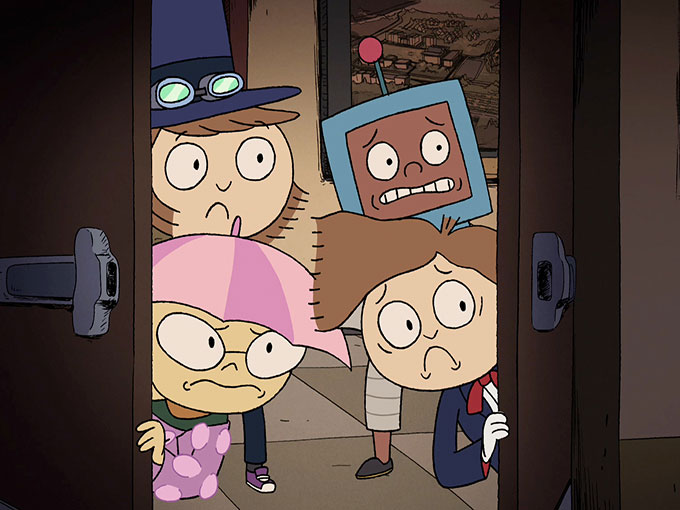 For his part, Caselli came on board the show via Will McRobb (The Adventures of Pete & Pete), who was pitched the idea while he was at Amazon Studios as a writer/producer. Both had previously worked together at Nickelodeon on Sanjay and Craig.
McRobb and Caselli aren't splitting up just yet either, since the show is being produced by Frederator, it is part of the Frederator online network, which includes several YouTube channels. McRobb says he sees lots of potential in working with the net to develop additional content, behind the scenes and extra footage that will all go up online.
But before any talk of what ifs, the threw a string of lights over their Halloween-decorated-office and are starting work on a Christmas special set to will drop on Amazon this December. They were tight-lipped about how they're adapting the Halloween world for another holiday, saying people will just have to tune in.