When you say "TikTok," anyone over the age of 20 may assume you're referring to the sound a clock makes or maybe Kesha's 2010 hit song. If they're a bit more digital-savvy, their mind might jump to an image of a polished tween lip-syncing to a popular tune on the TikTok app. Sound strange? The app is so much weirder than most adults can imagine.
If you opened the TikTok app right now, you may be greeted by someone filming their hands from above doing simple tasks, while the opening notes of "You Make My Dreams" by Hall & Oates plays in the background, only for the shot to pan up and reveal the filmmaker had the phone in their mouth the whole time.
Technically, TikTok is a lip-syncing app, built to allow users to grab a clip of their favorite song or dialogue from a TV show or movie, and show off their own interpretation of that audio. In practice, however, the app has become a series of viral jokes and has taken on a life of its own.
For example, the biggest song on TikTok at the time of writing is "Cheryl" by Soundcloud rapper Yung Gravy, not current pop chart-topper "Thank U, Next" by Ariana Grande. Yung Gravy's lyrics include, "Juice, sauce, a little bit of dressing, ice, wrist, a little bit of flexing," which has led to many interpretations featuring kids dumping juice, then BBQ sauce, then salad dressing on their heads.
TikTok exploded in popularity over the past year, especially with kids and tweens. In late 2017, Chinese company Bytedance acquired Shanghai-based Musical.ly for reportedly almost US$1 billion. In August, it rolled the app into its own (TikTok) and relaunched both. According to Apptopia, between August and October 2018, TikTok's downloads increased 20% worldwide and 25% in the US (compared with the previous three-month period). Not only that, but in October the social media platform overtook YouTube, Instagram, Snapchat and Facebook in a ranking of US downloads from Apple's App Store and Google Play.
The app has been downloaded more than six million times in the US as of November, generating more than US$1 million in revenue in just one month, according to a report from mobile analyst group SensorTower. It has now reached 500 million global monthly active users, according to South Morning China Post. The crazy popularity of TikTok, and the crazier antics of the kids on it, have somehow combined to create the perfect new platform for kids brands to reach their audience. With an incredibly young demo that's not really anywhere else online yet (except maybe YouTube), where else are brands supposed to engage these kids?

"I think TikTok has an audience that's ignored by a lot of brands. They are still posting on Facebook—but kids aren't on Facebook," says Alex Tongue, VP of marketing at Stikbot. The toy line was an early adopter of the app. "There are a lot of brands that are stuck in their ways, and they haven't gone out to test the waters and see where kids really are."
While parentco Bytedance remains secretive about the inner workings of the app (and could not be reached for comment for this story), it's apparent to kidtech experts—and any casual scroller—that TikTok skews quite young. Christine Elgersma, the senior apps editor for Common Sense, says she'd peg it around seven to 15 (though she has seen kids who appear to be as young as five, all the way up to people in their 30s).
The app is so popular with this age group that social media giant Facebook launched its own competitor called Lasso in November, to mixed reviews.
With nearly identical features, Lasso lets users overlay popular songs on 15-second clips of lip-syncing, dancing, etc. So far, Facebook's version has failed to make a splash, debuting at number 169 on the US iOS app charts, according to App Annie, and then falling to 217 in the first week.
At the crux of TikTok's stellar popularity is its ingrained understanding of how kids today engage with social media.
"TikTok has some features that are really enticing for kids, like new options for how to edit your videos and add filters and different effects," says Elgersma. "There's also a fairly simple element of self-expression that's really enticing to kids."
Johanna Faigelman, CEO of Toronto-based market research consultancy Human Branding, says the app's recent popularity goes beyond just exciting features—it gets to the heart of what is driving trend adoption for the youngest generations across the web.
"To [Gen Z], really quick consumable pieces of content are super-attractive because this is the first true digital generation," says Faigelman. "Both consuming information and communicating about themselves through social media and through bite-sized forms of social media is an extension of how they communicate as people. The fact that TikTok fits into that particular sphere is naturally attractive."
Faigelman has faith in TikTok's staying power because it has all the elements of success for today's kids, including self-creation, reinvention, leveraging popular celebrities (both their cues and culture through their songs), the ability to customize and filter videos, and interaction with friends, either in the same room or virtually.
"It's a very 'of the moment' app that allows for a lot of creativity and consumption to happen at the same time," says Faigelman. "You're creating as you consume and then creating other things for other people to consume in your network, and then you're building and building on that."
Since TikTok absorbed Musical.ly, not all of its growth has happened organically. Bytedance spent a significant amount on ads across other social media platforms to draw users and celebrities in, and there are now mainstream names like Cardi B, Jimmy Fallon and Awkwafina on board, not to mention brands like Nickelodeon and Tarte Cosmetics. And of course there are kids who became stars on TikTok itself, including Lisa and Lena Mantler (32.2 million followers), Loren Gray (29.2 million), Baby Ariel (29.2 million) and Cameron Dallas (17.9 million).
"What's so exciting about TikTok is the notion that I can become the celebrity," says Faigelman. "I can accessibly create my own content using the voice in a famous song that I'm listening to right now, and then actually create my own version of that."
But even as the app gains momentum with a mainstream audience, kids brands are often hesitant to join new social platforms. Many are just now getting on YouTube, after the 13-year-old platform has proven itself a game-changer in the industry. (For example, King Features Syndicate—home to characters like Popeye and Betty Boop—recently signed a deal for YouTube with DHX-owned WildBrain to produce what will be the first original Popeye content in more than 10 years.)
Hong Kong-based Zing Toys, the maker of Stikbot, has been on YouTube since 2015 and boasts more than 900,000 subscribers and 300 millions views. But it decided to try its luck on  TikTok's novelty in early 2017 as part of its social media testing strategy.
"We gave our social team the go-ahead to set up an account, create some content and then test it out on the app," says Tongue. "It was just insane. The numbers blew up."
Stickbot has more than 370,000 followers and 5.4 million likes for its posts on the social app. The video driving most of this growth was of a purple Stikbot dancing in a split screen for the #SplitYourBody challenge, where users break up their bodies into two or more split screens that begin together before splintering, with body parts operating independently, with the head doing something different from the torso, for example. Stickbot's video has since racked up 54,300 likes and brought a mass amount of followers to the page.
Tongue noted that it requires a lot less effort to create a 15-second TikTok video than it does to create a 10-minute video for YouTube, and that the social team uses the same studio and employees to create both. (Think of production more like a fleeting Tweet or Instagram, rather than a well-executed YouTube video.)
"The social media team here has a lot of leeway to go and just test something out," says Tongue. "If we see success on it, then we'll invest more."
Tongue recommends that other brands trying to capitalize on the platform don't just use popular songs but check out which sounds are most popular right now and try to incorporate those into their videos. It's often something unexpected, like a kid talk-singing a version of an obscure song.
But brands don't need to go on the platform and try to fit in with the cool kids, Faigelman says. There are other ways companies can engage youth without being obtrusive or, worse, the lame Steve Buscemi-like grownup in the room. ("How do you do, fellow kids?")
"You can give [users] a really interesting filter or something they can play with that's branded and will really add some creativity to the mix," says Faigelman.
Brands that fit in well on the app will be those that show their own creativity, play and style, she adds. She points to Guess's partnership with the platform. In September, the companies launched the #InMyDenim challenge, a promoted hashtag that people used to show off plain, casual outfits that changed in a flashy transformation into a denim ensemble.
"It's a curse to brands and marketers [when] they try to force something that feels really unnatural," says Faigelman. "Don't try to make [users] do something that's completely inauthentic."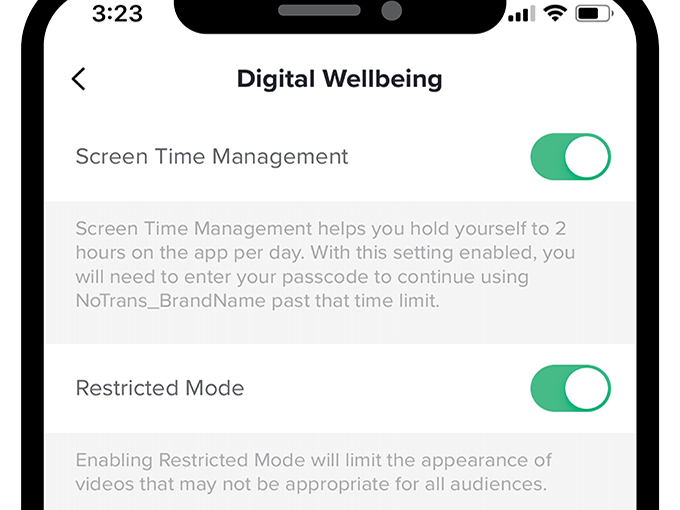 Time to update your settings
Even with all of this growth and excitement for TikTok, it's important to remember that the app does explicitly say it's aimed at kids ages 13 and up—and that comes with some challenges. Advertisers are on the app and, as with most social media marketing, the lines are blurry compared to the time when commercial breaks on TV were the only exposure kids had to ads. Now, it's much harder for young children to distinguish what is an ad and what is not, and that's aside from the fact that TikTok has in-app purchases.
Nonprofit org Common Sense Media deemed the app appropriate for kids 16-plus, though in a survey, parents went with 14-plus, and kids said 12-plus. However, since the rating came out, a few things have changed.
In July, the app gave users the option to set videos to private and added new functionality allowing parents and legal guardians to set a "time lock" limiting how much time kids could spend on the app. TikTok also introduced the option for users to delete their accounts, as well as private messaging features and notification banners for videos deemed inappropriate for younger audiences.
In March, the Federal Trade Commission fined the app-makers a record $US5.7 billion for violating US child privacy laws. The FTC found that Musical.ly knowingly collected information on a wide-swath of under-13s. The company has since banned children and tweens under 13, and announced plans to release a separate app for this audience.
"It is possible that, because they've added parental features, I would take a second look at the age," says Elgersma.
Even though her concerns about advertisers on the platforms haven't been assuaged, Elgersma notes that on the bright side, a thorough search found there really isn't much content she would consider disturbing.
"No matter how much I searched, or how hard I tried to alter hashtags or think like a kid, I could not find any content that was disturbing to me, other than the fact that there are kids lip-syncing to really risqué lyrics, which has been a part of TikTok for a long time," says Elgersma.
This article has been updated to reflect recent FTC decisions.