At last week's seventh-annual Asian Animation Summit in Seoul, South Korea, there was a noticeable shift in the nature of the projects pitched. This year's crop of presenters seemed to be leaning into their local cultures more to resonate with global audiences, rather than trying to retell Western stories.
"I think previously you would see a lot of projects that were overly global, and they tended to almost feel generic because they were missing a local essence that makes a story coming out of Indonesia or a story coming out of Malaysia so unique and incredible," says Aram Yacoubian, director of kids and family international originals at Netflix. "There's been a much better balance this year of capturing that local essence, while incorporating universal themes in stories."
Projects like Millie, Stone & Boone showcase local scenery and animals that are rarely seen in mainstream media, but with stories that all kids can relate to. Produced by Indonesia's Kumata Studio, it stars a civet/tapir/monkey trio as they deliver packages throughout the jungle.
"Indonesia is really coming up," notes Jan Stradling, a commissioning editor at ABC Children's in Australia. "The animation on those projects is looking amazing, but the stories are very strong as well, and quite unique in their look and take on things."
Running from November 28 to 30, AAS 2018 featured 30 of the best new animation concepts for kids from South Korea, Indonesia, Australia, Malaysia, Thailand, China and New Zealand, pitched live over the three days to an audience of buyers and investors. The event is designed to help producers find co-production partners and financing within APAC, and also make connections with international buyers and investors. Roughly 250 delegates attended this year.
Over the past six years, around 50% of projects that have debuted at AAS have eventually gone into production, including Bluey (2017), Bottersnikes & Gumbles (2012), Kuu Kuu Harajuku (2013), Wonderballs (2012) and Balloon Barnyard (2014).
The most popular 2018 project with broadcasters we canvassed was Sea of Love (pictured) from Thailand's The Monk Studios. Aimed at ages three to six, the project consists of 26 x seven-minute episodes and takes a look at preschool life below the ocean's surface, through the adventures of and lessons learned by a group of fishy friends.
Execs from Netflix, Amazon, Nickelodeon, ABC Australia and Super RTL all loved the project and are interested in seeing more.
"Sea of Love stood out," says Aaron Davidson, a development exec from Amazon Studios. "The four leads felt authentic and believable, like real kids on the playground."
"Sea of Love was beautiful—very soft, very gentle, and I loved all of the characters," says Syahrizan Mansor, a VP at Nickelodeon Asia. "It's very nice, and fits into everybody's schedule, but what is it that pops out? I think that needs to be worked on. It needs a special hook, but the characters are all perfect."
Another popular preschool project presented at the event was The Curious World of Linda from host country South Korea's Taktoon Enterprise. With an ambitious plan to start with a 78-episode first season, the studio had the difficult task of hitting the pitching stage first. Broadcasters also had an affinity for Malaysian studio Poggo Animation's charmingly energetic pitch for its first-ever series Poggo Cat! (pictured below), a 52 x five-minute, non-dialogue CGI offering.
"I thought the two girls who pitched Poggo Cat! were incredibly dynamic presenters, and the project has some potential," says Yacoubian. "It could be built out as a longer-form, story-heavy series, but I thought the skin and bones and the voice were there."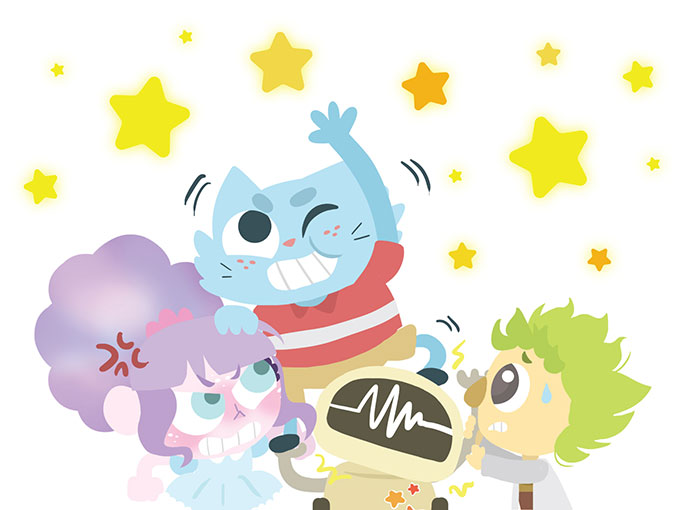 Several execs mentioned that they are a bit limited in their ability to get involved in preschool productions at the moment, so they were at AAS looking for projects aimed at older kids. One pitch that fit the bill was Brisbane-based Like a Photon Creative's 8-Bit Taco (pictured below) for nine- to 13-year-olds.
"I do like 8-Bit Taco—I like that it's very diverse, there's a lot of energy, and it's very vibrant in terms of the characters and style," says Mansor. "One of the things that I ask myself is from a cultural perspective (because it's very Mexican-centric), how would it translate to the rest of the world? That's one of the things we need to look at—how does the humor play out?"
The 26 x 22-minute story tracks the adventures of Juan and his best friend Miguel, who run a taco truck that gets sucked into an inter-dimensional journey to famous video game worlds when a freak accident occurs in their mobile kitchen.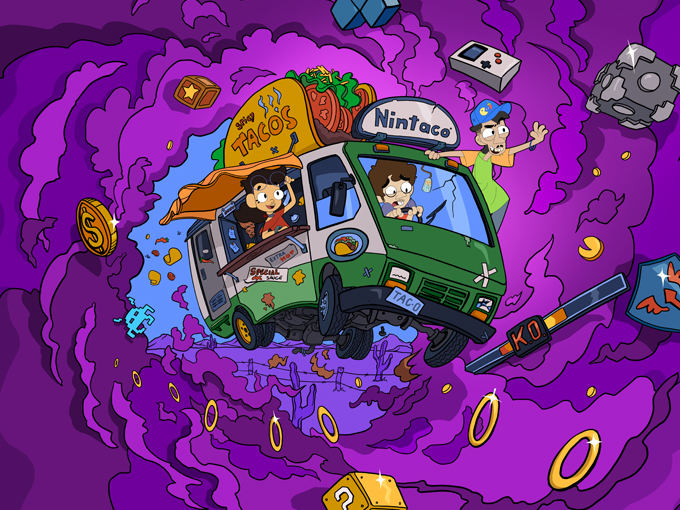 Broadcasters were impressed by the growth and development of the event's project showcase, from both a talent and creative development point of view.
Frank Dietz from Germany's Super RTL pointed out that project quality has come a long way since the last time he attended the event in 2013. "I've seen pitches from four or five producers that have exchange experience with either Canada or the US, so they had an education or some sort of work history with North American studios."
As the talent continues to develop in Asia, so does the demand for locally relevant content that can travel, especially for global platforms. Throughout the event, global content was on everyone's mind, as was diversity. Several pitches emphasized how they were bringing in universal themes that could be relevant for kids all over the world, despite their conceptual details being specific to the regions they hailed from. This specificity gave the shows a hook, and provided a reason for broadcasters to come to Asia to find great content that just can't just be created in Europe or North America.
"I was impressed by the fact that everything gets better and incrementally more exciting each year," says Stradling.
AAS is owned and produced by Kidscreen, and the 2018 event was generously supported by hosting partner KOCCA (Korea); presenting partner BEKRAF (Indonesia); and supporting partners Screen Australia, Create NSW, Screen Queensland (Australia), MDEC (Malaysia), DITP (Thailand), ASIFA China and Wellington Animation Group (New Zealand). More info about the projects presented can be found here.