It would seem that the impending arrival of hit video game Fortnite's seventh season (scheduled to launch around December 7) could set it up to dominate the holidays, but Epic Games is going into the all-important Christmas season with very little licensing or merchandising outside of the game.
Epic Games has licensing representation from IMG and impending releases from Hasbro, Jazwares and Moose Toys, but will that be enough for the 78 million players worldwide and their 2018 Christmas lists?
In a world of content that's available when and where kids want it, it turns out the hottest game of 2018 is strictly scheduled. On a micro level, each game lasts a discrete amount of time. On the macro level, the entire game resets every 10 weeks or so with each new "season" bringing fresh characters, skins, dances, and the need to renew the paid "battle pass" that turbocharges perks for experience points (XP) and leveling up.
Merchandise is especially important for Fortnite now, as the game continues to grow. The most recent Dubit Trends study found 52% of US children ages five to 15 play weekly. Just last month, the game saw its concurrent player record peak at 8.3 million (for comparison, HQ Trivia maxed out earlier this year at 2.4 million simultaneous players and has been in decline since).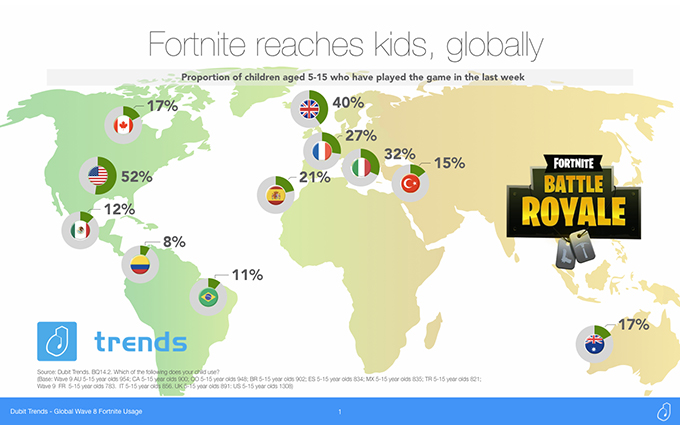 Fortnite is a great example of the trend toward "tech as toy" for kids ages seven and older. The preschool brands that capture the youngest children's loyalty— primarily TV and film characters— fade as they gain autonomy over their content choices and more access to mobile devices, and as their interests begin to diversify. The market fractures, and in Dubit Trends we begin seeing more unique brands mentioned when we ask kids to tell us their current favorite videos, games, books and toys.
What doesn't change is young people's emotional attachment to their favorite things. When they love a story, character or game, they want to represent it—to play it, wear it, read it and act it out. Toy purchases decline in boys over seven but Fortnite, a tech and gaming brand with strong characters and weapons, could be the exception as boys continue to purchase character figures and other collectibles beyond childhood and well into adolescence.
Fortnite boasts over US$1 billion in in-game purchase revenue and Epic Games took in US$1.25 billion in investment last month. Moreover, Fortnite has capitalized on the game's pop culture value with intangibles—Google "floss" and you'll see the iconic dance from the game performed by everyone from toddlers to Ted Danson.
For most brands, supporting growth with smart licensing is a critical component for expansion, if not survival. And it's risky for even a mega-hit to pass up the anticipation around the launch of new content right before the biggest gift-buying time of year.
Timing is key, though. A franchise that seems created solely to sell merchandise may not be trusted; a franchise that waits too long, however, risks missing the critical moment where the "cool" wave crests and begins its decline into "passé." In between, not taking control of L&M risks fans finding knock-off products waiting for them under the Christmas tree.
What will be the effect on players—excited by the new characters, skins and tools of the upcoming seventh season—when they find nothing repping their beloved game this holiday season? With a brand as big as Fortnite, it may not make a difference, but a smaller franchise might "Take the L" in the same situation.