When Travis Braun was 10 years old, his Dad let him choose any stock he wanted to buy one share of—his brother went with Boeing, but Braun picked Disney. And the creator of upcoming Disney Junior animated series T.O.T.S. and Disney Channel limited live-actioner Fast Layne is putting his stock in Disney once more, having signed an overall deal with the House of Mouse earlier this month to create both live-action and animated content for its channels and upcoming streamer.
"Disney gives creators so much control and exposure to all sides of the process, so everything from coming up with the scripts and the story, to what font the titles should be in on the episode, what the promo should say and all of the other things that go into making the show come alive," says Braun. "Nothing is off limits in terms of what that role encompasses."
The overall deal makes a lot of sense for Disney when you consider it in the context of the SVOD space. While we did away with the studio system in 1948 following a Supreme Court ruling, talent is in high demand right now, and the best way to get your talent to create great things for you—and only you—is to sign this kind of deal.
Netflix has fired the first few shots, snapping up Shonda Rhimes in a deal that reportedly makes her the highest-paid showrunner in television, and signing a sweeping US$300-million blockbuster deal with Ryan Murphy. Now J.J. Abrams is reportedly seeking to shatter records with an overall mega-deal to produce, write and direct content, but holding out for a certain number of guaranteed spots in a studio's feature film slate.
If Disney is going to come out ahead in this competitive space, it's going to need to keep signing deals like the one with Braun to keep talent in-house. Braun, for one, feels no qualms about this. He happily self-identifies as a "Disney kid" and says that it's the only place at which he wants to be creating content anyways.
"We really click, and I think having grown up on the brand, my voice just really found a home at Disney because that's the kind of stuff I love writing," says Braun. "I love writing humor with a surprising amount of heart, and that's Disney."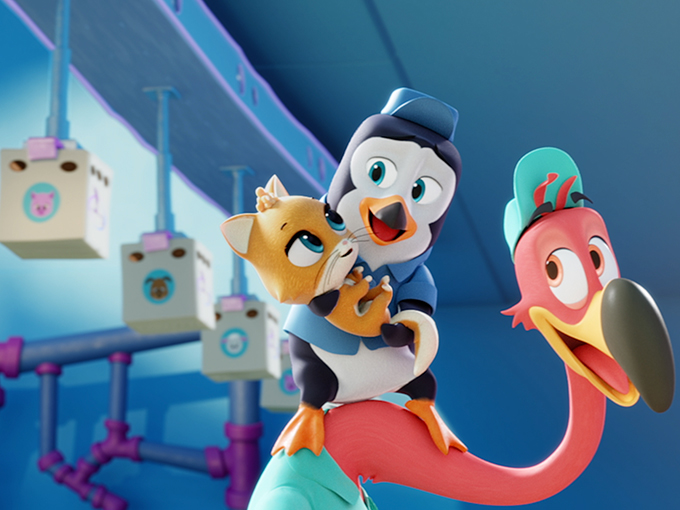 He's had a rather quick assent at the media conglomerate, starting out just four years ago at a general pitch meeting after graduating from Nickelodeon's Writing Program and penning Charlie and Mr. Two for the kidcaster. Two weeks after the meeting, he pitched Disney executives on a series entitled Tiny Ones Transfer Service (T.O.T.S., pictured above) about a penguin and a flamingo who are the only non-stork delivery-birds-in-training at a baby animal nursery. The pitch was accepted, but in the time it took to deliver the series, Nancy Kanter, EVP of content and creative strategy for Disney Channels Worldwide and Disney Junior Worldwide, asked him if he'd like to write for Disney Junior's animated series Vampirina.
"She connected me with Chris Nee, and I got a chance to work on Vampirina and learn a ton—from how she runs her shows, and the Disney shorthand, in general," says Braun. "So that was my MFA in Disney."
Not content to sit around and wait for his show to be finished in development, Braun pitched another series that was a complete gear-switch for him. Eight-episode limited live-action series Fast Layne (pictured below) is about a 12-year-old girl who finds her life turned upside-down when she comes across a sophisticated talking car.
This pitch was also accepted, and suddenly both writers rooms started up, meaning that Braun needed to be in two places at once.
"Disney knew it was going to be a challenge, and the team has been incredibly accommodating to make it all work," Braun shares. "Our writers rooms are within a mile of each other, so I can be in the room for Fast Layne, and then working on a T.O.T.S. story or doing a table read when we break for lunch."
While he was concurrently working on these two series, both of which will premiere in 2019, Braun says he never stopped pitching ideas at Disney—which may be the reason that he has signed this exclusive broad deal.
"I think Nancy [Kanter] is about to start blocking my calls and emails because I'm always picking up the phone and saying, 'Hey I've got another idea for a cool project—what about this?' I just can't shut it off," says Braun. "That hunger and passion is something that Disney has seen, and I think that's why our partnership has been so successful."
Disney and Braun remain tight-lipped about the details of the deal, but it has been confirmed that under its terms, Braun can only create kids and family content for the House of Mouse. However, he's not boxed in to just feeding its linear channels. The deal encompasses any live-action and animated content he wants to create for either Disney's channels or its upcoming streaming service.
Right now, Braun is working on several projects for both platforms, but he has to keep the details under wraps for now as the media conglomerate is being very cagey about what this new streaming service will look like, beyond a few details that were released during its Q4 earnings call this past week.
After a long wait, the media giant has decided on a name for its service—which will be called Disney+. And it has also announced that a new Star Wars live-actioner and a Marvel  series will join Jon Favreau's live-action Star Wars series The Mandalorian, a new High School Musical: The Musical series, a TV adaptation of Pixar's popular movie Monsters Inc., and 12 episodes of returning animated hit Star Wars: The Clone Wars on the platform.
"We've had lots of ongoing talks about that and what makes the most sense for them, and the big question is where their needs intersect with what I'm passionate about working on next. We've found a few places," says Braun.
For now, he's going to keep trucking along—and calling Kanter, unless she's had his calls blocked already—as he gears up for the two premiere dates next year and continues to pitch more ideas. One thing is for sure: We'll be hearing a lot more from Travis Braun.