Disney has rolled out a new mobile game to promote Ralph Breaks the Internet, but instead of putting out an app, Pancake Milkshake is available exclusively through iMessage.
Ahead of the film's release on November 21, Disney has launched a unique activity for users on iOS devices including iPads and iPhones to play by text. The free-to-play game was first shown off in the trailer for the movie, and the House of Mouse has now recreated it in real life.
Once users have downloaded the game in the App Store, they just have to tap the App Store icon next to the text box, and then they will see the Pancake Milkshake icon. Tapping it will open the game and let players give it a try and challenge friends to beat their score.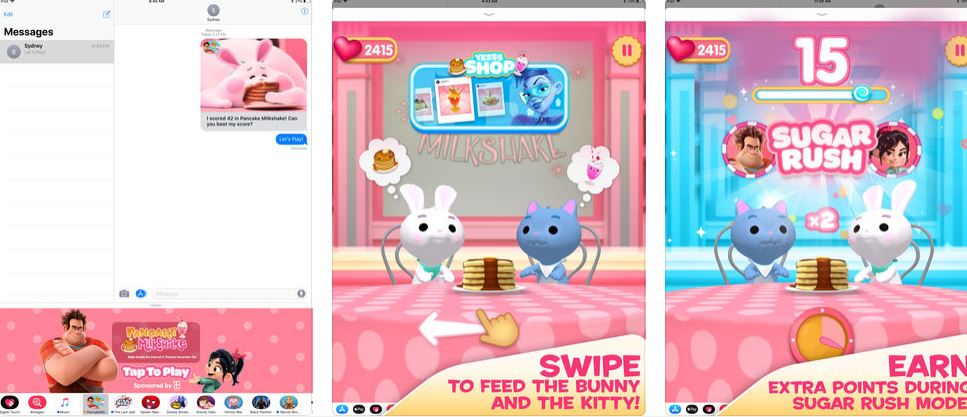 There will also be in-game rewards that tie in with the plot of the movie, such as exploding bunnies and surprise clickbait pop-ups.
True to form, Disney has remained quiet on whether it's planning to roll out more games like this one; however, it did recently partner with social gaming company Zynga on a multi-year deal to develop and publish a new free-to-play Star Wars mobile game.
Pushing the envelope to involve users in mobile games in new ways is more essential than ever, given that console games are continuing to dip in popularity with kids. According to NPD data, the number of two- to 12-year-olds playing games on consoles has dropped by 11% since 2013. By contrast, the mobile gaming market is expected to be worth more than US$115 billion by the end of the year, with apps in this category accounting for more than 80% of all app revenue from the iOS App and Google Play stores in 2017.