D.N.Ace - 6 to 9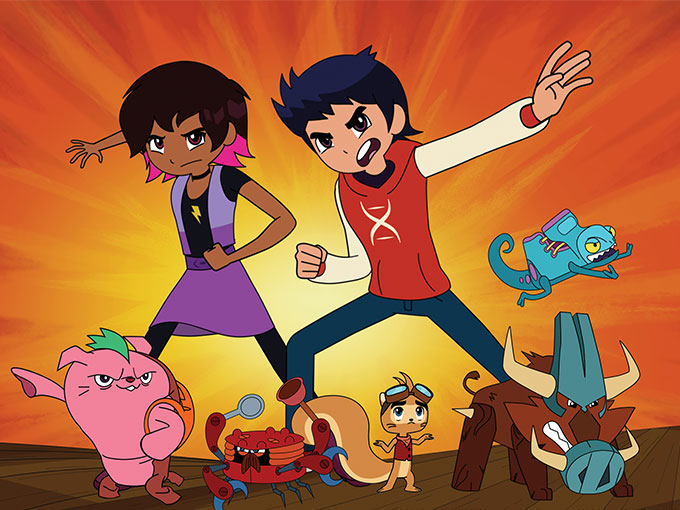 Producer: Nelvana (Canada)
Style: 2D animation
Format: 80 x 11 minutes
Budget: US$15 million
Status: In production and expected to air on Teletoon in Canada
Delivery: November 2018
Concept: Created and executive produced by Matthew Wexler, CEO of Wexworks Media and ex-Spin Master exec, this original comedy stars adventure-loving, mischief-making Ace Ripley. 12-year-old Ace suddenly discovers he's able to manipulate DNA and can create something entirely new by fusing the genes of a living thing with any other thing. Ace uses his newfound power to create ridiculous, amazing, and even terrifying mashed-up creatures while having the time of his life trying to save his town from total chaos.
Tuff Pom - 6 to 11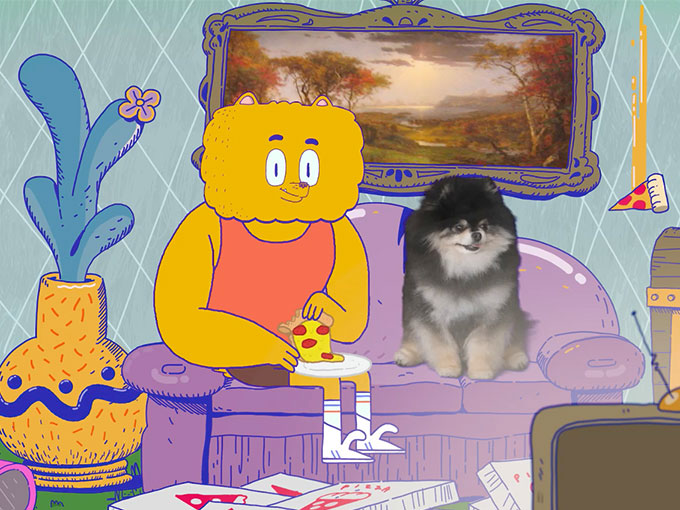 Co-producers: Sonar Entertainment (US), Wildseed Studios (UK)
Style: 2D animation/live action
Format: 52 x 11 minutes
Budget: US$350,000 per half hour
Status: In development, with a bible, script and pilot completed.
Delivery: 2019/2020
Concept: This hybrid character comedy series from Canadian creator Joel Mackenzie follows two Pomeranian canine brothers—animated Tuff Pom and real-life Pompeii—who live in a tricked-out dog house with their best pals, Ruff Pig and Pom Pom the pomegranate. Celebrating a lo-fi, do-it-yourself aesthetic, the creator-driven show includes small self-contained interstitials peppered throughout the main story. Tuff Pom originally emerged through the animated incubator Startoon, which Wildseed Studios produced in Canada with the Shaw Rocket Fund.
Tata - Preschool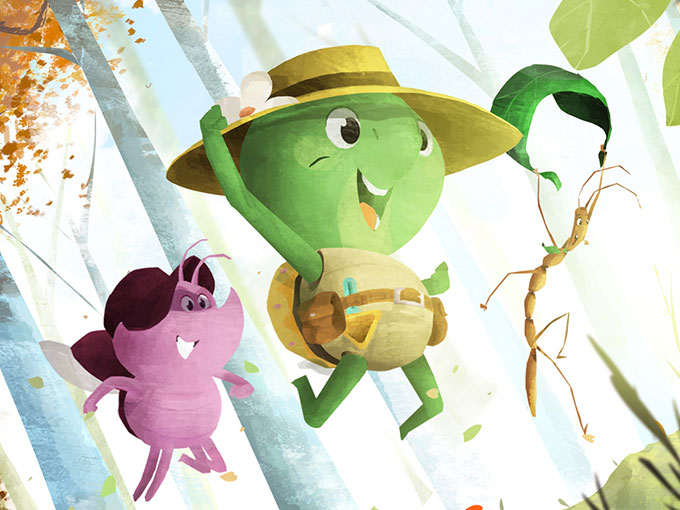 Producer: TV PinGuim (Brazil)
Style: 2D and CGI animation with stop motion and live action
Format: 52 x 11 minutes
Budget: US$3.2 million
Status: In development, with a bible and two scripts complete and a trailer in production. Looking for broadcaster commissions or presales.
Delivery: Early 2020
Concept: Based on an original concept developed collectively at TV PinGuim by Celia Catunda, Kiko Mistrorigo, Eduardo Melo and Mariana Bardan, this nature- and expedition-based series stars Tata, a curious, intelligent and surprisingly energetic turtle who loves to read about exotic places and animals. Alongside her best friends, Tata goes on imaginative adventures into the dense forests surrounding her yard in search of the animals from her illustrated books.
Coach Me If You Can - 6 to 10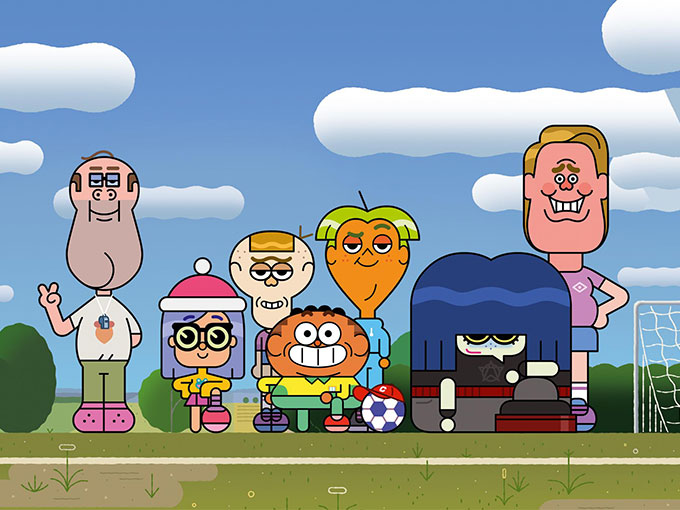 Producers: Xilam Animation (France)
Style: 2D animation
Format: 52 x 13 minutes
Budget: US$10 million
Status: In production, with a bible, an animation test and half the series' scripts available. Presold to France 3 Ludo and actively seeking additional presales. The show's first two episodes will launch at MIP Junior.
Delivery: 2019
Concept: Created by Olivier Pouchelon, this soccer-themed comedy centers around Daniel Sissou, a clumsy but thoughtful boy who has a secret: his favorite soccer ball happens to be the world's greatest soccer player, Erico Platana, who was turned into a soccer ball by a mad sorcerer. To get his human form back, Erico needs to deflate his ego and help Daniel become a soccer champ. Despite the main character's dilemma, an unlikely friendship is born. Themes of responsibility, solidarity and self-confidence are explored throughout.
Gus the Itsy Bitsy Knight - 4 to 7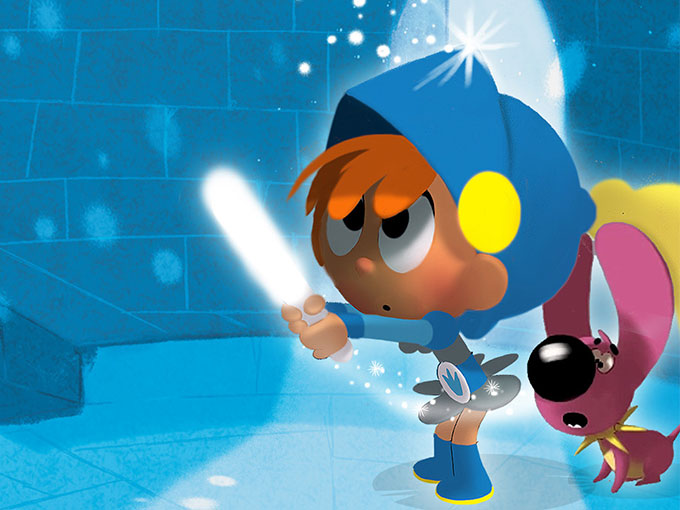 Producers: Technicolor Animation Production (France)
Style: CGI animation
Format: 52 x 11 minutes
Budget: US$8.7 million
Status: In development, with a bible and pilot script complete. PGS Entertainment has signed on as the show's international distributor (excluding France). Seeking broadcaster presales.
Delivery: Late 2020
Concept: Based on the popular children's book created and illustrated by Dankerleroux and written by children's author Françoise de Guibert, Gus the Itsy Bitsy Knight tells the story of an abnormally small boy who dreams of becoming the greatest knight of Karamel Kingdom—a modern, parallel world where knights and dragons are not things of the past. But standing just three apples high, Gus is constantly reminded he's too small to be a brave knight. Despite his detractors, Gus wields his favorite laser sword, mounts his electric pony and dives head first into adventures with his big sister Iris (a magician's apprentice), battling medieval dragons and defending the repressed.
Four Days Before Christmas - 6 to 12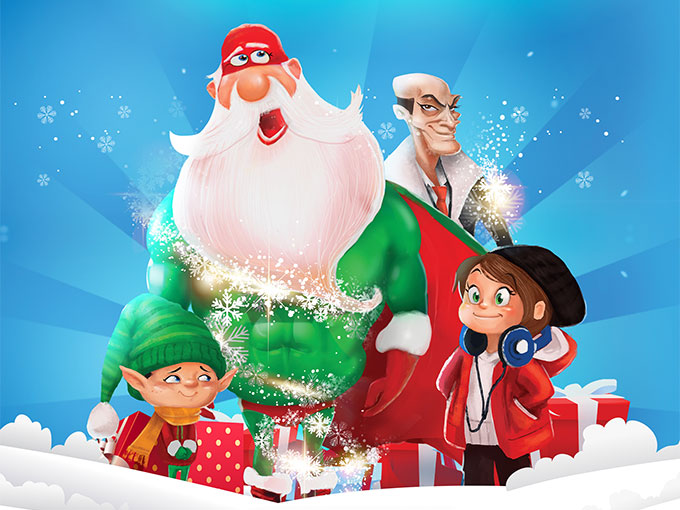 Producers: Groupe PVP (Canada)
Style: 3D animation
Format: 4 x 22-minute mini-series, 1 x 88-minute movie
Budget: US$1.5 million for the series
Status: A bible, episode synopses and designs from Squeeze Studio Animation (Cracké) are available. A 45-second trailer will be ready for Kidscreen Summit in February. Looking for co-production and distribution partners, as well as presales.
Delivery: Christmas 2020
Concept: Developed internally at Québec, Canada-based animation studio Groupe PVP by head of development Sylvie Bélanger and VP/executive producer François Trudel, this original take on the iconic white-bearded holiday figure kicks off when a freak accident leaves Santa with memory loss just four days before Christmas. The twist is that he now believes he's Super Klaus, a popular movie star superhero. Luckily for Santa, he meets eight-year-old Billie, a fan who wants to help the big man take down a baddie bent on seizing Santa's workshop in a scheme to take over the toy industry. While the project is a race-against-the-clock adventure with a real-time feel and loads of slapstick comedy, it's also a human adventure about identity, bravery, friendship, teamwork and bettering oneself.