The phrase "Go West, young man" perfectly captured a moment of time in the 19th century when untold riches awaited those who moved to the western US with a sense of adventure and an appetite for risk. Perhaps it's time to update the dictum for modern times, stripping both the outdated pronoun and the directional bias. After all, men and women alike are looking to stake their claim, and California is only "West" from an East Coast perspective. But the core idea that there is "gold in them there hills" is true yet again.
While the entertainment industry never left the temperate confines of LA, there is a case to be made that the sprawling Southern California megalopolis is once again becoming the center of the scene after years of production being lured away by shiny tax credits and other incentives. While those still exist in Canada, the UK and other regions like Australia, the alluring aspects of LA are getting harder and harder to resist. As a result, Hollywood and adjacent areas are riding this Pacific Ocean wave of cash back into the forefront.
A chief reason for this is the amount of production money flowing into the marketplace from both established and untested players in the wake of the streaming boom. Add to that a deep and entrenched talent pool, CP expertise and—what could be the biggest contributing factor to sustained growth—the close proximity to Silicon Valley's vaunted tech cluster. The confluence of these factors, plus the good old-fashioned value of face-to-face business, has created what some are calling a new Golden Age in LA.
The eyes of the world—as evidenced by companies from Europe, Asia, the Middle East and South America all setting up new offices there—are once again turning back to the sun-drenched corner of the US where it all began.
Money, honey
Not surprisingly, the main reason why international production companies are once again opening offices in LA is money.
"A lot of money is being pumped into the marketplace," says Sander Schwartz, founder of the LA-based consultancy Sandman. "In addition to the traditional funders of animation, you have billions of dollars from SVOD platforms like Hulu, Amazon, Netflix and soon Apple."
Schwartz, an industry vet with decades of experience with global players, including stints as president of kids and family entertainment for FremantleMedia Enterprises and Warner Bros. Animation, helped Beijing-based UYoung Culture & Media set up its first LA office a couple of years ago.
"Production companies go where the money is," Schwartz explains. "There is value to being in close proximity to the funding sources."
Like a coyote in a California desert valley, companies are prone to set up close to a source of sustenance. To illustrate the present boom, he says that only a decade ago, there were about 60 kids series being produced for major global networks.
"Today, Netflix alone has more than 60 shows that it is producing or has commissioned," he says. "The truth that there's probably three times as much new production in both live action and animation in the kids space now—and it's not slowing down anytime soon."
There have been estimates that with the promised slates from Netflix, Amazon and Apple (which alone has pledged US$1 billion for production), the spend could continue in the US$20-billion range over the next few years. That impressive string of zeroes is making it prudent for production companies to have offices in or around Tinseltown.
This unprecedented windfall was one reason London-based Nexus Productions officially opened its LA office in January 2018, and is currently looking to build a production studio there in the coming year.
Diego Rosner, executive producer for Nexus, works out of the new LA office and has been pleasantly surprised by partners and potential partners that, in this unique economic climate, are unrestrained by budgetary concerns.
"We have been in conversation with many of the OTT networks, and they always say, 'If it makes sense creatively, don't worry about the money,'" Rosner says. "That has to be the first time in history that we have heard anything like that."
Talent pools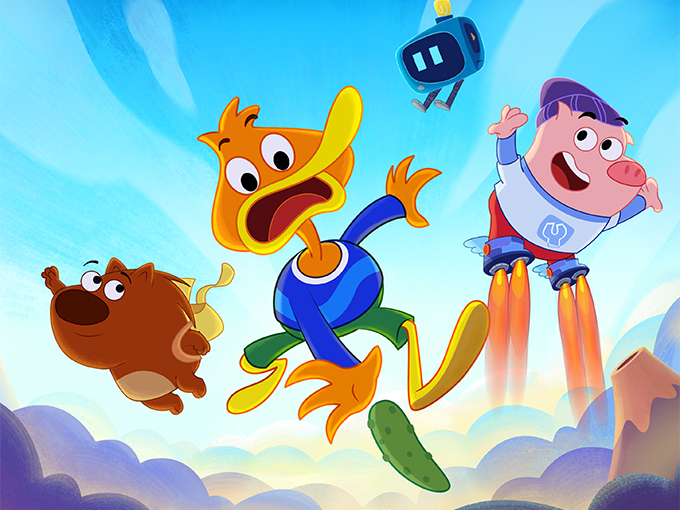 While money is necessary for any type of production, it is worthless without talent. The talent base in LA is without peer in a number of creative areas, including writing, directing, animation, voice-overs and music, not to mention the long list of other technical skilled labor that goes into creating both animated and live-action content for kids.
The lengthy production history in the area, which has drawn the creative class since the days before talkies, is well established.
"Quite simply, LA has the best talent in the industry," says James Chen Gu, general manager of UYoung Culture & Media's animation studio. The Beijing-based company opened its LA office two years ago after its international co-pro with Little Airplane Productions—the 52 x 11-minute animated series P.King Duckling—was picked up the Disney Junior in late 2015.
Gu says that UYoung made a conscious decision to tap into the LA talent pool to support its series. He believes that being able to work with high-quality LA talent is helping change the perception that Chinese animation favors quantity over quality.
"International cooperation is the best way for us to learn and grow," he says. "We have learned so much in terms of technique and storytelling by working with the talent from LA."
Michael Polis, CEO of LA-based Atomic Toybox Entertainment, has been in the city for years. Atomic Toybox has a roster of first- look co-pro deals with international partners in the kids space, including New Zealand's Pukeko Pictures. They have co-produced the recent reboot of Thunderbirds Are Go and Kiddets. He says that while it's always advantageous to have international co-production partners in order to access tax credits and broadcast credits in other territories, there is no denying that LA is tops when it comes to finding specific talent sets.
"That is what we bring to the table for our broadcast and distribution partners," he says. "We are in LA and we can take advantage of it. There is a huge talent pool here that we can choose from."
Polis adds that LA offers the deepest market when scouting for a specific production need. "Narrow casting for talent in a smaller market can be an issue," he says. "You can really be grasping to find the right person, but that is never a problem in LA."
Firm handshake
Much has been made about how the 24/7, always-online culture has eliminated the need for face-to-face meetings. But most executives know that there is no substitute for being in the same room as your partners. As a result, global companies setting up new operations in LA are seeking proximity like prospectors.
"People tend to buy from suppliers they know and trust," says Sandman's Schwartz. "You have to build relationships, and you do that over a lunch, a dinner or drinks. It is essential to build familiarity."
Nexus's Rosner says that being able to take meetings in person allows for those unplanned moments that can often have big business benefits. For example, he compares a recent trip to Netflix's Los Gatos, California headquarters to a meeting that he would have Skyped into had Nexus not set up an LA office.
"I was in the lobby and I bumped into all of the people who we are doing other work for before my meeting even started," he says. "If you are in London and call in, the second you hang up, it's over. But when I'm [in LA], you have a meeting and then you ride down the elevator with some executives. You can continue to talk and you can carry that on right to the parking lot."
Rosner revels in the personal connections that so often lead to new opportunities. "It's a different kind of relationship," he says. "It's more human to see your partners' faces and shake their hands."
Amsterdam-based Blooming Media is also opening up its first LA office this fall. The company's live-action teen series Hunter Street was picked up by Nickelodeon and bowed on the net in March 2017, setting the wheels in motion for the company to look for permanent digs in the city.
Willem Zijlstra, partner at Blooming Media and producer of Hunter Street, says that the desire to be close to the power center has a lot to do with building personal relationships with company clients.
"We can digitize the world until we can't digitize it anymore," he says. "But distance still matters—being around for meetings and talking business is still very important."
In fact, many of the powerful SVOD platforms are recognizing the same value of proximity for themselves. Pierre Sissmann, CEO of Paris-based Cyber Group Studios, believes there is a countervailing trend of the powerful platforms increasing their global presence. He says that SVODs are branching out and making a concerted effort to expand beyond the LA bubble, pointing to Netflix's recent hire of former Nickelodeon VP Alexi Wheeler as proof. Wheeler joined the streaming service's London-based kids and family international originals team this fall.
"The SVOD platforms are going out in the world to be where the production is—some are in Europe now," says Sissmann. "It's funny; they are going to us and we are coming to them. It's a crossing of worlds."
CP expertise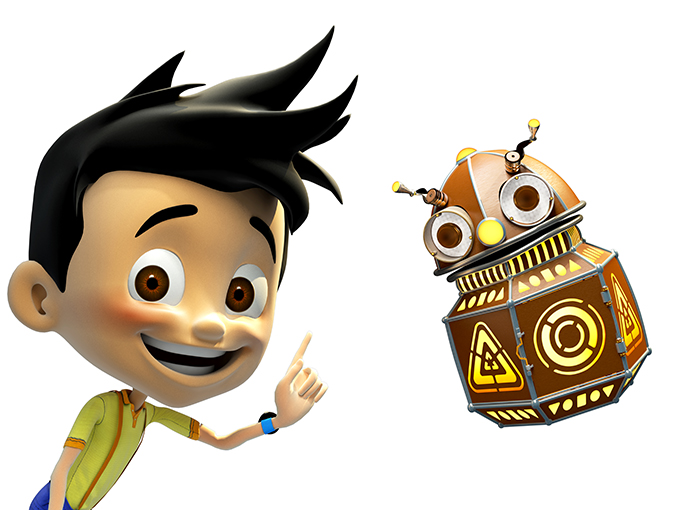 Having access to consumer products and licensing expertise is another major enticement for production companies looking towards LA. Specifically of note for kids producers is that all the major toycos have a sizable presence in and around the city.
"You have so many of the big toy companies in LA, and there's nothing really comparable to that in Europe," says Sissmann. Cyber Group Studios is currently reaping the benefits of tapping into CP expertise throughout the area. As part of its pan-global strategy, the company set up a California office in January 2017 and will open its first office in China by 2019.
When Cyber Group Studio's 52 x 11-minute CGI series Gigantosaurus was picked up by Disney Worldwide, Richard Goldsmith—president and CEO of Cyber Group Studios USA, in the LA office—helped secure the master toy deal
with Jakks Pacific in nearby Malibu. Sissmann says it's been naturally advantageous to be close to their partners throughout Gigantosaurus's development process.
"We are doing major development work out of the LA office," he says. "We are developing projects there that we feel are very toyetic, and when you are in LA, you have the opportunity to talk to all the major toy companies."
Dubai's Blink Studios is also in the process of picking a location for its first LA office, and CP considerations were one factor in the company's decision.
"The licensing and merchandising expertise is in the US," says Nathalie Habib, executive producer and general manager for Blink Studios, from her office in Dubai. "We don't have licensing and merchandising here in the same way. The real experts are in LA, and we would like to tap into that."
Content + tech
With Silicon Valley a short shuttle flight up the coast, the LA area also offers a close connection to the hotbed of technological advances that will continue to shape the kids entertainment industry for years to come. This confluence is yet another draw for global production companies looking to set up operations in California.
Blink Studio's Habib singles out advances in areas like X-reality (XR) as a harbinger of things to come in kids entertainment. XR encompasses tech-mediated experiences that combine digital and physical realities, including the hardware and software used to create content for virtual reality (VR) and augmented reality (AR) platforms.
"There is a lot of money being invested in that sector," she says, listing the recent emergence of VR content companies such as Culver City, California's Dreamscape Immersive and San Francisco-based VR developer Unity Technologies.
2018 alone saw an estimated US$3 billion of investment in the sector, and some experts suggest that the overall VR market could be worth upwards of US$38 billion by 2026.
"There is a surge of technology there," Habib says. "The mix of content and technology is very appealing, and we want to keep our eyes on it."
Rosner agrees that new technological advances have converged with production to create an exciting opportunity for producers. In May, Nexus Productions partnered with Menlo Park, California-based Google for the short VR film Back to the Moon.
Nexus produced the collaboration between Google Doodles, Google Spotlight Stories, Google Arts and Culture and Cinématèque Française. The short film launched as the first ever VR-360 interactive Google Doodle this May. And it's just the beginning of a new and exciting creative revolution, Rosner says. "It's a spectacular moment," he says. "Technology, culture, entertainment and art; it's all coming together right now."
The atomic boom
Canadian prodco Atomic Cartoons' upcoming adaptation of Max Brallier's bestselling book series, The Last Kids on Earth offers an illustrative look at how companies can leverage the best parts of the LA market, while using production facilities and content expertise in different parts of North America.
Described by Matthew Berkowitz, VP of Atomic Originals, as "The Breakfast Club meets monster apocalypse," The Last Kids on Earth is a serialized 22-minute animated series. Its initial episodes correspond with the first book of the series and are scheduled to bow on Netflix in October 2019.
Berkowitz explains that the company wanted to keep New York-based Brallier on board as an executive producer and augmented that choice by dipping into the vast LA talent pool for veteran showrunner Scott Peterson, as well as a writing room.
Berkowitz says that between The Last Kids on Earth and another upcoming production, Atomic has two LA showrunners and 20 different LA-based writers on the roster.
The animation for The Last Kids on Earth is being handled in Atomic's Vancouver studio, under director William Lau, with a full complement of production artists on site.
Atomic opened their LA office in 2016—and from there, Berkowitz coordinates the three-pronged, international, cross-country production. He is also in close contact with broadcast partner Netflix. As the platform begins to take a more hands-on approach with production, the value of Atomic's LA-arm only increases.
"Once a week we go into Netflix and go over everything," he says. "It's great to be able to be there in person."
Of course, technology has also enabled this type of continent-spanning production—and the keys to any project are coordination and contact. "We are all in daily communication," Berkowitz says. "We use every possible bit of software to make that happen."
Berkowitz lists Skype, GotoMeeting and Google Hangouts as daily fixtures, and name-checks the more robust production suite from Shotgun Software as being crucial for frequent, intensive meetings.
"It has to be constant," he says. "With those hard days of problem-solving where you absolutely need real-time coordination, it's a must."